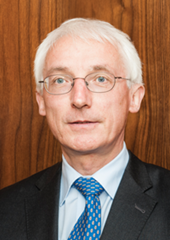 Greg Heylin, Director of the Victims of Crime Office, tells Stephen Dineen about the proposed Victims Directive and the pivotal role of the voluntary sector in Ireland.
In the area of victims' rights, the last 18 months have seen significant developments at home and abroad. The first commitment in the justice section of the Programme for Government is to enact legislation to strengthen victims' rights.
This legislation is likely to be used to transpose the new EU Directive on victims' rights and protections. A draft was published in May 2011 and the Directive is expected to be adopted by the end of the year. It will have to be transposed by the end of 2015.
At present, Ireland has a victims' charter, which contains a list of commitments by the Crime Victims Helpline and eight criminal justice agencies for victims of crime. The charter, however, is not a legal document.
The Minister tasked with legislating on victims' rights, Alan Shatter, produced two private member's bills in oppositeion (2002 and 2008) on the subject, but both were rejected by the then governments.
According to Greg Heylin, victims' rights are important because some people who experience crime (victimisation) also experience "secondary victimisation". They find the criminal justice system "difficult to deal with, sometimes as difficult as the crime" he says.
This must be dealt with because if it is a widespread experience "then confidence in the criminal justice system could be undermined," Heylin predicts.
The proposed Directive will require a national law in relation to victims, says Heylin, who has been working on the Directive since last year. This represents "a significant step change in the way that we do business".
He explains: "Certain information will have to be given to victims as of right." This includes information about their case and the criminal justice system. Interpretation and translation services, already provided by the courts and police here, will have to be provided.
Victim support services, "funded largely by the State but run by voluntary organisations" in Ireland, will be given legal recognition for the first time.
Other provisions will include:
•    expenses for witnesses;
•    return of property being retained as evidence;
•    general protections during investigations; and
•    specific protections during investigations and in court for vulnerable victims.
Restorative justice services are not required by the Directive, but if provided by a country, "there has to be certain safeguards." These will include adequate training.
Helylin admits that 2015 seems a long time to wait. There is "the technical issue of drafting legislation," he explains, as well as "negotiating with and talking to very large and complex organisations, the courts and [the] police". These organisations will be faced with "significant legal change which ultimately, hopefully, will bring about a culture change".
Domestic policy
Victims' rights have grown incrementally at domestic level. The early 1990s saw the introduction of television link evidence in court and victim impact statements.
The latter was the subject of controversy in 2006 when it was used in the trial of Wayne O'Donoghue to make serious allegations against him. In general, Heylin believes that while its purpose is to take the impact of a crime into account for sentencing, it gives victims "some sense of participation and some sense that their voice has been heard."
Modifications to victim impact statements, through the Criminal Procedure Act 2010, have led to "much more protection in it for the defendant". The Act broadened the category of people who can make such a statement and extended the number of offences where it can be used. It also allows courts to prohibit all or part of such statements from being broadcast "in the interests of justice".
The victims' charter, first introduced in 1996, was amended in 2010. New commitments were introduced. An Garda Síochána now have trained family liaison officers for serious cases involving death. The force now also has ethnic liaison officers and gay liaison officers. Gardaí will also take account of victims' views and may invite them to attend relevant meetings with offenders in relation to crimes committed by young people.
The DPP will give reasons to the family of a victim for not prosecuting in a case involving death after 22 October 2008 as part of its 'Reasons Project'. "We're working on trying to improve the monitoring of that," he says of the charter.
Heylin, who is also Deputy Director of Cosc (the National Office for the Prevention of Domestic, Sexual and Gender-Based Violence), is eager to point out the role of the voluntary sector. It plays "a very important part in the victim support area" and will become more important due to the Directive.
"We have a Commission for the Support of Victims of Crime, which gives about €1.2 million to about 46 different organisations, who provide a whole range of services to victims," says Heylin. 13,874 victims were assisted by the groups last year.
The Commission funds the Victim Support at Court organisation, for example. It provides court accompaniment for victims, families and witnesses, primarily at the Central Criminal Court and Tallaght District Court.  The State also provides funding to "a very developed system of organisations" for victims of domestic violence, and rape crisis centres.
A difficulty during negotiations on the Directive  has been  Ireland's common law system, shared only with the UK, and parts of the Cypriot and Maltese systems. Other continental member states use civil law systems (the Napoleonic code). Under common law, the victim is not party to proceedings, but is only a witness, if invited. In many civil law countries, victims can have their own legal representation, the right to give evidence and can suggest questions to be put to the accused.
Other member states "have considerable difficulty sometimes understanding where we're coming from," says Heylin. The Commission's draft proposals, however, were "well drafted and didn't give rise for major concerns because there was a magic phrase in it about the role of the victim in the relevant justice system."
The wording "has remained within the Directive and we hope will be there at the end" as it "caters for our criminal justice system."