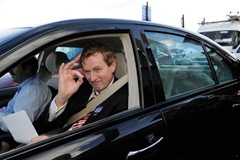 Meadhbh Monahan reviews the outcome of the historic general election.
Fine Gael has become the largest party in the state for the first time in its history, winning 76 seats (36.1 percent of first preference votes). New Taoiseach Enda Kenny said there had been "a democratic revolution at the ballot box."
The Labour Party had its best election ever, winning 37 seats (19.4 per cent) and a Fine Gael-Labour coalition was formed on Sunday 6 March following a week of intense negotiations over a Programme for Government.
Fianna Fáil, which has been in government almost continuously since 1987, was punished by Irish voters who blame the party for the economic crisis. Its share of first percentage votes decreased from 41.5 per cent in 2007 to just 17.4 per cent and it lost 58 seats, returning only 20.
The rise of Sinn Féin and left-leaning independents was another interesting feature of this election.
Sinn Féin's popularity increased following Pearse Doherty's election in the Donegal South West by-election in November. Doherty was returned for the Dáil along with 13 others, giving Sinn Féin a 9.9 per cent share of first preference vote.
The United Left Alliance was formed in November as an umbrella group comprising of People Before Profit, Socialist Party and Workers Unemployed Action Group candidates. It returned five TDs, including former Socialist Party MEP Joe Higgins. The group are against water charges, property taxes and social welfare cuts. It demands that tax measures are focused on "the greedy and not the needy".
Sixteen of the 19 eligible Independents have now reached agreement on the establishment of a technical group in the Dáil and will have the same privileges as a political party. The Independents who didn't join the technical group are Michael Healy-Rae (Kerry South), Michael Lowry (Tipperary North) and Noel Grealish (Galway West). Two former Fianna Fáil TDs did join the independent's technical group; Mattie McGrath (Tipperary South) and Tom Flemming (Kerry South).
The Green Party lost all six TDs it had gained in 2007 with leader John Gormley saying: "You have to accept the verdict. It's a harsh verdict, but that's democracy."
The new Programme for Government commits to reversing the reduction in the minimum wage and renegotiating the EU-IMF bail-out arrangements. In relation to coming to a new deal on the 5.8 per cent interest rate on the loan, German Chancellor Angela Merkel has said that the European Union cannot commit to lowering interest rates. "If the Irish Government now has a problem with interest rates, our job is to figure out what we can do – or whether we can do anything," she said.
The 31st Dáil
Fine Gael won four seats out of five in Kenny's Mayo constituency. It also won three seats out of five in Dublin South, Wicklow, Cavan-Monaghan and Carlow- Kilkenny. A total of 34 new Fine Gael candidates were elected. New faces include 24-year-old Simon Harris (Wicklow), the 31st Dáil's youngest TD, and Jerry Buttimer for Cork South Central. A former seminarian who spent five years studying for the priesthood in Maynooth, Buttimer also taught adult education and wrote 'Candidate: the diary of an Election Candidate', following his experience of running for the 2007 general election. Twenty-eight year old Eoghan Murphy, a former speech writer at the Comprehensive Nuclear-Test Ban Treaty Organisation, was also elected to the Dáil.
Despite campaign posters stating: "Gilmore for Taoiseach", Labour slipped slightly in the polls conducted in the week before the election. The party did, however, win its highest-ever number of seats, compared to 33 in 1992 when the 'Rainbow Coalition' of Fine Gael, Labour and the Democratic Left were in power. There were 19 new Labour TDs including barrister Michael McNamara in Clare, a former human rights lawyer with the United Nations in Afghanistan.
Labour's negotiating team included finance spokeswoman Joan Burton (Dublin West), European affairs spokesman Brendan Howlin (Wexford) and justice spokesman Pat Rabbitte (Dublin South West).
Fianna Fáil's representation in Dublin fell from 19 to one, symbolising the fall of what was previously Ireland's most popular party. Former Finance Minister Brian Lenihan was the only TD to keep his capital city seat. New party leader Micháel Martin was elected for Cork along with his running mate Michael McGrath. Other successes for the party were the re-election of Éamon Ó Cuív (grandson of Éamon de Valera) and the election of Barry Cowen, brother of Brian, for Laois-Offaly. However, traditional strongholds such as Kerry and Tipperary are now without Fianna Fáil representation. A total of six constituencies have no Fianna Fáil TDs.
In addition, none of Fianna Fáil's female candidates were returned. The demise of Tánaiste Mary Coughlan to left-wing independent Thomas Pringle was an embarrassment. Another humiliation came to deputy leader Mary Hanafin, who hungontotheeleventhcountinDun Laoghaire but was beaten by People Before Profit candidate Richard Boyd Barrett.
Political dynasties have also come to an end. Seán Haughey lost his Dublin North Central seat. His father Charles was Taoiseach and his mother is a daughter of former Taoiseach Seán Lemass.
nitially derided for his move from West Belfast to Louth, Sinn Féin president Gerry Adams oversaw a successful result. Jonathan O'Brien became the first Sinn Féin TD in Cork since 1922, finance spokesman Pearse Doherty took the Donegal South West seat and vice- president Mary Lou McDonald finally won a Dublin Central seat following two unsuccessful campaigns in 2002 and 2007. Adams said the party's success represented the "reconquest of Ireland by the people of Ireland."
Addressing his constituents following the announcement that he is to be Taoiseach, Kenny said: "The incoming Government is not going to leave our people in the dark. Paddy likes to know what the story is."
Upon becoming the 13th Taoiseach of Ireland, after a vote of by 117 votes to 27, Kenny told the Dáil: "For Ireland and each other, let us lift up our heads, turn our faces to the sun and hang out the brightest colours."