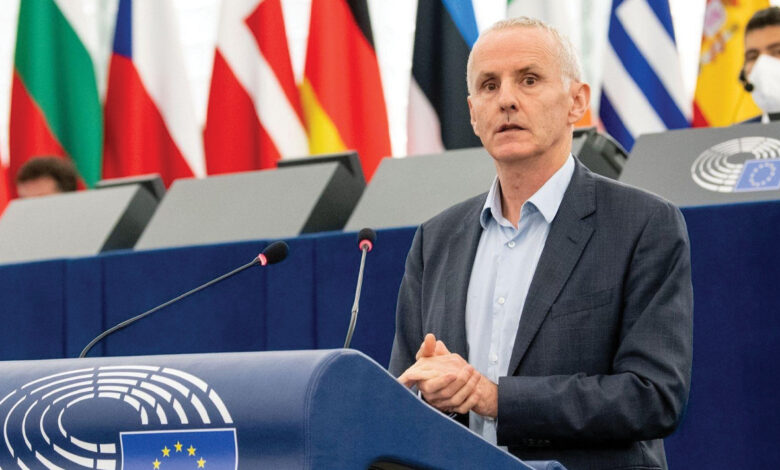 Will this winter be like last winter? That is the question looming in the minds of policymakers as the summer draws to a close, writes Ciarán Cuffe, MEP for Dublin.
After the turmoil of the winter following Putin's murderous invasion, the next few months will be a moment of truth for Europe. Have we done enough to prepare for what the next six months will throw at us? Can we protect consumers from high energy prices? Can we accelerate the green transition in the light of climate breakdown, and more importantly, can we ensure that the lights stay on? These questions have dominated much of my work as a Member of the European Parliament over the last few years, and as a European legislator I want to ensure that we protect the public, and the planet in the months and years ahead.
But it is worth stepping back from these immediate concerns and taking a look at the bigger picture: How did we get here? Where are we going?
For years, European governments were content to borrow against their planet's future through cheap fossil fuel imports from neighbouring autocracies. Wind and solar were nice to have, the thinking went, but real energy security would continue to arrive by pipeline and tanker for the foreseeable future. The Ukraine war exposed that security as a mirage. Now renewables, long dismissed as too intermittent and expensive to make economic sense, are being recognised as the key not just to the long-term security of the planet, but also to short-term energy sovereignty.
Such a radical shift in time horizons is welcome, but challenges persist. Europe burns 11,500 TWh worth of fossil fuels every year. If we had to replace all of this with renewables, we would have no hope of meeting our 2030 targets.
Fortunately, we do not. Fossil fuels, as well being disastrous for the health of people and planet, are woefully inefficient. 15 per cent of the energy from fossil fuels is lost in the process of electricity generation. The key to sustainable energy independence will be in eliminating these inefficiencies across the energy supply chain.
"As the nights get longer and the days get colder, each family in a warm, comfortable home is a victory over Putin's attempts to hold Europe to ransom."
Ciarán Cuffe MEP
That is where building retrofits come in. Buildings are responsible for approximately 40 per cent of Europe's energy consumption and 36 per cent of its CO2 emissions. That puts them right on the frontlines of the energy transition. Retrofits can improve our energy security in at least four ways:
Structural upgrades like insulation can improve the efficiency of whatever heating system a building is using.
Electrification of buildings can facilitate the transition to more efficient and renewable energy systems. Heat pumps, electric car charging points, and even induction stove-tops are all cleaner and greener than the combustibles they replace.
Smart metering systems that allow occupants to proactively respond to fluctuations in energy prices throughout the day have a dual benefit. Firstly, improving energy security for households by providing a means of keeping down costs, and secondly, improving energy security for the country by incentivising reduced energy use during times of stress on the grid
Like smart meters, feed-in tariffs for electricity from home discharging electric vehicles and solar panels are crucial for aligning the financial interests of households with the national objective to balance the grid.
Of course, it is one thing to recognise the potential of retrofits for fuelling our energy transition, and quite another to realise that potential. Readers of eolas Magazine are likely familiar with the Government's efforts on this front. The number of retrofits taking place rose 78 per cent to 27,199 in 2022, a rate of increase which the Government hopes to sustain in 2023. The six-fold increase in the number of trainees enrolled in retrofitting courses should help this.
Of course, Ireland accounts for only a small fraction of Europe's buildings. To ensure that Ireland's example is followed across Europe, I am leading negotiations on the revised Energy Performance of Buildings Directive, or EPBD. The EPBD is Europe's plan to eliminate greenhouse gas emissions from buildings by 2050 and is one of 14 laws included in the Fit For 55 package aimed at hitting our emissions reduction targets for 2030.
At its core are the Minimum Energy Performance Standards, or MEPS, which essentially require member states to incrementally improve the BER ratings of their entire building stock over the course of the coming decades. This gives tradespeople the certainty they need to invest in their businesses in anticipation of a future surge in demand.
From the basic principle of incremental energy upgrades comes a plethora of other considerations. Foremost among these is the need for flexibility among member states. Each government will be tasked with developing a National Retrofit Plan for upgrading their national building stock, starting with the worst performing 15 per cent. Protected structures, and 22 per cent of all other buildings, will be exempt, and each member state can design its own incentive structures. Substantial European funding will also be made available, as well as technical guidance on how to accelerate the rollout.
For their part, member states will also have to provide substantial supports to homeowners and businesses through networks of one-stop-shops. National retrofit plans will have to include social safeguards to ensure that, for example, retrofits in the private rental sector do not serve as a pretext for evicting tenants; so called 'renovictions'.
These policies are just the beginning of a gentle revolution which will transform European living standards in the years and decades to come. But it is not too late for them to also have an impact on our immediate future. As the nights get longer and the days get colder, each family in a warm, comfortable home is a victory over Putin's attempts to hold Europe to ransom. This winter does not have to be like the last one. To isolate Putin, we must insulate homes.