Issues
Renewing the Civil Service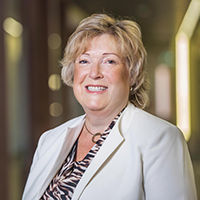 Dr Orlaigh Quinn, Assistant Secretary, Department of Public Expenditure and Reform, talks to Owen McQuade about the progress made with implementing the Civil Service Renewal Plan. This Plan aims to build the capability of the Civil Service so that it can meet the needs and expectations of the Government and the public into the future.
Having come through some very difficult times in terms of austerity and cutbacks, last year the Government set out on a programme to 'renew' the Civil Service. The programme is managed by Orlaigh Quinn. The vision set out in the Renewal Programme is to have a world class civil service: "We should be able to benchmark ourselves against the best and demonstrate that we are the best."
Quinn says that the plan is "very action-orientated". There are 25 main Actions encompassing over 100 Sub-Actions. "My job is to lead the delivery of the plan over three years and make sure we implement all the Actions," explains Quinn.
The Civil Service Renewal Plan was published in October 2014. The outcome is a plan focussed on driving practical change and action in 4 areas:
1. A Unified Civil Service Managing the Civil Service as a single, unified organisation;
2. A Professional Civil Service Maximising the performance and potential of all Civil Service employees and organisations;
3. A Responsive Civil Service Changing our culture, structure and processes so that we become more agile, flexible and responsive; and
4. An Open and Accountable Civil Service continuously learning and improving by being more open to external ideas, challenge and debate.
Much of the initial focus has been on strategic issues around getting the right structure and frameworks across the Civil Service. For the first time there is a Civil Service Management Board (CSMB). Its membership includes every Secretary General and the heads of major offices who meet once a month. "This group has taken collective responsibility for the delivery of the Civil Service Renewal Plan and when it was launched last October it was signed by each member of the CSMB. There is very strong ownership and commitment to its implementation," adds Quinn.
As part of the roll out of the plan, each Secretary General takes the lead on one or more of the actions. For example, the action to establish a new shared model for delivering learning and development, "which will have a major impact across the 36,000 civil servants" is led by Niall Cody, Chairman of the Revenue Commissioners and John McCarthy from the Department of the Environment, Community and Local Government. This senior level sponsorship approach ensures that "every Action has a strong line of responsibility."
The 25 actions are divided amongst three steering groups i.e. governance, people and systems. The secretaries general who sponsor the actions meet monthly within the relevant steering group to drive the implementation of the actions. For example, if a secretary general is sponsoring an action which falls under the People Steering Group e.g. performance management, codes of conduct and disciplinary procedures, they meet with the other secretaries general who are working on other 'people' related actions.
"The strength of the Renewal Programme is the formal governance structure which has been put in place to deliver the Plan. Whilst other reform plans in the past have achieved a lot, I don't think they would have had such a strong governance and project management approach," explains Quinn.
Delivery
When the plan was launched the Government committed to deliver six priority actions in the "first 200 days". This was a very ambitious commitment. All priority actions have been initiated and are on track for successful delivery. In addition to driving these priorities, the CSMB has initiated 23 of the 25 actions in the Renewal Plan. "There has been a huge level of energy to deliver this. For many of these actions the direction of travel is clear, the decisions have been made and now our focus is on implementation," observes Quinn.
There has been significant progress in a relatively short timeframe which has been demonstrated by the delivery of the following six priority actions within the first 200 days:
• "Establish an Accountability Board for the Civil Service" (Action 1);
• "Create a Civil Service Management Board" (Action 2);
• "Establish the first performance review process for Secretaries General" (Action 12);
• "Identify available options to strengthen the disciplinary code" (Action 11.3);
• "Extend open recruitment in key areas to fill skills gaps" (Action 8);
• "Carry-out the first Civil Service wide engagement survey" (Action 25).
The first action involved the establishment of an Accountability Board for the Civil Service. This Board is chaired by the Taoiseach and includes three Ministers (Tánaiste, Minister for Finance and Minister for Public Expenditure and Reform), four Secretaries General (Martin Fraser, Robert Watt, Seán Ó Foghlú and Niall Cody) and four external members from the business community. The Board had its first meeting in July 2015. The Board will serve to strengthen accountability and performance across the Civil Service by introducing greater oversight of delivery.
The second action established the Civil Service Management Board which is "up and running and hugely engaged."
The third, a performance review process for Secretaries General, has been approved and will be introduced for the first time in the next performance year, January 2016.
The fourth priority action deals with options to strengthen the Civil Service Disciplinary Code. These have been identified and a revised code has been drafted which will be subject to the normal consultation processes. "A huge amount of work has been put into strengthening and simplifying the disciplinary code in order to make it easier for managers to manage" says Quinn.
Open recruitment campaigns have been held for Principal, Assistant Principal, Administrative Officer, Executive Officer and Clerical Officer Grades in the Civil Service. "We have extended the policy of open competition. The Civil Service Arbitration Board has recommended that, in future, two-thirds of vacancies at Principal level should be filled by means of open recruitment, with one-third being confined to competitions within departments. We are well aware that we haven't had any new blood for a number of years. It's a welcome development to recruit new staff who will bring new ideas and innovations to the Civil Service," explains Quinn.
The sixth action relates to the first Civil Service wide employee engagement survey which is being commissioned by the Central Statistics Office. A pilot survey with more than 700 civil servants has been completed. The survey will be conducted in September 2015, with the first results expected before year end.
"Overriding all the actions is a focus on the things that unify us as a Civil Service. For example the development of a unified Learning and Development Strategy will help deliver consistency and facilitate mobility across the Civil Service" reflects Quinn.
Some of the additional actions include the inaugural "Staff Excellence and Innovation Awards" which will take place in December 2015. "We are engaging with departments and inviting submissions on their best examples of innovation. We are aware of several good examples of innovation but much of it remains below the radar. Every day, the Civil Service makes a vital contribution to Irish life and society. Our ability to carry out the work of government and deliver 'world class' public services is dependent on the commitment of civil servants, often in challenging circumstances. The awards will recognise these achievements and showcase innovations in policy and service delivery across the Civil Service."
"The public are very much aware of the services provided by Revenue and Department of Social Protection but we don't talk about how Ireland ran a fantastic EU Presidency or that we have really good analysts or really good policymakers. We want to recognise civil servants' professionalism and skill sets," explains Quinn.
A draft corporate governance standard has also been developed for all government departments. Quinn stresses that it is not prescriptive "as every department will have their own areas of business that they need to focus on." However, this standard outlines the core elements of corporate governance which departments will need to adhere to, such as risk management and accountability.
Role of the civil servant
When asked if the role of a civil servant has changed she replies: "It has certainly changed. When we talk about the Civil Service I am always struck by the sheer variety of roles. It is hard to take an overview but if you take the core Civil Service as policy making it has changed hugely. In years gone by civil servants sat in their offices and wrote policy. Now policymakers are using various approaches for policymaking and are engaging with a wide range of stakeholders through open policy seminars. Several open policy debates have been hosted such as the National Economic Dialogue in July 2015 with 150 people in attendance. This approach has proved hugely beneficial.
The Civil Service has a higher educational profile now with an increased number of graduates. Staff learning and development is currently managed, on an individual basis, by departments. The strategic objective of the Renewal Plan is to establish a new shared model to deliver this requirement for all Civil Servants" says Quinn.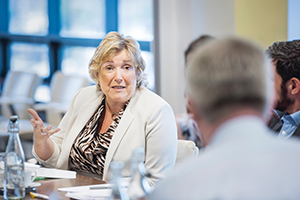 Quinn also believes that internally, within the Civil Service, the system is far more open. "When I started out in the Civil Service I rarely engaged with senior management. It was a very hierarchical structure. We still have the grading structure but staff work more flexibly across the grades and we are far better at pulling groups together. We haven't yet cracked cross-departmental working but we have put a lot of energy into it. We are running three cross-departmental projects at the moment on National Suicide Prevention, Cyber Security and the Public Services Card. We have strong teams drawn from across departments working on these projects", reflects Quinn.
Other changes she has noticed is greater emphasis on project management and a much stronger focus on the use of digital media. She acknowledges that a lot of these changes arose not alone in response to the recession but also from applying best practice learnt from across the public and private sectors.
"We have changed. I wouldn't say we are where we want to be yet but we certainly have a workforce that is much more flexible and customer focused," concludes Quinn.