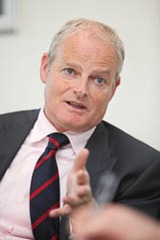 Focusing on digital literacy can empower Irish students and give them a better international edge, writes Martin Murphy.
Across the world, human capital is becoming the most valuable asset any country can have. For decades, Ireland has traded successfully on the quality of its education system and the strength of its educated workforce.
But the world is changing. For example, in the Middle East, 40 new university campuses are under construction, and recently Sweden announced that the teaching of Mandarin will be available in all primary schools. From this year, children in primary schools in England will be taught a new computing curriculum from the age of five.
We need to look hard at regenerating our education system. With the rapid pace of change in technology, familiarity with digital literacy has taken on much greater importance in our lives. This has been recognised across Europe, where the Digital Agenda for Europe (DAE) aims to stimulate Europe's economy and help citizens and businesses to get the most out of digital technologies. Under the DAE, one of the main action areas is enhancing digital literacy, skills and inclusion through mainstreaming eLearning in national policies for the modernisation of education.
Responding to the opportunity, HP Ireland and Microsoft Ireland joined up with the Department of Education and Skills and other education partners in Ireland to introduce a new award scheme called the Digital Schools of Distinction to encourage effective use of technology in primary schools.
Digital Schools of Distinction advances both the literacy and digital agenda and can make a practical contribution to helping schools make the most of their digital capabilities.
More than one in three Irish primary schools has applied to become a Digital School of Distinction since the scheme launched in September 2013. Registered schools have access to an ICT helpline, support and resources. Schools that register and are successfully validated are awarded Digital School of Distinction status by the Department of Education and Skills. There are now 140 Digital Schools of Distinction in Ireland.
New Digital Schools of Distinction status will receive a range of ICT support services, including free printing for a year via a HP OfficeJet Pro printer and a monthly printing allowance of 250 colour pages and 2,500 black and white pages. They will also receive Microsoft software and educational apps as well as technical support and access to education ICT specialists.
Getting education and skills right is core to investment and job creation. While the use of technology in Irish primary schools has made significant strides in the past decade and is already at an overall higher grade than the EU average, there is still significant room for improvement and an opportunity for Ireland to really differentiate itself in this area.
It is clear that there is a tremendous appetite amongst educators to make the most of their schools' digital capabilities and that the programme is a providing much needed practical support and assistance in this regard. The success of the programme to date is a clear indication that Digital Schools of Distinction is driving ambitious targets to help schools to be best in class when it comes to the use of technology in teaching and learning at primary level.
It is expected that a further 260 Irish primary schools will be awarded during this academic year. Digital Schools of Distinction is already becoming a benchmark programme for other European countries and plans are in place to expand the programme into Northern Ireland and Britain in 2015.
HP is proud to be part of this effort and I believe we must encourage similar initiatives that embrace technology from primary level through secondary and tertiary level education in Ireland.
Martin Murphy is Managing Director of HP Ireland.