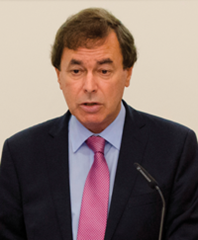 More "smart and dynamic reform" is needed to improve services for the public, according to Justice Minister Alan Shatter. Meadhbh Monahan reports.
Prison refurbishments, providing alternatives to custody, closing garda stations and court reforms are underway in order to ensure that services are "more customer-focused, leaner, better integrated and delivering value for money."
Alan Shatter addressed an eolas justice seminar in June, impressing on delegates the need for all justice sector bodies "to challenge assumptions and ask harder questions of ourselves and our colleagues." He stipulated that "it is no longer acceptable to assume that funding for any given programme is synonymous with maintaining the quality or effectiveness of that service." Instead, "we must assess the extent to which each programme still delivers what it was established to do, and whether the same outcomes could be achieved more efficiently through any other means."
The Minister intends to publish a white paper on crime later this year which will incorporate a national anti-crime strategy. It will also pull together all the strands of the criminal justice system aimed at tackling crime and will be heavily focused on improving efficiency and saving money.
The largest section of the Justice budget is spent on An Garda Síochána, which is "the most visible point of contact for members of the public with the justice system." Ongoing reform includes an all-encompassing review of the force. The Minister stressed the importance of joint policing committees, saying they "must be maintained, developed and supported, now more than ever."
On court reform, the Minister commented: "Due process is a necessary part of every criminal trial but unwarranted delay generates cost for all concerned." The working group on efficiency measures in the circuit and district court is working to eradicate unnecessary delays and costs.
Improving standards in prisons (some of which are ageing and over-crowded) is essential, the Minister told delegates. "While the punishment of offenders is an essential part of the criminal justice system, our prisons are not intended to be mere warehouses for criminals and I want to see an increased emphasis on rehabilitation," he claimed.  A strategic review of all aspects of penal policy will be announced "shortly." It will examine crime prevention, sentencing policies, alternatives to custody, prison accommodation and regimes, support for rehabilitation and re-integration, and the position of female prisoners and juveniles.
Declining budgets (see table) require justice sector bodies to work together to create "system-wide approaches" that will see agencies "harnessing our resources in a smart and dynamic way."
Individuals may interact with different parts of the criminal justice system at different points in time, therefore, "the outcomes for society and for the individual are greatly dependent on how each part of the system interacts with the other."
Justice group of votes
Current €m

Capital €m

Total €m

2011

2012

2011

2012

2011

2012

Courts

48

46

11

8.0

59

54.0

Garda

1,382

1,305

30

20.4

1,412

1325.4

Justice & equality

325

344

5

3.2

328

347.2*

Prisons

295

294

34

24

329

318.0

Total

2,050
1,989
80
55.6

2,128

2,044.61
<><>
</></>
An Garda Síochána

• New roster system
The benefits of the new roster system are already evident on our streets with more gardaí on duty at peak times and fewer gardaí at times of low demand, according to the Minister.

• Station closures
Thirty-nine Garda stations have closed this year but Ireland still has "one of the highest number of police stations per capita." The Minister acknowledged that "there has been a lot of criticism of some of these closures." However, he retorted: Is better to have a garda sitting in a station (or indeed keeping a station open at night) or to have those gardaí interacting with the community on a daily basis?"

• Review of the force
The Garda Commissioner is currently conducting a review of An Garda Síochaná.

• Garda Reserve
The volunteer force of 915 people drawn from all walks of life was described as "a tangible link between communities on the one hand and the Garda Síochána on the other

Courts Service

• Task force on cost reductions on criminal legal aid
Task force's report recommends: same day community service and pre-sanction reports; increased use of video links between the courts and prisons; and a pre-trial procedure.

• Working group on efficiency measures in the circuit and district court
This group, which includes judges from the circuit and district courts, is implementing simple initiatives such as, when fixing dates for court appearances, bringing to the court's attention the dates on which gardaí are rostered for duty. A pre-trial procedure is to be piloted from this October. This will require primary legislation and should reduce the waiting times.

• Reductions in criminal legal aid fees
The Minister implemented this measure "because of the clear need to contain costs in the public interest while ensuring that the constitutional rights of defendants to a fair trial are fully protected." However, he recognised that "as the legal aid scheme is demand-led, there is a limit to what can be achieved in terms of predicting and controlling expenditure."

• Legal Services Regulation Bill
This Bill, which is currently at committee stage, is intended to promote competition and transparency and create a single and independent point of call for those who wish to make complaints about legal services." • Family courts and judicial appointments
Shatter intends to examine the current system of judicial appointments and has also started work on developing a dedicated system of family courts.

Prisons

• Pilot community return project
The project, which began last October, is run by the Probation Service and the Irish Prison Service. It allows earned early temporary release to be offered to offenders who pose no threat to society, in return for supervised community service.

• Expand the role of the Inspector of Prisons
Visiting committees will report every two months on issues they may wish to bring to his attention. As the inspector will have independent oversight of their work, they will become more effective.

• Ending the detention of children in St Patrick's Institution
A new €50 million child detention facility is to be built by 2015 near Lusk, County Dublin. In the meantime, new committals of 16 to 17-year olds have been sent to the children's detention facilities at Oberstown, Dublin since 1 May 2012. The Government aims to have all children currently detained in the St Patrick's (an adult institution for 16-21 year olds) to be moved to Oberstown within two years.

• Alternatives to custody
The Fines Act 2010 includes provisions designed to minimise keep fine defaulters out of prison. The Criminal Justice (Community Service) (Amendment) Act 2011 requires judges, when considering imposing a sentence of imprisonment of 12 months or less, to first consider the appropriateness of community service as an alternative.

• Inter-departmental group on mental health and the criminal justice system
Established in May this year, this group's recommendations "may have important implications for diverting the mentally ill from prison and ensuring those in prison receive appropriate treatment."

• Victim support
Ireland will take part in negotiations on the contents of a forthcoming EU Directive on rights, supports and protections of victims of crime.