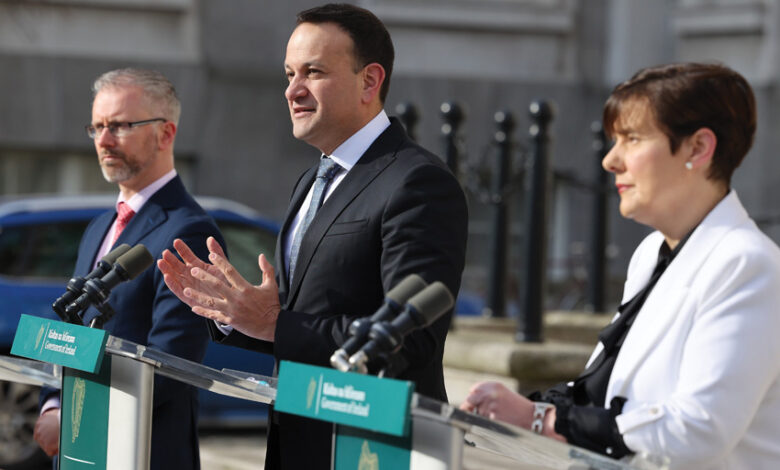 The Government, acting on the advice of a Citizens' Assembly, will hold a referendum in November 2023 giving the electorate the option of removing the reference of a woman's place being "in the home".
Currently Article 41.2 of Bunreacht na hÉireann contains a recognition that "by her life within the home, woman gives to the State a support without which the common good cannot be achieved" and that the State shall therefore "endeavour to ensure that mothers shall not be obliged by economic necessity to engage in labour to the neglect of their duties in the home".
The Citizens' Assembly on Gender Equality, which concluded its work in 2021, sent a list of 45 recommendations to the Government, including that the definition of family should not be limited to the marital family. It further suggests inserting a new clause into Article 40, which focuses on fundamental rights, to refer explicitly to gender equality and non-discrimination.
Taoiseach Leo Varadkar TD has described the text of Article 41.2 as being "outmoded", and said that it will more than likely be a central reform should the referendum be successful.
"For too long, women and girls have carried a disproportionate share of caring responsibilities, been discriminated against at home and in the workplace, objectified or lived in fear of domestic or gender-based violence," the Taoiseach said.
He further stated: "I am pleased to announce that the Government plans to hold a referendum this November [2023] to amend our Constitution to enshrine gender equality and to remove the outmoded reference to 'women in the home', in line with the recommendations of the Citizens' Assembly on Gender Equality."
Varadkar further intimated that the precise wording of the referendum will be prepared "by early summer", with a special working group to establish the exact terms.
He outlined his proposals for the new text to amend articles 40 and 41: "One that explicitly recognises the equality between men and women, enshrining that in our constitution.
"The second, removing the old fashioned language around women in the home, in favour of the recognition of carers and the role they play in society and family life and then thirdly, recognising there are many different types of families in Ireland."