Issues
Referendum for Court of Appeal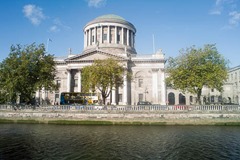 The referendum on establishing a Court of Appeal will take place on 4 October, alongside the referenda on patents and Seanad Éireann. All main political parties are in favour of the proposal. A well-placed source within the judicial system reports that the judiciary has offered no objections, either on policy grounds or on technicalities.
Minister for Justice Alan Shatter said: "We are on the cusp of taking a major step towards modernising the architecture of our superior courts system in Ireland to facilitate cases being heard expeditiously in the most appropriate forum."
The Court of Appeal would take on most appeals to the Supreme Court, thus allowing it to focus on the development of the law. A judicial working group designed a model for the court in 2009 but the change has to be approved in a referendum as it would amend Article 34 of the Constitution.
Separately, Chief Justice Susan Denham has pointed out that the courts are handling fewer cases of public disorder and minor assaults. She called for further investigation into the reasons for this trend, which could include greater emigration or more effective court sanctions.
"Whatever the answers they, and the other changing statistics, show that our courts mirror an ever-changing society," Mrs Justice Denham added. "This requires a flexible and creative approach by the Courts Service and the judiciary to streamline services between areas as unexpected, and often unexplained, increases and decreases emerge year by year and across decades."