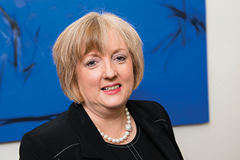 The experience of patients is the only way to assess standards in healthcare, says the Health Information and Quality Authority's Hilary Coates. She outlined the key components of a safe, high quality system at eolas' seminar on the future of health.
A constant level of activity in healthcare means that professionals find it difficult to stop and think about how to improve services, Hilary Coates finds. Coates is Head of Safety, Learning and Operations at the Health Information and Quality Authority, which was established in 2007 and now has a clear vision of how a "safe, high quality healthcare system" operates.
Addressing an eolas seminar on the future of health services, she explained that such a system is "focused on the needs and wishes of service users" but those needs must be balanced with the available resources.
It also has effective governance and leadership, in order to make difficult choices and plan and monitor how resources are used (with an eye on outcomes). The system must also "strive for clinical excellence" with professionals auditing their practices and using the best evidence.
Providing "timely and valid information" is a particular problem in Ireland, probably due to a lack of spending in the 1980s: "We may have lots of data but it's not always useful and valid [enough] to drive performance."
A good quality system will learn from both what works well and what does not work well, and meet standards across its services. Regulation is "very new" to the Irish system and good regulation must be "joined up and proportionate."
Improvement focus
The only way to assess standards is by looking at the patient journey. Otherwise, quality is just a "nebulous factor."
Ireland has many examples of good healthcare, which tend to go unreported. Coates added: "The focus seems to be when Health Service users are let down but the quality and the safety of care, and a regulator, unfortunately that's quite often when we get called into play." The regulator would instead like the focus to be on its quality improvement work.
The vast majority of patients have good experiences and good outcomes but error is always possible. "The Health Service is in the main provided by human beings, a service given to human beings, people-to-people, and we are all human so things don't always go right," she explained.
To date, HIQA has undertaken one inquiry, five investigations in the healthcare sector and two reviews i.e. into symptomatic breast disease services and the prevention and control of healthcare-associated infections.
The problems identified in its May 2012 report into Tallaght Hospital were only "a symptom of the system" and the HIQA now has a clear idea of the main contributing factors to poor care, whether in healthcare or nursing homes. These include:
• a lack of focus on the service user;
• a lack of clarity about accountability and responsibility (with no single person in charge);
• poor working relationships (e.g. between clinicians and managers);
• little discussion about risk and the unintended consequences of decisions;
• inadequate performance management and assurance systems;
• inadequate responses to patients when things go wrong; and
• failing to support staff in those situations (as opposed to 'naming and shaming' and a reluctance to learn lessons throughout the system).
Poor governance in Tallaght was manifested in "an accepted tolerance of patients on trolleys in corridors for a long time" but that was "not unique" to that site. The situation was "the same, if not worse" in other acute hospitals, and equally unacceptable.
"None of us would go into a bank and expect our experience to be 30, 40, 50 hours waiting," Coates points out. "We've accepted that in healthcare and we at some stage have to say: 'Stop.'"
Insufficient action was taken by the hospital and the Health Service Executive: "The State, as a funder of an organisation in receipt of nearly €300 million in State funds per annum, failed to hold the provider to account for the quality and safety of services."
The regulator has only "one small role" in improving quality and safety. A "very articulate" population now voices its views with the help of the media. The professional opinions of staff must also be valued as everyone who enters the Health Service does so with the intention of providing a good service.
Better service planning and delivery, performance management and proper risk and indemnity processes also contribute.
Government policy determines where services are provided but the Government has not yet considered: "What services are we providing, in a small country, and to whom and where?"
Over the last seven years, the number of hospitals providing breast cancer services has been reduced from 32 to eight, and research shows that outcomes for women have improved. Ninety-five per cent of urgent cases are seen within two weeks.
"Regulators cost money and nobody ever wants one," she quipped. "I think if we all look at the banks and regulation, we all 'tipped along nicely' hearing about the Central Bank and weren't very much interested in it. And suddenly when it affected our pocket, we all thought: 'Why was there such soft regulation?'"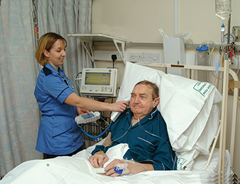 Standards and tools
Under its founding legislation, the HIQA can licence or register a nursing home, and compel homes to make improvements, but in every other part of the health sector, it can only make recommendations.
The health regulator defines quality and safety through standards and guidance, evidence, awareness raising and education. It also assesses the quality and safety of services provided, by examining compliance with regulations and clinical cost-effectiveness (through the health technology assessment).
If a provider wants to make an improvement but does not know how, education, support and coaching are the most appropriate tools. For providers who provide unsafe care and do not want to change, options include extra conditions, improvement notices and ultimately the withdrawal of licences.
When monitoring compliance in healthcare, the regulator asks: "If an organisation is only partially meeting or failing to meet a standard, what risk does that pose to service users or to patients?" If a risk is identified, the HIQA will ask the service provider how it is managing the risk. It then reports its findings and makes recommendations.
The 'National Standards for Safer, Better Healthcare' are relevant for all healthcare providers. While any private provider can adopt the standards, the regulator can only monitor healthcare services provided or funded by the HSE. These standards look at the internationally accepted dimensions of quality and the capability and capacity needed to deliver that care.
Consolidation
A quality service will focus on "person-centred" care and support, the best achievable outcomes, avoiding, preventing and minimising harm, learning from mistakes, and helping people to take responsibility for their own health and well-being.
Leadership, governance and management are essential for good delivery.
"If you've got really good providers at the front-line, delivering care, the care's not sustainable unless the arrangements for accountability and decision-making are in place," she commented.
As the workforce becomes smaller, the HIQA wants to ensure that the right people are in the right jobs, in the right numbers, with the right skills and competencies.
Standards help services to consolidate and do more with less. The greater Dublin area has 1.2 million residents. Looking at the size of the city, she questions whether the system needs seven emergency departments, three paediatric units, three maternity units and one specialist centre: all provided by the public sector.
The Government expects to introduce licensing for healthcare services by 2015. "In advance of that, with the standards, we've great opportunities for 'monitoring for improvement' using an evidence-based approach that focuses on patient journeys as they go through the system."
All of this work will be transparent. At present, the HIQA is monitoring hospitals' compliance with the national standards on healthcare associated infections. The authority published a clear guide in advance, explaining how this monitoring would work. The findings will inform prioritised quality improvement plans, looking at the high risk areas first, and will also be published to promote public confidence.
Service providers will also be required to publish their quality improvement plans online.
The HIQA also receives a large amount of information from users and staff, which feeds into its responsive monitoring work. The authority can carry out unannounced assessments or focused investigations, where necessary.
"The single goal for us all," she says in conclusion, "is a safe, high quality service with clear accountability, with a competent workforce using the resources in the best way possible."