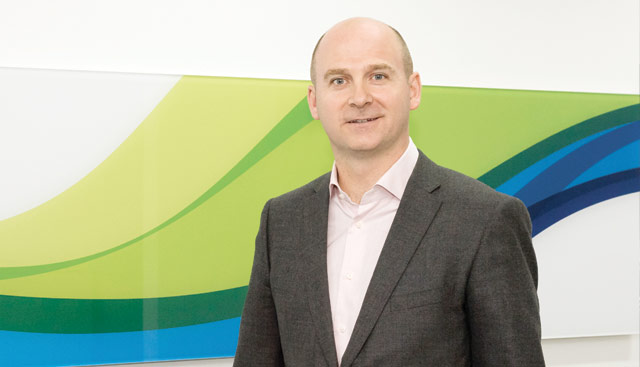 SSE Ireland's Managing Director, Stephen Wheeler talks to Owen McQuade about the importance of meeting customers' changing needs and explains why investment in innovation is beneficial for everyone.
Stephen Wheeler leads one of Ireland's largest and most innovative energy providers. Energy utility SSE entered the Irish market in 2008 when it acquired Airtricity, a renewable energy developer with a heritage in building wind farms in Ireland, across Europe and the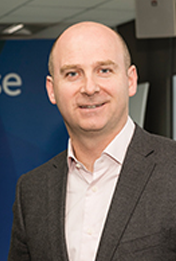 US. "It was a great match of talent and entrepreneurial spirit in Ireland married with the UK company's ambition," explains Wheeler.
"SSE was the big disruptor in the UK domestic energy market back then," he recalls. "There was a real appetite within the Irish business to grow Airtricity's 30,000 customer base which was mostly in the business sector", he adds. The growth strategy was two pronged: to further grow the company's business energy market share and to enter into the domestic energy market in electricity and gas.
Since then SSE Ireland has grown substantially. The utility provider now has 20 per cent of Ireland's energy market, north and south, supplying both electricity and gas to 800,000 customers across business and domestic markets. Wheeler accredits this impressive growth to SSE's appreciation of its customers: "One thing that has been part of our DNA is excellent customer service." Maintaining that level of service has been a challenge in such a fast growing business but he is "hugely encouraged to see where we are now with regard to customer experience."
In 2008, SSE Ireland took the bold decision to deliver its customer services through digital channels. Reflecting on this approach, Wheeler notes that although digital is now widely regarded as the norm, back then adopting this position was a brave decision that has since paid off. "Now around 70 per cent of all customer interactions are performed online, on digital and mobile platforms," he states. "While there is still a key role for the traditional call centre in our business, these digital platforms give people the choice and convenience of contacting us whenever they want."
The first stage of SSE's digital journey has been digitising the more straight forward transactions such as sending bills to customers. The next stage is moving to an omnichannel contact service where the company will provide customers with a seamless experience across all available touchpoints, whether by webchat, social media, app or over the phone.
"We want to be in a position whereby customers can contact us 24/7 by whatever channel they choose and get the response they require," he adds.
Innovation
Recognising that the majority of customers today have smart phones and other smart appliances, Wheeler notes how technology is making it simpler to provide customers with important information that can make lives easier. "Looking ahead, we envisage that the biggest disruptor in the market will be customers themselves," he says. "You only have to look at other industries to see how customer led innovation has disrupted the market, with the advent of companies like Uber and Netflix. Thinking like a traditional utility provider going forward is not going to meet customer expectations and we have been really innovative in this area."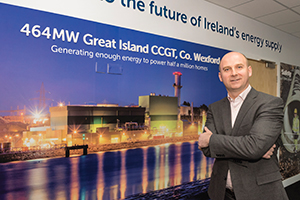 Discussing these innovations Wheeler explains that SSE Ireland reviewed all its interactions with customers and set about digitising them. As part of this SSE Ireland leveraged the GB parent company's Connected Homes project which will be a core part of the company's future innovation. With regards to customer contact Wheeler notes the utility provider's realisation of the potential these developments offer: "There is no doubt, when you combine digitisation with the Internet of Things that people's homes will become increasingly connected. This presents a huge opportunity for customers and we need to be in a positon to service their expectation that everything will be available on their smartphone, from heating controls and security to other home services."
For Wheeler the digital revolution is forcing utility providers to innovate and evolve their business model. "The days of being solely an energy business have gone, customers demand more now," he observes. "In the past our only interaction with our customers came when we issued their bill or when something went wrong. Now, we need to build and develop a strong relationship with our customers, forming a greater understanding of how customers use energy and what they want to use it for."
Wheeler says that in this digital world data is transforming the relationship with customers and believes that if developed correctly, this will help customers use less energy and as a consequence increase the security of supply. "As a customer-led business we need to be in a position to deliver these services. We have moved from being just an energy business to partnering with other companies to deliver a range of services to the connected home," he adds.
Combining the energy trilemma
Turning his attention to how the energy market is addressing the energy trilemma [the balance between security of supply, sustainability and affordability], Wheeler notes how attention has shifted from the security of supply to sustainability and now to ensuring affordability. However, he states that the real challenge is to successfully integrate and combine all elements of the trilemma.
Much of the focus in recent years has been on affordability. "Fuel poverty is a massive issue and something we all have a responsibility to address. The industry has taken a great step forward with the Energy Engage Code and we are very proud to be a partner in that – and we are seeing massive benefits from that. Energy is an essential service, the last thing a utility would ever want to do is disconnect people," says Wheeler. John-Mark McCafferty, from the Society of St. Vincent de Paul (SVP) recently came to talk at an SSE Ireland leadership event. His message was that, although there is growth in the economy, energy affordability and fuel poverty are still concerns for many families in Irish society today. "It is our responsibility to ensure we are doing right by people and ensure we deliver energy efficiency to help reduce energy use in homes," adds Wheeler.
Security of supply
From a security of supply point of view, in 2015 SSE Ireland commissioned Ireland's newest and one of its cleanest and most modern power plants, the 464MW Combined Cycle Gas Turbine in Great Island, Wexford. The project brings SSE Ireland's investment in the country to more than €2 billion since 2008. At the peak of the construction phase there were over 1,200 workers on site and as Wheeler states the project provides many benefits to SSE Ireland and to energy production in Ireland as a whole. "Great Island supports the growth of our customer base and we recognise the need to balance our heritage in green energy with a large combined cycle, highly efficient, lower carbon plant," says Wheeler. This project also enabled the extension of the natural gas network to Wexford for the first time. This will encourage major industrial investment in the area with multinationals such as Coca-Cola already taking advantage of this opportunity and the infrastructure will also be used to supply domestic gas to the region.
"Ultimately Great Island is about an efficient plant helping reduce energy costs," says Wheeler. "Once the grid connection is made fully firm to allow us to export all the generation capacity of the plant onto the system, we can begin delivering the optimum cost saving benefit to the Irish energy consumer which we estimate will be around €50million every year. That's making an important contribution to customers and to the economy."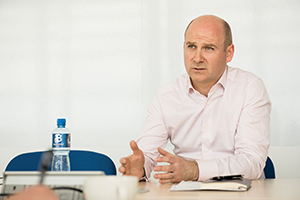 Reflecting on security of supply, Wheeler recognises that while system margin levels are good at present, within the next decade Ireland will face tighter supply due to legislation and plant coming off the system. He also anticipates an increased demand for renewable and cleaner thermal energy with the continued attractiveness of Ireland as a location for multinational companies' large data centres. This 'green data centre' push could require up to 10 TWh of power, placing an additional demand on Ireland's 28 TWh system at current levels. "While this presents a demand challenge, this is a great opportunity for Ireland, representing a significant green tech investment into our economy with our renewable energy resource as the anchor that secures this investment. As a sector, we need to facilitate and encourage this data centre growth for the good of Ireland's economy and at SSE we will be doing all we can to play our part."
Highlighting SSE Ireland's focus on sustainability, Wheeler notes the strong partnerships that it has developed with local communities across the country as a result of the company's heritage in wind farm development. At present, the utility provider has over 550 MW of installed wind energy capacity on the island and is committed to further developing this capacity. Currently SSE Ireland is, in partnership with Coillte, building a further 169 MW wind farm in Connemara, County Galway. "Our Galway Wind Park JV with Coillte is a real statement of intent. We understand our role in helping Ireland decarbonise, transforming and modernising Ireland's energy supply by transitioning from fossil fuel to a low carbon economy, and we see a huge opportunity in that for Ireland," states Wheeler.
Supporting communities
SSE Ireland is also investing heavily in local communities and along with its community fund, which has to date contributed over €5 million to communities across Ireland, Wheeler is confident that Galway Wind Park will provide further benefit to local residents. "Our community fund donates €1 million each year to great causes from every walk of life," he states. "A big focus is on energy efficiency and helping communities on affordability and energy usage. We provide an essential service and recognise our social and moral responsibility to our customers. Whether that is through our investment in Great Island, our wind farms or, most importantly, through investment in our retail business we have to, and do, take that responsibility seriously."
Integrating a low-carbon economy with customer needs and ensuring that transformation is affordable is "incredibly important." Innovation will be key to delivering solutions that help achieve this transformation and SSE Ireland is looking at a range of options including the future impact of battery storage and demand side management. One example of such innovation from SSE is the Real Value project with partners Glen Dimplex, EirGrid, and Intel among others. The scheme will install state-of-the-art storage technology in 800 homes across the island which will include Glen Dimplex's Quantum heaters and use Intel software to aggregate the overall storage load. This will help address the energy trilemma by better shaping energy demand to supply, in particular renewables, as opposed to the traditional model of basing security of supply on matching supply to demand. In doing so the project expects to be able to deliver an affordable and greener consumer solution that doesn't impact customers or compromise their comfort levels. "Ultimately the customer will get hot water and heating when they need it but will pay less. It is a really exciting programme for Ireland that is supported by EU Horizon 2020 funding," says Wheeler.
Looking to the future Wheeler explains that fresh developments will always bring their own challenges and uncertainty. He recognises that finding the solution to ensuring security of supply and sustainability while maintaining affordability will not be an easy task. "It is very complex, the new I-SEM is focused on delivering a more open and transparent electricity market that will benefit customers and as a utility provider we have a responsibility, like all our partners across the industry, to ensure we deliver that at the right cost. These big projects will have to be paid for within the energy market but our social and moral responsibility must remain a key focus."
Profile: Stephen Wheeler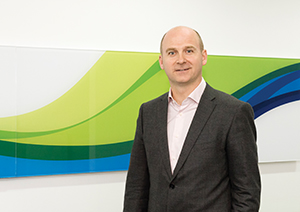 Stephen Wheeler is Managing Director of Ireland's second-largest energy utility, SSE Ireland. Born and bred in Bray, Co Wicklow, Stephen studied engineering at UCD before working with ABB and Siemens internationally (Australia, the Philippines and US): "I learned my trade building and commissioning power plants." In 2003, he moved back to Ireland and began working for Airtricity, where he was responsible for the company's development and construction activities in the Irish and marine markets, before becoming Managing Director of SSE's retail business in Ireland in 2010. "SSE Ireland's success is built on great people. We have over 1,000 people across the island on our wind farms, thermal plants and our offices in Dublin and Belfast."
Outside of work, Stephen has a passion for all types of sports and football and rugby in particular. While he was disappointed with Ireland's performance in the Rugby World Cup last September, he is looking forward to supporting Martin O'Neill's team in this summer's European Championship.
At home he has three young children who he admits take up most of his free time but they are "a wonder and full of surprises."