Issues
Putting our members first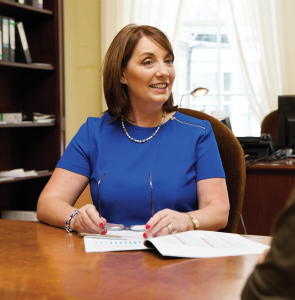 The recently appointed Director General of the Society of Chartered Surveyors Ireland, Patricia Byron outlines her ambitions to make the Society work for all its members.
The Society of Chartered Surveyors Ireland (SCSI) is the independent professional body for Chartered Surveyors working and practicing in Ireland. Representing 12 different surveying professions, the SCSI is the voice for the property, land and construction sectors.
The recently appointed Director General for the Society of Chartered Surveyors Ireland, Patricia Byron, is no stranger to working in leading positions in large organisations. Patricia has previously held positions in the likes of the Motor Insurers Bureau and the Personal Injuries Assessment Board.
Speaking about what she hopes to achieve during her time in the role, Byron explained her ultimate goal is to deliver a truly professional service for the Society's members. "I want to help build a professional service for our members and Society, including government," said Byron.
 "In terms of protecting our interests with the land property and construction sectors, we do a lot of data analysis and we are also a regulatory authority. As well as regulating our members, SCSI also administers the register of Building Surveyors and Quantity Surveyors and is named in the Building Control Act 2007 as the registration body.
The organisation has been through considerable change and the numbers have increased significantly. We now have 5,500 members and are affiliated with the Royal Institute of Chartered Surveyors, so we have a big global reach.
"I think what is required from me now is to step back and take stock of where we are, how we have got here and work to fully understand where we are going next."
Byron engaged BDO Ireland to develop the SCSI strategy for the next three to five years and with the review now drawing to a close, it is the time to step back and evaluate what the SCSI's members have to say. "We are an organisation driven by the members, for the members," admitted Byron. "We are in the process of taking stock of their views and are looking for exciting opportunities to take advantage of as we move forward. It's all now about the data, sorting that data and making good use of it, understanding what it tells us in terms of land viability and construction costs."
The SCSI is proud to have such a rich pool of members. In any given project, there will be a large number of specialists that might need to work together to contribute advice or policy papers to the government. The fact they are all represented by one society is a powerful tool both for the individual members and the Society.
For Byron, any development made to the Society must be about improving things for its members. "The priority for us is implementing the strategic review," she admits. "We want to work on implementing everything that our members suggested to us to help build a future for the organisation to support our members while they go about their professional activities and we need to make sure all our members are supported from those in big organisations right through to rural members. That is the challenge at the moment and that's where our focus must remain."
Society of Chartered Surveyors Ireland
38 Merrion Square, Dublin 2, Ireland
T: +353 1 644 5518 F: +353 1 661 1797
E:sodea@scsi.ie http://www.scsi.ie