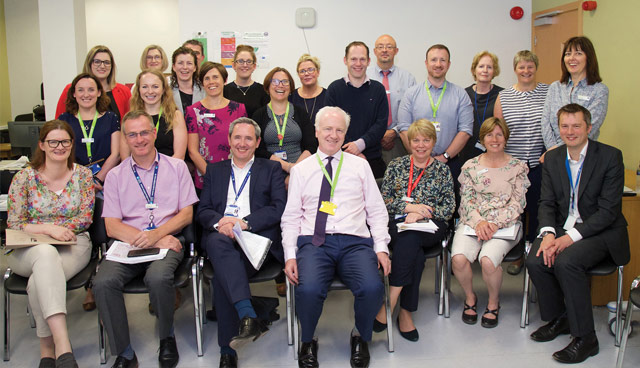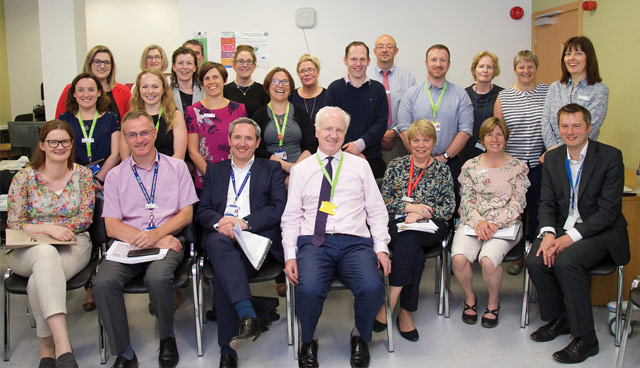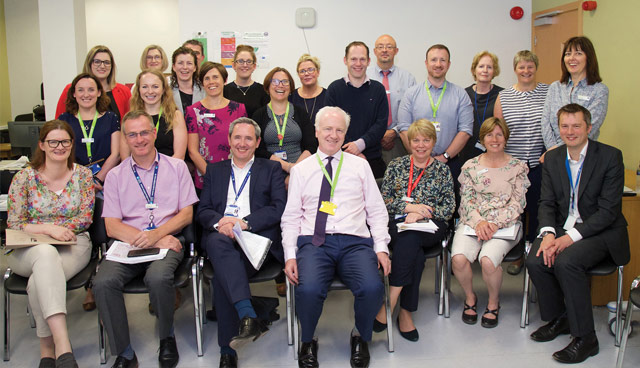 St James's Hospital is the first public acute general hospital in Ireland to go live with the digitisation of inpatient records. eolas speaks with Gemma Garvan, Director of Health Informatics at St James's about the newly implemented electronic patient record (EPR).
It is an exciting time for St James's Hospital with the introduction of a new CIO and the implementation of a new EPR system. Appointed to the role in July 2018, Gemma Garvan has overseen the transformation of inpatient care in Ireland's largest acute hospital. The electronic patient record has transformed the way in which patients are admitted, treated and discharged.
After close to three years of planning, 'Project Oak' – which is a reference to the projected reduction in paper waste – was rolled out over the course of one weekend in October 2018. It means that a patient's health information is now collected and stored in digital format rather than on paper.
Role
"What attracted me to the role is St James's reputation as a leading-edge provider of informatics within the Irish healthcare setting," outlines Garvan. "I was aware that the hospital was undertaking a big project around the EPR."
Previously, the new CIO's career path led her from the Mater Misericordiae University Hospital, where she worked for over 16 years (overseeing the implementation of Healthlink, the National Message Brokering Service), and into eHealth Ireland. While she enjoyed her time working on national programmes in the HSE, as Programme Delivery Director for Access to Information at eHealth Ireland, Garvan was keen to "get back to delivering programmes on the ground in a hospital environment and assisting with the implementation of patient-centred care" and, as such, took up the CIO role within St James's.
"One of the things I am keen to pursue is the utilisation of my experiences at a national level in implementing similar, projects at St James's. For example, that would include the National Patient Portal, or leveraging the National Message Broker – Healthlink and Healthmail –  to strengthen the links between the hospital and the community," she says.
While the transition has been a baptism of fire, Garvan regards her new role as simultaneously "challenging and very rewarding".
eHealth trends
In the wider eHealth context, recent investment from the European Investment Bank (EIB) for eHealth has opened up a range of exciting opportunities. Speaking at St James's, Health Minister Simon Harris announced EIB's €225 million investment in Ireland's eHealth – a core component of the Sláintecare recommendations.
The 20-year loan is intended to facilitate all hospitals to move to EPR systems, with St James's being one of the first. Project Oak is estimated to cost between €5 and €10 million to implement.
"This is representative of a wider awareness of the benefits of eHealth in terms of potential efficiencies and effectiveness in health service delivery," Garvan suggests. "We're also seeing a trend towards national systems, such as the National Medical Laboratory Information System (MedLIS) and the National Cancer Information System. There is a lot of collective work going on that has been invested in in terms of improving individual services at national level, that each of the hospitals can then benefit from."
EPR
In St James's Hospital, the electronic patient record is by far the most significant change programme. "It is something that St James's has been working on for many years and we have put the core foundations in place now. We have changed from the manual system of records and effectively replaced paper patient charts with computerised patient information and medical records," the CIO explains.
Aside from nurses' and physicians' records, this incorporates e-prescribing and the administration of drugs across all inpatient areas. Garvan is keen to outline: "The power of the information that can now be obtained from the EPR will allow the hospital to make evidence-based decisions on how care should be delivered for the future."
In planning for the transition, mandatory training was identified as a key success factor. Approximately 2,273 staff members have been trained in using the Cerner Millennium system over 21,300 hours. Through a 'lessons learned exchange', St James's benefited from the experiences of the Maternal and Newborn Clinical Management System, a maternity electronic health record that went live within the last 12 months.
"We are very keen to ensure that St James's shares its lessons from Project Oak with the wider health service as other hospitals and the National EHR Programme begin their journey from manual to digital patient records.
"So much work has gone into Project Oak and it is critical that others benefit from the months invested in the standards-based SNOMED e-prescribing catalogues and nursing and physician documentation. This knowledge is transferable to other sites and would ensure that future projects can be delivered in a fraction of the time as they
wouldn't be starting at the same baseline."
Rationale
In brief, the rationale for the EPR is the provision of safer, better healthcare. "It's about delivering the safest possible healthcare to patients. This means ensuring that you have quicker access to the right patient information, including all allergies and prescriptions, available at the point of care," Garvan indicates.
Crucially, it is intended that the introduction of the EPR will increase efficiency, thereby reducing patient waiting times for diagnosis, treatment and care, resulting in shorter hospital stays and producing a better patient experience. For instance, patients will no longer be required to repeat the same details in order to receive care.
Additionally, all hospital staff involved in a patient's care will become more agile in sharing information, such as test results and diagnoses, improving their daily activities and ultimately providing more effective healthcare.
"The effectiveness of operation across the hospital is also a huge benefit. Clear and complete digital information can then be analysed and appraised efficiently in order to make well-informed care decisions," she says, adding: "Aside from contributing to healthcare standards, it facilitates the creation of an integrated and connected healthcare organisation.
"This means having all the information required for the care of a particular patient at your fingertips. Likewise, strong digital foundations have been put in place for the future, to establish a connected digital environment between the hospital and the community."
Data security
In terms of data security, Garvan outlines that only healthcare staff who are directly involved with a particular patient's care can access the applicable health records. Staff access is monitored through Role Based Access Controls (RBAC). St James's assures that all data will be treated in the strictest confidence and in compliance with GDPR. As such, a full audit trail outlining who has accessed each electronic record is maintained by the hospital.
Vision
St James's aspires to closer links with the community, ensuring that the goals of Sláintecare are realised through the hospital's activities. This means establishing strong connectivity which yields an insight into a patient's health context, before they arrive on site. This can include social care interactions and living conditions. The intention is to move towards preventative care, helping people to stay out of the hospital.
"The vision is to ensure that we have a full digital footprint across the hospital. To be the most advanced site in terms of digital technology in an acute setting, meeting our patients and staff expectations and enabling better healthcare experiences and clinical outcomes for patients in our care" Garvan concludes.
For more information, please contact:
Gemma Garvan, Director of Health Informatics, St James's Hospital
E: GGarvan@stjames.ie
W: www.stjames.ie