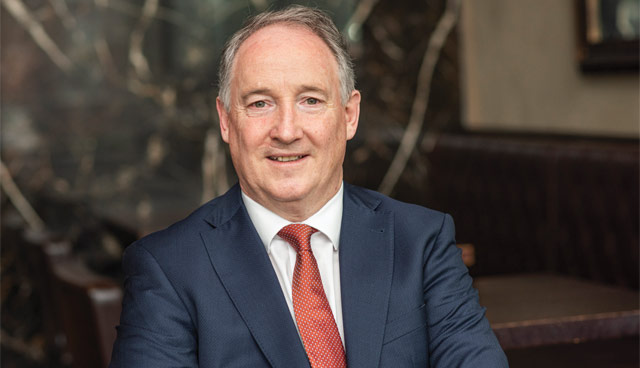 With healthcare in Ireland undergoing rapid and extensive change, National Director of Procurement for the Health Service Executive (HSE), John Swords explains the current state of play in the world of health procurement, including Brexit and the logjam effect of stockpiling.
"If you follow the procedures and process correctly, you lessen the risk associated with challenges that come from industry," Swords says, setting out his stall for the basics of health procurement, an easy touchstone to return to in a time of flux in Irish healthcare.
Health remains the underlying principle to Swords's role: "Patient care is the bottom line here," he says. "Health looks after the 17,500 people who attend hospitals every single day. You don't hear a lot about that, but you do hear about the one thing that has gone wrong. Sometimes that's only right because criticism and the correct complaints keeps the service good. There are errors and people suffer for that, so you look at the screening programme and the issues around that. That's a story on its own around procurement."
Procurement in health, much like health itself, is a world that has seen plenty of change in the last decade, as Swords illustrates by explaining the duties of his team. "We have sourcing contracts, logistics, procurement systems, corporate procurement, planning and capacity development," he explains. "Two of those would have been unheard of about 10 years ago; you wouldn't have heard about systems although we should have. You would hardly have thought of compliance as an issue and we have a department for that now to educate people in the Section 38s [the 23 non-acute agencies and 16 voluntary acute hospitals currently within the HSE Employment Control Framework funded under Section 38 of the Health Act, 2004] and 39s [non-acute/community agencies being provided with funding under Section 39 of the Health Act] to tell them that procurement is important and that money must be spent in the way that government has set out."
It is a long way from where Swords began in his career, as he explains that innovation brought about by the Office of Government Procurement (OGP) and the centralisation of the health system has seen both his role and overall healthcare come a long way since the 1990s. "The bar has been raised, through the development of the OGP, the development of procurement in health and other developments. I go back to 1990 when I was with the Eastern Health Board, we were trying to get the eight health boards together at the time to move onto the HSE and a shared service to where we are now into Sláintecare and all the change and reform happening around that," he says.
"Each of our areas are complex in their own right and you need professionals. Our way of working is combining all those professional approaches, of which we are probably the least recognised of all and at some stage, the most important. That gives a mix of how we should be doing our business. Recognition is a key part of that, and recognition comes in the form of winning or losing in court and thankfully we haven't lost any recent cases, but they still go through everything, so it is a validation in its own right. The people within that play a major role in its development and brining a good service right down to the patient. Each of our areas rely strongly on the professionals around us."
Such extensive scope means extensive spend. As Swords details, €3.2 billion addressable spend covers the Section 38s and 39s, with over 700 staff, 2,500 customers, 3,000 locations, 2,700 requests for procurement support and 1,000 deliveries every day. The 2,000 pharmacies around Ireland, delivered to once or twice a day, are not counted in that 1,000. Of the 2,700 requests for supports, Swords says: "That's high, which is saying that we're getting there in telling people that it's important to follow procurement guidelines every day.
"Managing our spend means that we are accountable. It's really important the bar is raised. All the work being done by procurement people is raising the bar," he says. "We're bringing in a programme of education from next year, from diploma to master's degree. We need visibility for that. We have a single financial procurement system that is very successful. Procurement plays a huge role in this because purchase to pay is massive in this area. The professionalism it drives is incredible. If you start with a good base in regard to the catalogues. We have visibility of what we're spending. That helps industry and helps us to explain what we're looking for.
"Each of our areas are complex in their own right and you need professionals. Our way of working is combining all those professional approaches, of which we are probably the least recognised of all and at some stage, the most important."
"We have about 213 frameworks because we do them from the point of view of health. We bring them to the Prison Service, for example, with things such as methadone, medics going into prisons, into social welfare, they're covered by ourselves. Spend under management is the contracts involved in that, the mini competitions. We're starting to get very good traction on that. If you've been coding on top of that and you have finance with pre-authorisation of orders, that brings a whole new spectrum to days gone by where everyone was ordering everything they wanted, and nobody could see what they were up against. Professionalising the whole service and the way we do our business cleans that whole area up and gives us direct access to what we want to buy in the future."
With 49 hospitals, nine Community Health Organisations, the public sector and 12 corporates, Swords has a complex workload to deal with, but "throw in the market and what's happening in the world such as Brexit" and more complications arise, but this is an area Swords says Ireland is well-positioned to deal with.
"A huge amount of work has been done in health for Brexit. We have been asked why we weren't stockpiling as the UK were and the answer is because we spoke to industry," he says. "We spoke to over 160 companies on the medical devices side and over 230 companies in relation to areas outside medical directives. Every single one of them said not to stockpile as it would crush the system and cause delays. We have two to three weeks stock in any given hospital and seven weeks stock in the national distribution centre in Tullamore and the companies have six onwards in their stock.
"We should be able to sustain the initial shock of Brexit. In the UK, by way of comparison, they stockpiled and are not centralised. They were at one stage but outsourced their logistics, contracting and systems, which was a massive mistake that we learned from. They are decentralised at the top because they have no directive. They're reliant on people doing the same thing at the same time, which doesn't happen. Medical devices were the area that caused the most concern because the EU decided that they weren't going to give any derogations and basically pulled the chain on the UK. 50 to 60 per cent of our medical devices come through the UK and would be no longer recognised after Brexit, so we had to move to the EU, which was a massive task. We're well placed by way of Brexit," he concludes.