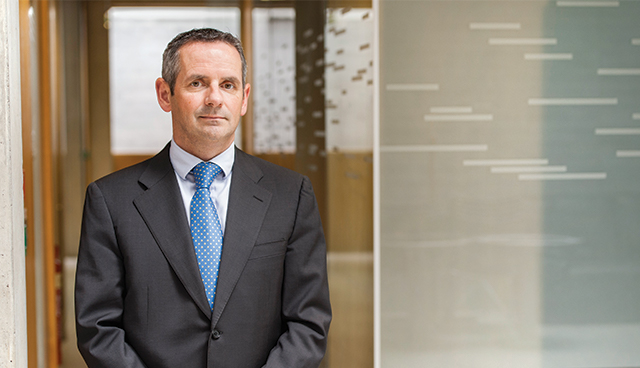 While the Covid-19 pandemic has challenged the Irish healthcare system to an unprecedented extent, it has also provided an opportunity to restore the confidence of the public and government. Health Service Executive CEO Paul Reid sits down with Ciarán Galway to discuss testing and tracing capacity, ICU beds and the impact on non-Covid-19 care.
Upon being appointed to lead the HSE in 2019, Paul Reid listed three core priorities for his five-year tenure: the delivery of quality and safe services; transitioning to a new model of integrated care; and strengthening confidence and trust in the HSE. Despite the Covid-19 pandemic upending the health and social care ecosystem, these priorities have remained broadly consistent.
"Sometimes people might have the view that the pandemic has set us back, but actually I believe that the HSE has strengthened against a lot of those core objectives," Reid suggests.
Over the course of the pandemic, the health service has been tracking public trust and confidence. Outlining that these metrics have significantly improved during this time, the HSE CEO indicates that this also applies to organisation's key stakeholders.
"Certainly, with many of our stakeholders – with government, with ministers, with the wider public service – trust has improved hugely to the extent that we have been able to scale up and protect the public. Indeed, there has been a lot of good collaboration with trade unions during this phase and we have received positive feedback from staff," he says.
The delivery of quality and safe Covid and non-Covid services has remained a key objective for the HSE. Reid maintains that the system put in place to protect staff, patients and the public has actually improved, while the integration of care has accelerated through enhanced collaboration between the hospital system and community services. This includes the establishment of new care pathways within the community to relieve the pressure on hospitals.
"Against those priorities, Covid-19 certainly hasn't set us back," he asserts, adding: "In comparison with other European health systems and jurisdictions, we've done quite well. We had a lower level of mortality relative to European countries; a lower level of ICU admissions; a higher level of successful discharges from ICU. In terms of care, we performed quite well."
Trust and confidence
When Reid previously spoke with eolas Magazine in late 2019, he emphasised need to establish financial discipline. The HSE subsequently reduced its overspend from over €800 million to less than €200 million. Have regained government's trust, the HSE has received significant extra funds for 2020 and an additional €4 billion for 2021.
"Firstly, I think that's a demonstration of stronger trust in the health system by government. Secondly, it brings huge obligations to ensure that we utilise that money effectively.
"For example, in the first phase, PPE was at an extreme cost worldwide. We had to pay a huge premium to protect our staff and the public. Now, we can see much greater competitiveness in the market, and we aim to get around 40 per cent improvement on what we've had to pay before. We must continuously look for value for money. We must retain that discipline," the Chief Executive emphasises.
Exponential Covid-19 transmission
In October 2020, having experience an exponential growth in the community transmission, Ireland was placed on Level 5 restrictions under the Plan for Living with Covid-19. Providing a sense of the unfolding situation in Irish hospitals, Reid asserts that they are "challenged but coping" and highlights that ICU admissions have not yet triggered national surge capacity.
Simultaneously though, he acknowledges the high level of community transmission, particularly among people aged 19-24. Within this, the HSE is specifically concerned about a multi-lag effect on those aged 65 and over.
"Firstly, there is a lag of higher infection rates amongst older people. That can take a bit of time. Secondly, there is a lag between community transmission and hospitalisation. Thirdly, there is a further lag between hospitalisations and ICU. We are concerned about this multi-lag effect which might impact in coming weeks," the CEO illustrates.
We can increase hospital capacity, we can build more ICU capacity, and we can build up our testing and tracing capacity, but the only thing that can reverse the trend is the public.
Asked if the health service is at risk of being overwhelmed, Reid admits that such a scenario is always a concern and stresses that public compliance with public health restrictions is crucial. "We're planning and resourcing to manage the risk of being overwhelmed, but it really depends on the public buy-in and compliance with public health measures. We can increase hospital capacity, we can build more ICU capacity, and we can build up our testing and tracing capacity, but the only thing that can reverse the trend is the public," he asserts.
Testing and tracing capacity
"Our testing and tracing system, like others across the world, is always under pressure. But it ranked second in a recent survey of European countries in terms of the number of tests per capita. We are systematically testing close contacts, which many other countries aren't doing. In terms of protecting the public, it has done quite well," the CEO affirms.
"We're also undertaking mass serial testing of nursing homes, Direct Provision centres, schools and meat and food processing plants. We built a capacity of 100,000 per week and we're now doing closer to 115,000 per week."
Worryingly though, over one weekend during October 2020, Ireland's contact tracing system was overwhelmed and came close to collapse. As a result, the HSE stated that between 2,000 and 2,500 individuals who tested positive for Covid-19 infection were asked by text message to advise their own close contacts that they should restrict their movements and arrange a test.
"We went from 8,000 calls per week to 48,000 calls last week [beginning 19 October]. That's where it became overwhelmed on one weekend. There were 1,970 contacts that we contacted but weren't in a position to contact their close contacts. We had to make a judgement call to notify their contacts on the basis of keeping on top of everything else that came after that. It was a risk-based decision, but it was the right decision to make," Reid maintains.
One factor which caused this scenario to transpire was the delay in the recruitment of testing and tracing staff. The HSE model has combined redeployed staff alongside a recruitment process.
"Our recruitment campaign started on 07 September and we now have 300 newly recruited people. But the pace of what was happening in the community overtook the recruitment process that we were on. That's a simply a fact of what happened," Reid states.
The contact tracing process has been delayed by more frequent and more complex calls. Alongside efforts to stymie community transmission and therefore reduce calls, the contact tracing process has been subject to automation.
"Rather than just texting negatives, positives will also receive a text before being followed up with a call. This means that they immediately get a notification. We're also automating more of the self-serve whereby upon being notified, people can immediately populate their contacts to improve the process," the CEO notes.
ICU capacity
Currently, the fully staffed ICU bed capacity in Ireland is 285, with a temporary surge capacity of 360. This total is an increase of 30 beds from 255 at the outset of the pandemic. "We have another 17 to have in place by January as part of our Winter Plan which will bring us to 302. In our budget for 2021, there are another 20 beds funded which brings us to 322. All permanent capacity. That's a significant uplift considering that since 2014, we have been at a static number," Reid contends.
However, increasing ICU capacity is not simply about adding more beds to the system. The care pathway for each ICU bed is staffed by between six and seven nurses, alongside a higher proportion of doctors and consultants. "It's not just about a bed, there's a wider investment," he adds.
Simultaneously, there is a reluctance to trigger surge capacity as it utilises High Dependency Unit beds and post-operative theatre beds; beds which are generally used for elective care. Likewise, it leverages staff resources that have been trained but do not generally work in ICU. This creates a higher level of risk.
Non-Covid waiting lists
Covid-19 has had a significant impact on non-Covid waiting lists. At the time of this conversation, 330 people were hospitalised with Covid-19, 40 of whom were admitted to ICU. "At the peak, we had 160 people in ICU and almost 900 in hospital. However, at that stage, we had ceased upon non-Covid services. We weren't running the other services, whereas now we are. As such, one Covid case has a disproportionate impact on our hospital services. It's a big challenge to run the dual system," Reid reflects.
Equally concerning for the HSE CEO is evidence that suggests that people are presenting much later for time dependent care. "Many of our clinical consultants are concerned that people are coming forward later, this means more serious interventions and higher risk," he says.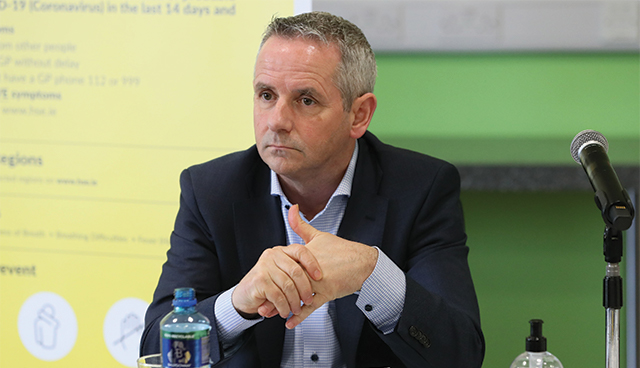 I think what the public is experiencing is a much more unified health system with a much more coherent voice.
The return to elective care and resumption of screening programmes with infection control measures has challenged the health service. In June, the HSE launched a restoration plan for its screening services and in July launched a restoration plan for the remainder of its services. However, many of these have not returned to the desired extent while others have not resumed at all. For instance, elderly day-care centres are difficult to manage in a Covid-19 context.
Lessons
Reflecting on the lessons learnt during the pandemic so far, Reid indicates that one positive development has been the improved dynamic between HSE centre and the services unlocking the wider system to be more agile in implementing change.
"The pandemic has not been a pleasant experience or one that we might have wished for, but it produced some great learning around the future of the health system. There is now a greater confidence about implementing change.
"We gave some direction from the centre, but it was largely up to the services themselves to implement dual pathways, community initiatives, community assessment hubs or the testing and tracing system. I think that has given the services a lot more confidence to implement change while providing us with lessons around 'tight and loose'. This means being tight around the core objectives, but loose by way of letting the system achieve them. We removed a lot of bureaucracy in this phase," he explains.
Budget 2021
Budget 2021 heralded the largest ever health budget in the history of the State. With an increase of €4 billion it totals €21 billion, alongside €1 billion additional capital spending. The funding will add capacity to permanent adult critical care beds, acute beds, community beds and rehabilitation beds, while increasing homecare hours to 24 million and providing support for mental health services, enhanced community and social care services, and an increase of around 16,000 posts in the health workforce.
"The next stage in that process is working towards a National Service Plan for 2021. That process commences very shortly and sets out how we plan to deliver health and social services in 2021 within the allocated budget. At a high level, it's a combination of resourcing, acute capacity, community capacity and integration," Reid summarises.
The HSE CEO does not believe that Sláintecare objectives have been neglected in the context of Covid-19. "I believe that they have been truly enhanced because all of the measures we are implementing now are also core measures contained in Sláintecare. Investing in primary care, investing in GP care, treating more elderly people at home, integration between acute hospital systems, increased investment in telehealth and remote clinics. These have been implemented at pace, probably much quicker than we would have been able to do pre-Covid. The challenge for us is to consolidate."
Winter Plan
Looking ahead, the HSE's short-term priority is implementing the Winter Plan, ensuring that hospitals and emergency departments are not overwhelmed and that the public is effectively protected. Simultaneously, it aims to deliver care in the community as per Sláintecare.
"I think what the public is experiencing is a much more unified health system with a much more coherent voice. That for me is a success that we can consolidate throughout the rest of the year. That means government, trade unions and the HSE all speaking with one single voice about the health system," Reid concludes.