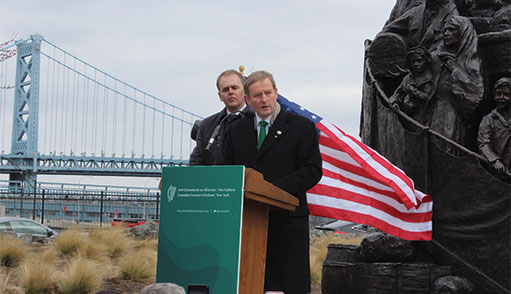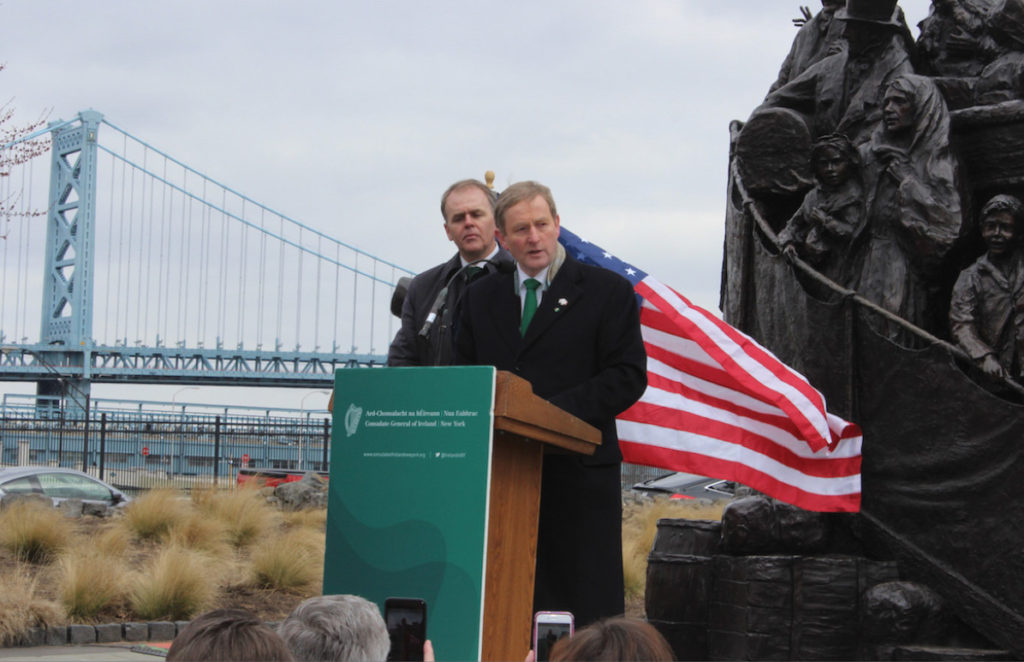 The Government has committed to staging a referendum on an amendment to the Constitution which would enable Irish citizens who live outside of the State, including those residing in the North, to vote in presidential elections.
Addressing a St Patrick's day ceremony alongside the Irish Memorial at Penn's Landing in Philadelphia, Taoiseach Enda Kenny outlined: "Today's announcement is a profound recognition of the importance that Ireland attaches to all our citizens, wherever they may be. It is an opportunity for us to make our country stronger by allowing all of our citizens resident outside the State, including our emigrants, to vote in future presidential elections."
The decision reflects the recommendations made in the Fifth Report of the Convention on the Constitution compiled in November 2013. In the same month, then Minister of State for the Diaspora Affairs Jimmy Deenihan also voiced his support for this extension of voting rights.
The 100-member Convention was established in 2012 to discuss eight proposed amendments to the Constitution of Ireland and draft a report on each issue. The Government committed to process of formal response and a subsequent Oireachtas debate within four months of each report, though it is not obliged to act upon any recommendations relating to an amendment. However, two recommendations, one on same-sex civil marriage and another on a proposed reduction in the age of eligibility for presidential candidacy, did go to referendum in May 2015.
The Convention was tasked with considering eight specific issues and then further supplemented this with the selection of an additional two. As such, the fourth item on the Convention's agenda was to deliberate an amendment to the Constitution which would provide citizens resident outside the State the right to vote in Presidential election at Irish embassies, or otherwise.
The Convention heard from an assortment of expert Irish academics, a global panel of organisations representing the diaspora, GAA delegates, as well as the views of Stormont parliamentarians. However, while the six main parties in the Assembly were invited to send one representative each, both the DUP and UUP declined.
In this instance, a clear majority of Convention members supported an amendment to the constitution. 78 per cent of Convention members voted in favour of enabling citizens outside of the State to vote in Presidential elections.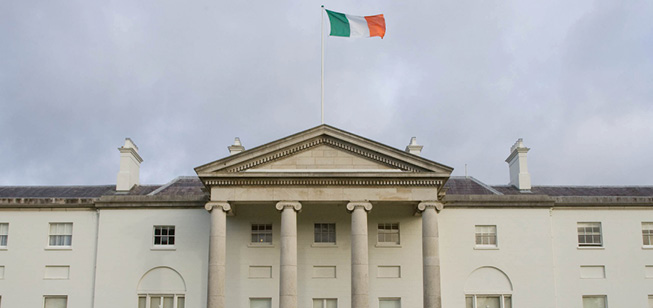 Referendum
Ireland is currently in a minority of EU member states who do not extend voting rights to its citizens overseas. Indeed, in 2014, the House of Oireachtas Joint Committee on European Union Affairs made three recommendations to rectify this position. These were:
1. that the Government accept the principle that voting rights should be extended to Irish citizens abroad;
2. that the Government proceed to design a system that would be workable in an Irish context; and
3. that an Electoral Commission be established to implement recommendations one and two.
The Government has acknowledged that such an extension of the presidential franchise will require a modernisation of the voter registration process and, simultaneously, the inception of arrangements to facilitate such a voting process. As such, an options paper outlining "all the various permutations" will contribute towards "a rational and informed debate to determine the best options" for these dual requirements was published in March. In May, a subsequent discussion will be held at the Global Irish Civic Forum in Dublin. It is anticipated, therefore, that the systems employed by other European states and those further afield, including the US, will be considered as potential solutions.
The Taoiseach affirmed: "Many members of the diaspora felt it would allow them to deepen their engagement with Ireland and to play a more active role in Irish society. This is something with which I absolutely agree. That is why I am delighted to be announcing today that the Irish Government has decided that Irish citizens resident outside the State, including in Northern Ireland, should be allowed to vote in Irish presidential elections.
"This is in line with the recommendations made by our Convention on the Constitution in their fifth report. This proposal will, of course, require the approval of the Irish people in a referendum to amend the Constitution. If the referendum is passed, it will also involve significant work to determine new eligibility rules, to draw up legislation and to implement a new electoral register and new voting procedures for all of our citizens."
In July 2016, Deenihan's successor as Diaspora Minister, Joe McHugh, suggested that the referendum was planned for early this year. However, responding to a query posed by Sinn Féin leader Gerry Adams in the Dáil, the Taoiseach dismissed the possibility of a referendum occurring either this year or next. Therefore, with the next presidential election scheduled for 2018, it is anticipated that any amendment passed by referendum will not come into effect until the following election in 2025.
Reaction
Whilst eligible for election, neither former president Mary McAleese, a Belfast native who held office for two full terms, nor erstwhile candidate Martin McGuinness could cast a vote for themselves. As such, the Taoiseach's statements have been roundly welcomed by representatives of northern nationalism.
Sinn Féin senator Niall Ó Donnghaile has been vocal in his pursuit extending the franchise for presidential elections. Addressing the Seanad, he rationalised: "The office of Uachtarain is a hugely symbolic one and it defies logic that someone from the North can become Uachtarainn but not be entitled to vote for themselves. If the Government are serious, as co-guarantors, about realising the values and aspirations of the Good Friday Agreement, then this is something they must live up to delivering."
Meanwhile, the SDLP's Colum Eastwood applauded the announcement and asserted: "The voice of Uachtarán na hÉireann speaks for far more than the State, it is the voice of the Irish people. It is fitting that Irish voices from across the world, whether they're in Boston or Belfast, Dublin or Dubai, should have an equal stake in who holds that office… It would be a significant endorsement of the principle of self-determination that secured support for peace in the North if our Irish citizens were given the right to choose our President."
At the same time, speaking with the BBC's Ireland Correspondent Mark Simpson, UUP chief negotiator Tom Elliott commented: "One thing I will say is, I don't want polling stations set up in Northern Ireland for it. I don't want to see them getting airtime on either of the news channels here because I think that would be imposing on the greater people of Northern Ireland. So, if they need to vote, they need to find a way without setting up polling stations." Simpson confirmed that other unionist politicians had articulated similar opinions to him.