Issues
Potential impact on euro zone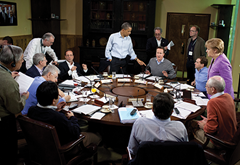 G8 leaders met in Camp David for two days on 18-19 May amid a backdrop of continuing uncertainty about the euro and Greece's presence in the euro zone.
The contrasting emphases of growth (championed by Obama and Hollande) and fiscal rectitude (advocated by Merkel and Cameron) were juxtaposed in the summit's communiqué. All governments "need to take actions to boost confidence and nurture recovery including reforms to raise productivity, growth and demand," it stated. Leaders also endorsed "sound and sustainable fiscal consolidation policies that take into account countries' evolving economic conditions."
Productivity and growth, they said, would be achieved through "structural reforms, and investments in education and in modern infrastructure." However, "financial measures" are needed "while not choking off near-term growth."
The line on Greece was conciliatory but brief. It stated: "we affirm our interest in Greece remaining in the euro zone while respecting its commitments."
Meanwhile, the OECD has warned that the euro crisis remains the single biggest downside risk facing the global outlook. Its chief economist Pier Carlo Padoan warned of the risk of a vicious circle involving "high and rising sovereign indebtedness, weak banking systems, excessive fiscal consolidation and lower growth." The organisation predicted GDP growth across the OECD of 1.6 per cent in 2012 (down from 1.8 per cent in 2011), but increased growth of 2.2 per cent in 2013.
Leading economist Martin Wolf has warned that a Greek exit from the euro would cause chaos in Greece and would be disastrous for the EU and global economies.  He cited predictions by ING chief economist Mark Cliffe that Greece's GDP would contract by 4 per cent between 2012-2014, should it exit the euro. A break-up of the euro zone would lead to a deep recession across Europe, with a GDP fall ranging from 7.4 per cent in Germany to 13.1 per cent in Greece this year. Arguing for speedier fiscal adjustment in the euro zone, Wolf believes that this can be achieved only through a buoyant economy and higher wage growth and inflation in core economies.
While EU leaders remain divided on the measures needed to address the euro crisis, senior European figures have been outlining their visions for the EU's future. In a speech on 9 February, the 20th anniversary of the signing of the Maastricht Treaty, German Chancellor Angela Merkel said it was necessary to create "a political union, something that wasn't done when the euro was launched."
ECB President Mario Draghi said recently that the Fiscal Compact Treaty is the starting point to fiscal union in the euro zone.