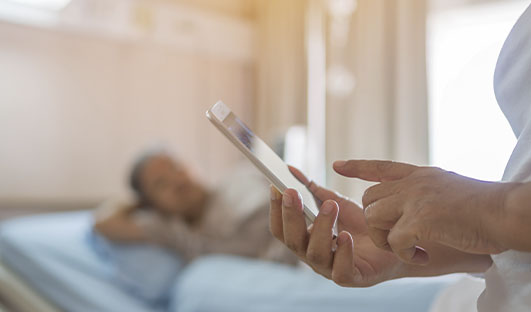 The Covid-19 pandemic provided the catalyst for the rapid introduction of many new health technology features, but a greater role of health information systems and data infrastructures is required to enable responsiveness to increased healthcare use and expenditures.
While the establishment of eHealth Ireland has led to many improvements, significant gaps in health information systems and data infrastructure requires considerable investment and further advancements, an ESRI study has found.
Examining the developments in healthcare information systems in Ireland and internationally, the ESRI research outlines the key tools of individual health identifiers (IHIs) and electronic health records (EHRs) as policy ambitions yet to be implemented at a national scale, but which are "key goals of the Irish healthcare system".
The research estimates that in 2021, less than 0.8 per cent of the public health budget was spent on eHealth and health technologies, lower than most peer countries, despite the recognisable benefit of an advent of new health technology in dealing with Covid-19.
While Covid highlighted deficiencies in the Irish health data landscape, mainly for decision-making to provide rapid responses at the onset of the pandemic, it also served to hasten the increased adoption of some pre-existing eHealth tools such as e-prescribing and e-referrals.
Additionally, it has spurred the advent of new technologies, including the cloud-based lake platform to collect and collate Covid-19 data, and the Covid Care Tracker, which became vital features of the pandemic response.
Highlighting that an individual health identifier (IHI) was rolled out through national programmes such as the Covid vaccination programme, the ESRI study says: "Further building upon and strengthening these improvements and successes will be required to continue to navigate the course of the pandemic and to meet the healthcare challenges of the post-pandemic era."
In comparing a range of international eHealth evidence in other countries, the ESRI pinpoints Scotland as a useful template for developing Ireland's health information system within the public health system. The study highlights that Scotland's Community Health Index (CHI), a mandated unique patient identifier, is the "fulcrum" for health information system development.
"The available evidence indicates that an integrated national electronic health record is a key enabler of the collection, secure storage and confidential communication of health information from disparate settings within a health system," the report states.
However, it adds that while big data, electronic health records and individual health indicators are important, of equal importance to a modern health information system is interoperability, enabling the different systems across the health system to communicate and integrate with each other.
The study summarised six policy recommendations, outlined below. Highlighting the pandemic's role in identifying gaps in Ireland's health information systems, increasing adoption of existing eHealth technologies, and fostering new technology innovations, the research concludes: "Further building upon and strengthening these improvements and successes will be required to continue to navigate the course of the pandemic and to meet the healthcare challenges of the post-pandemic era."
Policy recommendations
1 Develop a modern HIS based on national IHIs and EHRs that spans services and the public and private systems.
2 A robust, structured and rigorous health data infrastructure that captures data from public and private providers to allow for resource, capacity and workforce planning.
3 Continue investment in current and capital funding needed for HIS in Ireland. Replacement of antiquated healthcare technologies with devices that afford appropriate modern capabilities and functions.
4 Ensure privacy protections for data subjects and cybersecurity provisions. This process should be transparent and well communicated to the public.
5 Support digital health literacy and capability among older people, those in rural areas, and those in lower socioeconomic groups.
6 Train the healthcare workforce in the use of new technologies and eHealth.