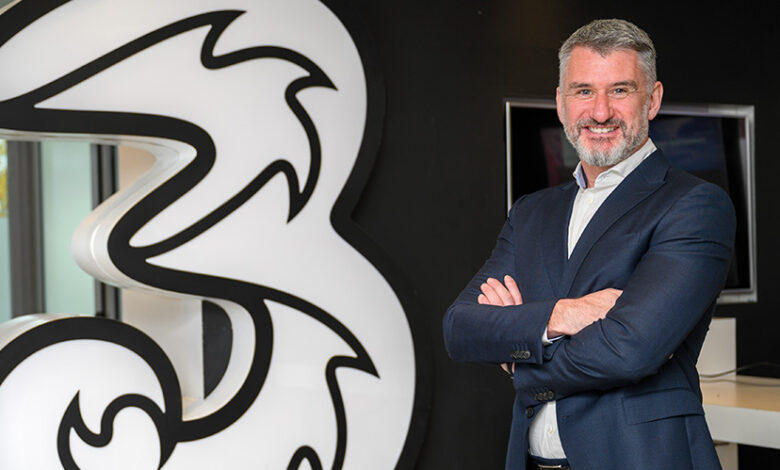 Ken McGrath, Head of Public Sector Sales with Three Ireland, outlines the advantages of 5G within the post-Covid public sector landscape, as well as exploring network security and resilience, data as a solution, and Three's ambitions for the future.
Allied to the digital transformation agenda, the public sector is undergoing a pivot towards hybrid working and seeking to establish an optimal work/life balance. "In this context, we have observed a widespread adoption of 5G which will undergo several iterations as its associated applications evolve," McGrath remarks, adding: "In the initial phase, over the past 12 months, the experience of enhanced mobile broadband has been tangibly felt."
Connectivity
Emphasising the centrality of connectivity during the Covid crisis, the Head of Public Sector Sales asserts: "Digital transformation does not exist without network access and associated flexibility."
While acknowledging the continued expansion of the National Broadband Plan and investment in fibre network assets by the fixed-line carriers, he contends: "With more people working remotely than ever, there is congestion in broadband services."
Network
Given the macroeconomic headwinds both nationally and internationally, 5G is an essential component of the infrastructure that can facilitate continued economic growth. Ten times faster than its 4G predecessor, it is projected that the economic potential of 5G in Ireland will equate to €12 billion of GDP by 2030 as reported by Amárach.
"Three Ireland is playing an important role through creating Ireland's fastest mobile network, and we take pride in it," McGrath asserts, adding: "Fundamentally, for Three, this is all about the strength of our network. For instance, our 4G network coverage has exceeded 99 per cent and 5G coverage has increased to over 85 per cent, representing a significant improvement when compared with 2021. According to research carried out by Amárach on Three Ireland's behalf, for every euro invested in 5G, the contribution to the market equates to €2.50. As such, we project no slowdown in our investment in the 5G network."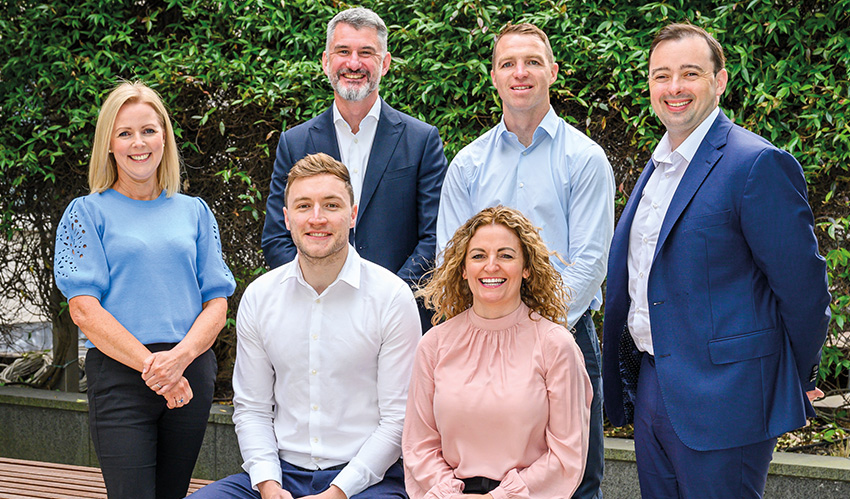 "Our ambition is to sustain the momentum for positive change and ensure that the potential of our 5G infrastructure is realised in delivering a better public service."
Ken McGrath, Head of Public Sector Sales, Three Ireland
Opportunity
The advantages of 5G are many and varied: enhanced mobile broadband which delivers wired speeds via wireless access, ensuring enhanced agility, flexibility to deployment solutions, and, ultimately, productivity for those working remotely. 5G also brings low latency and greater bandwidth to allow business and industry transform, as well as enhancing day-to-day connectivity for users. Indeed, with median download speeds of 217.38Mbps and median upload speeds of 21.03Mbps, Three's 5G network topped the rankings in the Ookla Speedtest Awards for Ireland during the first six months of 2022.
Given an unprecedented emphasis on employee wellbeing, McGrath contends that mobile broadband facilitates an improved work/life balance while simultaneously ensuring greater interaction between geographically dispersed work teams.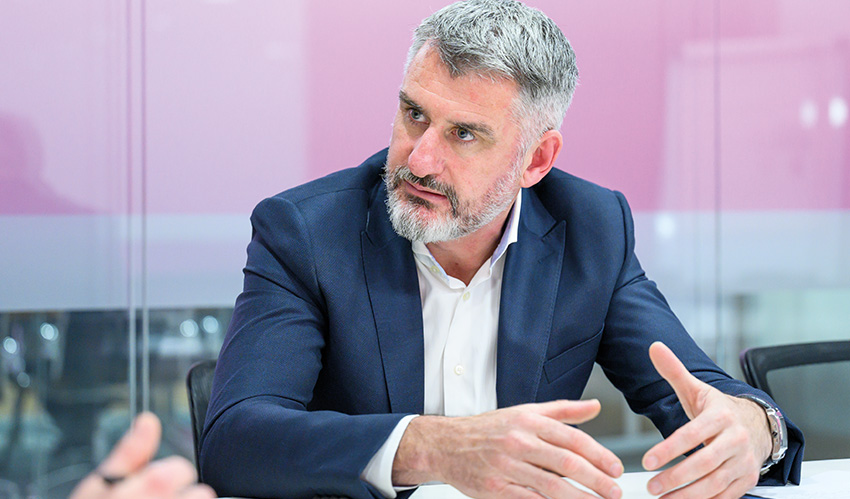 "Digital transformation does not exist without network access and associated flexibility."
"Enhanced connectivity is all about positive change and there is significant potential within the public sector," McGrath determines, noting: "This means that people can work flexibly to achieve project completion, for example, while simultaneously delivering a work/life balance.
"Within a hybrid working model, time spent in the office engenders a new type of interaction; it is very focused, target orientated, and conducive to increased productivity. Conversely, commuting into the office on a daily basis is a routine which does not necessarily lend itself to productivity."
3Connect
Confining organisations to one physical location highlighted a reliance on traditional infrastructure which was exposed during the Covid crisis. Conversely, once mobile connectivity is achieved in any location, it enables public sector organisations to access the tools to provide mission critical services. For example, having partnered with Aware as its charity partner, Three Ireland assisted the national mental health charity to remain operational during the pandemic.
Traditionally, Aware volunteers fielded inbound calls from a contact centre, located within a single headquarters location. The initial public health announcements in March 2020 presented a challenge in that volunteers could no longer attend headquarters to receive calls.
As a solution, 3Connect – Three's cloud-based telephony system – allowed Aware to route calls securely to volunteers via an app, empowering Aware to avoid service disruption.
"Through the connectivity and associated solutions that Three Ireland provided, Aware personnel were equipped to receive those calls from several locations. This served to increase Aware's geographic footprint, meaning that its people could operate effectively from anywhere.
"More broadly, we have observed the video conferencing tools being deployed by organisations to enable working from home. Wireless broadband services deliver seamless connectivity to ensure interaction equivalent to an office environment," McGrath explains.
3Mobile Protect
However, the Head of Public Sector Sales is cognisant of the security vulnerabilities associated with remote working. "One challenge that has emerged for organisations is the significant expansion of the attack surface; it is no longer isolated to a single location. Strategically, for public sector organisations, this has necessitated an enhanced awareness of preventative measures.
"At Three Ireland, we know how important security is for our customers, and it is our utmost priority to ensure our customers feel safe in the knowledge that we have solutions available to protect them. We have our finger on the pulse, understanding that if people are utilising a mobile broadband service, there are applications that guarantee endpoint protection," he says.
Following the May 2021 ransomware attack on the HSE, Donegal ETB – the largest further education and training services provider in the State – observed a surge in the targeting of its employees' phones by SMS phishing scams. Given the increased prevalence of employees teaching remotely, a cybersecurity challenge emerged.
Consequently, 3Mobile Protect – a mobile threat defence solution for mobile devices and tablets – was deployed to 200 Donegal ETB devices. Within a single day, this software detected and blocked 1,600 attempted security breaches, as well as over 5,000 separate network traffic requests, ultimately preventing data leakage from Donegal ETB.
"The strength of 3Mobile Protect stems from the absence of compromise when it comes to security on a device, ensuring that when an employee is connecting to the internet or receives a communication via the internet, they are not inadvertently exposed to a threat vector," McGrath states.
Data as a solution
Allied to enhanced connectivity and bandwidth comes increased volumes of data. Data lakes are centralised repositories which contain significant amounts of raw data which can be analysed to create simulations to assist with decision-making.
"Connectivity is providing new insights. The opportunity is to make those data insights useful in an Irish context. Indeed, the anonymised mobility data that Three Ireland gathers from the 5G network can enable simulations and insights, while simultaneously ensuring that our customers are never compromised.
"For instance, throughout Covid, insights into movement of people were important. As we enter the new normal and experience a resurgence in tourism, that data is going to be vital in relation to the continued growth of the economy. For instance, utilising some of the datasets, we can establish the origin locations of visitors, identifying where they are congregating in Ireland from a geographic perspective," the Head of Public Sector Sales elucidates.
"Data as a solution hinges on asking intuitive questions. From a public policy perspective, there is not a government department or public service agency that would not benefit from these anonymised data insights and Three Ireland offers great opportunities for partnership."
Smart cities
Similarly, within the Smart Cities sphere, Three Ireland is at the nexus of an Internet of Things (IoT) ecosystem, collaborating with Smart Dublin, academia, and other mobile operators to identify new solutions that provide for a better user experience and efficiency via real-time data.
"Three Ireland is the largest IoT provider in the country. Amid the ongoing cost-of-living crisis and energy usage, smart applications and monitoring have engendered unprecedented significance," McGrath notes.
Talent
During the pandemic, the significance of talent management was reinforced within Three Ireland's public sector team. "We know we have a great network, but we also have great people. This talent is evident across Three and our customer orientated approach pervades the entire organisation," he emphasises.
"Our public sector team specifically understands the customers that it serves, the challenges that they are experiencing, and helps to identify the solutions that consolidate long-term relationships. We do not take these relationships for granted and are ambitious to keep improving. We have a strong sense of how we are performing through our customer insight surveys and we score very highly in critical aspects such as account management, billing, and network experience."
Ambitions
Public sector agencies require relationships that have longevity. As such, McGrath's team strives to facilitate as positive an experience as possible by ensuring that its public sector customers have the connectivity – as well as the innovative solutions layered on top – necessary to deliver their services.
"We are investing in the people that come into our team, developing the propositions specific to securing new contracts in the next 12 months. Our ambition is to sustain the momentum for positive change and ensure that the potential of our 5G infrastructure is realised in delivering a better public service," he concludes.
Profile: Ken McGrath
A graduate of Athlone Institute of Technology and Galway-Mayo Institute of Technology, Ken McGrath is a results driven, strategic senior sales leader with over 25 years in the ICT sector. Having served as Head of Public Sectors Sales with eir Business for over five years, McGrath moved to the same role with Three Ireland in September 2019 and has been in situ for over three years.
As well as his passion for sales, McGrath is also a committed volunteer, serving as volunteer, sponsor, mentor, and ambassador across various organisations such as the Khan Academy, NDRC, eir Fund, the GDPR Awareness Coalition and the Health Service Executive's eHealth Ireland Innovation Week and Digital Natives eHealth 2030 competition.