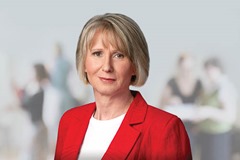 A journalist by background, Susan O'Keeffe is Labour's Agriculture Spokeswoman in Seanad Éireann. Susan was elected to the Seanad in 2011, and previously contested Ireland North West in the 2009 European Parliament election and Sligo-North Leitrim in the general election.
She is married with three children.
How did you make the transition from journalism to politics?
I started working as a journalist for the Southside free-sheet in Dublin, having qualified as a dairy and food scientist from UCC. I always wanted to be a journalist and I threw myself into the profession at the deep end. Probably the best way. I worked for nearly every publication in the country as a freelance and then was delighted to be part of the founding team for the Sunday Business Post.
From there, I moved to Granada TV's 'World in Action' to make what became known simply as "the beef programme" which was broadcast in 1991. I was arrested and stood trial in 1995 after refusing to reveal my sources to the tribunal of enquiry into the beef industry. I continued to work in television, moving to the BBC where I travelled the UK and the world as a programme maker in current affairs. I had huge help and advice from an enormous group of talented people across my career: Ken Finlay, Paddy Smith, Aileen O'Toole, Frank Fitzgibbon, Vyv Simson, Ruairí Quinn and Joan Burton, to name a few.
When I returned to Ireland with my family, just before the crash, I was working as a current affairs radio and newspaper commentator – a job I enjoyed hugely.
When the Labour Party asked me to stand in the European elections in 2009, I genuinely saw it as an opportunity for new people to change politics. I wasn't elected but stood in the general election in 2011 in Sligo-North Leitrim, was narrowly defeated and was then elected to Seanad Éireann in May 2011 on the Agriculture Panel.
Politics is a different world but the challenges and experiences of journalism stand to me. I find politics interesting, frustrating and rewarding – all at the same time. Lobbying for change and achieving the gender quota legislation to bring more women into politics is the highlight of my time in the Seanad thus far. We need equality in the Oireachtas and the women of Ireland have a huge role to play in Irish political life.
What do you count as your main achievement in the Seanad?
I am pleased that the Seanad is a retained house but it must be reformed. Legislation at national and European level needs more intense scrutiny and Seanad Éireann has a real role to play in adding a different flavour to the scrutiny of the Dáil and of committees.
It was also a great honour to have been able to pay tribute to Seamus Heaney – a wonderful, generous man who was the voice of our nation for such a long time.
What more needs to be done to tackle corruption in Ireland?
Tackling corruption in Ireland is an ongoing job because there will always be corrupt people. Regulation and more open government – with information, appointments and policy discussion – help and certainly send a signal to citizens that this is what we should strive for but they will not mark an end to corruption by themselves.
Smaller countries struggle with corruption because of the strong 'nod and wink' culture which prevails.
Strong journalists will help too – asking the right questions, following the real stories and not the flim-flam – but strong journalism costs money and the press is currently under enormous financial pressure.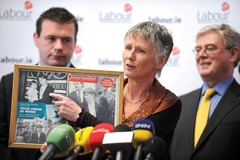 How do you assess the current state of the Irish media?
Journalism has changed considerably in the years since I started. Stories die quicker, the audience has less patience and less time and the 'car crash' quotient has risen – all things which undermine quality journalism and journalists. Pressure on newspapers pushes the cult of the personality more than is healthy or beneficial.
The political establishment is held to less account than it should be with much going under the radar in favour of high profile/personality stories.
However, there is genuine potential in new digital platforms to find new and exciting ways to bring stories to people – in tandem with citizen journalists rather than the freefall of information that sometimes passes for fact and truth on the highways and byways of the internet.
How do you spend your free time?
Free time is valuable and always in short supply and I spend it with my family, husband, three wonderful daughters, dogs and cats.
I enjoy walking in beautiful Sligo where I live, reading and cooking. I am passionate about poetry and have worked hard locally and nationally to bring WB Yeats and his talented family to a wider audience, especially in 2015, the year when we will celebrate 150 years since his birth.
This is a project to which I am committed for the next number of years and one which I enjoy thoroughly.