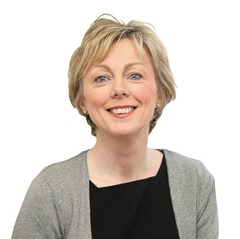 Regina Doherty has been a Fine Gael TD for Meath East since 2011 and previously worked in the ICT sector. She is a member of the Health and Children Committee and the Finance and Public Expenditure and Reform Committee. Regina is married to Declan with two sons and two daughters.
How did your political journey begin?
My mum and dad were fiercely political. We got a council house in Ballymun when I was two in 1973 and to return the favour – as was the case back then – the result was to set up a Fine Gael branch in Ballymun which my mother and father did.
That got us hugely involved – culminating in my mother running with Nora Owen in the local elections in 1979 – and I'd go everywhere with them. I joined Young Fine Gael and then moved to Meath where I lived for two years before becoming politically active in my own right. I joined the local Fine Gael organisation because we had no playground in my own village and I had just had my first son.
We had a by-election in 2005 where Shane McEntee was our very successful candidate and was elected. Very shortly afterwards, we started preparing for the next election because there was a brand new seat up for grabs. Shane was our candidate for the north of the county and we selected a lady from Dunshaughlin who pulled out at Christmas 2006.
The constituency executive came to me and asked me if I would run. So I ran in the 2007 election and was unsuccessful, ran in 2009 and got elected to Meath County Council, and then again in 2011 – and here I am.
Who has been your main mentor?
Nora Owen. She would have been part of our lives growing up right until the point where she was appointed Minister for Justice. Apart from the fact that she was female, she was hugely dominant in that role around the time of the passing of Veronica Guerin and the establishment of the Criminal Assets Bureau. She had four kids and a senior position in our party – being the deputy leader but also in government – and she's an incredibly smart, savvy and funny lady.
What's distinct about Meath East?
It's an amalgamation of a rural constituency with the increasing population in the south of the county where the Dublin commuter belt has grown significantly in the last 10-15 years.
The population of the entire county has grown significantly – by about 80,000 people – and yet the demographic per capita is not served well by national government. The services haven't increased with the population increase e.g. the local government budget, Health Service resources and numbers of gardaí.
It's a magic place to live. I'm originally from Finglas and would never have thought about going down the country to live. I married a Meathman, all my family came down after me and I wouldn't dream of going back. I love the proximity to Dublin and the fact that I live in such a heritage-rich naturally beautiful landscape.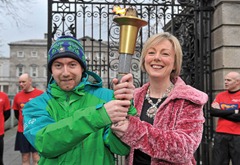 What further action do you want to see on mortgage arrears?
The Insolvency Service of Ireland is working for some people with split mortgages – up to 20,000 as opposed to 2,000 at the start of last year – but it's not working as well as anticipated and I'm glad that the Taoiseach is going to look at that and make some slight changes.
There are a whole lot of people who do not have the ability to pay and the only option being put to them right now is repossession (some option!) and putting themselves on a list with their local county council. I'm working with Ross Maguire and a group of people with financial expertise to come up with a package to provide a socially acceptable solution for those people.
The crux of it is to put an offer to the banks to buy those mortgages off them, to allow them to lease those houses back to the families living in them for one, three or seven years – at an affordable rental rate. The main caveat is that you're able to buy back your property if and when you recover at market value. If the value of the house increased, the householder would be able to take 50 per cent of the uplift of the house. The creators of the scheme will make money, which is fine as it's their initiative, but most importantly people who remain in their homes will have the opportunity to benefit from the uplift in the house prices. They will be able to buy their house back again and do all of this in the privacy of their home.
How do you measure success?
It's difficult for a backbencher to say what they have achieved because they don't have the opportunity to devise or develop policy. I have been working very hard over the last four years and I hope that I have genuinely inputted into achievements, through the Health and Children Committee, such as the heads of the Alcohol Bill and plain tobacco packaging.
The change in Down's syndrome Ireland's allocations of special need resources will also soon come together – a project that we've been working on for three years.
How do you like to relax?
I love to sing. I was one of the founding members of a folk group established in my village 10 years ago.
I haven't got the time to go to the practices but I still go to the Mass and sing along wholeheartedly with them.
Saturday afternoons and Sundays are precious as I've four children and that's when we go swimming and go to football matches, Mass and Sunday dinner.
It's not a sacrifice because I chose this job and I love it but you do give up other things that you might otherwise have had.