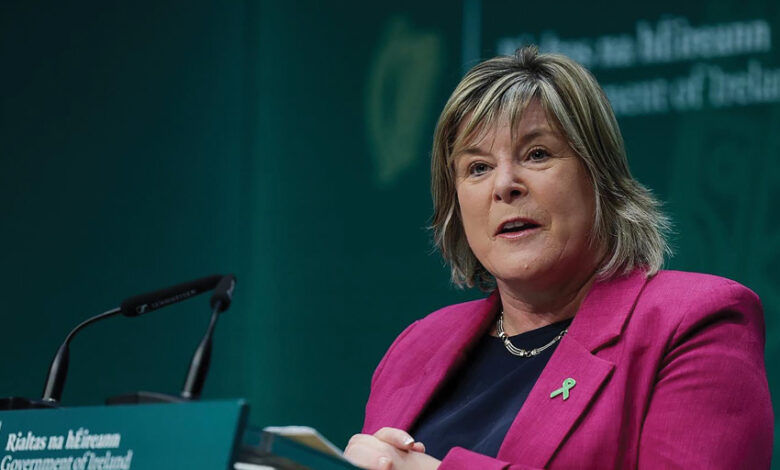 Mary Butler describes becoming the first female Waterford TD to be appointed minister since the State's inception as the greatest honour of her life. The Minister of State for Mental Health and Older People is a proud advocate of Ireland's oldest city.
How did your political career begin?
I have always been enthusiastic about being an active member of my local community. I served on the board of management in Portlaw National School for 10 years and I was always actively involved in the parish. My early interest in politics stemmed from this. I joined Fianna Fáil over 35 years ago. I suppose I have always been one of those people who wanted to give back to the community where I grew up.
In my 30s, Fianna Fáil approached me about running in the local elections. However, at that stage, my family was still young, and I decided it was not the right time, but I was certainly bitten by the bug. I did not realise this fully until I was canvassing for various other party candidates at local, national, and European level. The ambition to run never really left me and only became stronger with each election I was involved in. Thankfully it was not long before the party approached me again ahead of the 2014 local elections and I felt the time was right.
I am from Portlaw, County Waterford, in the Comeragh Electoral Area. I was really proud to be the first female candidate to represent Fianna Fáil in that particular constituency. I managed to get elected, taking the sixth seat in a six-seater. It was a particularly good day for the party as we took half of the six seats. Only four of the 32 councillors elected in Waterford in those elections were female and I immediately felt we all had an important role to play. It has been 10 years, and we still have a long way to go nationally, but I am so encouraged to see a steady increase in female participation in politics at local and national level.
In 2015, I was approached by the party again. This time I was asked to consider running in the general election. I took some time to reflect and talk it over with my family and my team as it was a big decision. I will always remember what was said to me: "Sometimes an opportunity comes your way, and you can either take it or let it pass you by." I secured the nomination as the candidate for the party via a selection convention and I was honoured to top the poll with 10,603 votes in the 2016 general election, becoming a TD representing Waterford. I was the fourth ever female TD to represent the constituency.
What are your most notable achievements in the Oireachtas to date?
I was delighted in 2016 to co-chair the all-party committee for dementia. We, as Oireachtas members of all parties and none, worked together as a collective to raise awareness about dementia. I was also appointed Fianna Fáil Spokesperson for Older People around this time. I was delighted to be able to utilise my background in retail, both as an employer and an employee, in my time as chairperson of the Oireachtas Committee for Business, Enterprise and Innovation from 2016 to 2020. I think my finest achievement to date was being appointed Minister for Mental Health and Older People in 2020 by then-Taoiseach, Micheál Martin TD. It was my delight and the greatest honour of my life to be first female Waterford TD to have been appointed minister since the foundation of the State.
"People in Waterford are not afraid to articulate their opinions in relation to the county and the country they live in, and I am very, very proud to represent them."
I am very proud of the work I have done, especially during and in the immediate aftermath of the pandemic. Covid was obviously a very challenging time for older people and people suffering with mental health conditions, so I set to work immediately and stationed myself behind the desk with the mantra that the country, and indeed the world, was in crisis and there was no time to lose. I think the weight of a global pandemic bearing down on us about a month after a general election really jumpstarted our work as a parliament and later, in government.
More generally, I am pleased to have been able to directly ensure that the key triangle of supports which enable older people to age well at home, in day care centres/dementia specific day care centres, meals on wheels, and homecare are in place. I was also delighted to be the minister that implemented key Fair Deal changes for farmers. The Fair Deal Scheme is an important piece of legislation which supports 22,500 people per year with the cost of their nursing home care via an annual budget of €1.4 billion. There was a discrepancy by which farmers were treated differently in the scheme and I brought through legislation which meant everyone who availed of the scheme, regardless of occupation are now treated equally.
What is unique about representing the Waterford constituency?
Waterford is a fantastic constituency. It is the oldest city in Ireland. It is both a rural and urban constituency. We are blessed to be in the sunny south-east, between the sea and the mountains. We have so much to offer in terms of a health work/life balance. We are only 90 minutes from Cork city and two hours from Dublin and many, many people from the south-east and beyond have chosen to make Waterford their home.
In 2022, we were voted the best place to live in Ireland and I certainly do not disagree with that. People in Waterford are not afraid to articulate their opinions in relation to the county and the country they live in, and I am very, very proud to represent them.
What are your priorities going forward?
My priorities as a minister are to continue to implement the Programme for Government, alongside my colleagues, which was agreed upon when we entered into the three-party coalition. In terms of mental health, it is key for me to continue the strong roll out of mental health supports. I am very concerned that in some instances post code lottery is a big feature depending on where you live and that is one of the barriers I am trying to break down.
I want to continue to support older people to age well at home. I want to continue to ensure that they have access to the background supports they need. 99 per cent of people want to live out their final days in their own home and it is imperative that community supports are in place to facilitate this and that is where my focus will be. We have an ageing population in Ireland which means life expectancy is good, but it is so important that we keep one eye on the future in this respect.
I will also continue to advocate strongly for my county as a TD from Waterford. We have made great progress in the last few years securing over €200 million in funding for the North Quays initiative which is the largest single investment ever outside of Dublin. We are also delighted now to have helped facilitate the establishment of the South East Technological University (SETU) and we will continue to make sure that we get the necessary investment to further develop this vital project.
My focus also remains firmly on University Hospital Waterford, the best performing hospital in the country over the last two years and I will continue to work to make sure that all the services necessary for the south-east are in place. Waterford Airport is also a priority for me. I believe it is a key infrastructural asset for the south-east.
What are your interests outside of the political sphere?
I am a very family-oriented person. I am glad I can really rely on a great family support network in my husband Mick and my three children, Jack, Jane, and Jay. Not just my immediate family, but my siblings and my elderly mother also.
I am a huge Waterford GAA fan. I sat as chair of the camogie club in my own parish on two different occasions. We are all Manchester United fans in my household. My husband and daughter were lucky enough to get tickets for the recent FA Cup semi-final and had a great trip to Wembley.
Additionally, I absolutely love walking Ozzie, our dog, and taking in the surrounds of my local area. It is great exercise and really helps clear the head on my busy days.