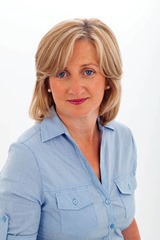 Áine Collins has represented Cork North West since 2011. A qualified accountant and auditor, she has over 20 years' experience in business development and management consultancy, including a bar and restaurant. Áine sits on the Jobs, Enterprise and Innovation Committee and the Public Accounts Committee. She is married to Paul with three children and is the only female Fine Gael TD in the Ireland South area.
How did you get involved in politics?
I am the youngest of six children from a farming background. My father Timmy was heavily involved with the local Fine Gael branch and I spent a lot of my youth on doorsteps canvassing with him. Every year we would visit Béal na mBláth for the commemoration where Michael Collins was ambushed and killed.
It was my father that stirred my interest in politics. He was very passionate about politics and passionate about Fine Gael – an overwhelming belief that his party could, and would, make a difference to his country. Sadly, he passed away in 2006 so he wasn't there to see me elected but I know he would have been very proud.
What do you count as your main achievements as a TD?
The bureaucracy (in Leinster House) blew my mind at the start. Decisions take a long time to be made.
The first achievement – probably also the most important to me personally – was working with the then Health Minister, James Reilly, on the new gateway drug, kalydeco, for the treatment of cystic fibrosis. I believed it was imperative that the Government would pay for this treatment as Ireland has the highest proportion of people with cystic fibrosis in the world.
This drug was vital to improve the quality of life for those eligible to take it and it also allows them to live longer. Having a daughter with cystic fibrosis and that being part of the reason I went into political life, you can imagine that I shed a few tears on the day the Minister told me the Government were going to approve the payment for kalydeco in January 2013.
I am passionate about the area of small and medium-sized enterprise development. I believe my experience in the business world gave me a strong understanding of what's needed to run your own business.
With my work on the Jobs, Enterprise and Innovation Committee, I researched and wrote a paper on a better way to provide mentoring to entrepreneurs and indigenous businesses which is now being implemented by Enterprise Ireland. I want to emphasise in government that small and medium businesses are the backbone not only of our country but for every local community in Ireland as they transpire into jobs especially in rural areas. We need to focus more on these businesses. There is a lot more we can do.
What are your main aims for Cork North West?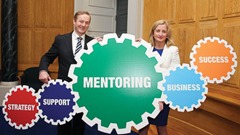 My first priority is to achieve the most for the people and communities in my constituency by making them a great place to live, work and grow old in. Strong communities are vital and a lot of people give their time voluntarily for the betterment of our communities in many ways, whether it be sport, Tidy Towns, chambers of commerce, schools or community councils. l am very happy to get involved and do my best to strengthen these communities.
I was frustrated by the lack of investment available for entrepreneurs in Cork so I founded the Cork Foundation. The foundation seeks contributions from donors both here and abroad, and provides a vital link between these contributors and Cork's enterprises, connecting the funding stream so that indigenous businesses can create jobs and prosper.
It is time to ask the millions of people who claim Irish heritage around the world to help. We have a youth unemployment crisis and 85 per cent of all new jobs are going to come from new businesses. I believe, to keep our rural communities alive, that we need more social enterprises and the co-op model can help drive this.
Who have been your main political influences?
I would have to say Hillary Clinton, as she consistently portrays the image of an empowered woman. She is a positive role model to all women aspiring to rise to positions of power, whether in political positions or not.
How can government better support SMEs?
I think mentoring can play a big part in our economic recovery – mentoring can be the difference between success or not for businesses. We have gained much experience over the last decade. We need to tap into this experience both at home and abroad and bring people together. We can do this through technology where people can connect.
I also think it is vital to evaluate what is working and what is not and we should not be afraid to change things – to date we are poor at this. I think, to drive entrepreneurship, we need to try and change the culture in Ireland. I would love to see this as part of the school curriculum in the future to encourage the next generation.
How do you spend your free time?
Time management is key. It's not always easy juggling work and family life but sure that's the case for any busy woman. I like to take the kids swimming or to the cinema. I enjoy cooking and love to entertain family and friends. I enjoy walking and cycling as well as reading.