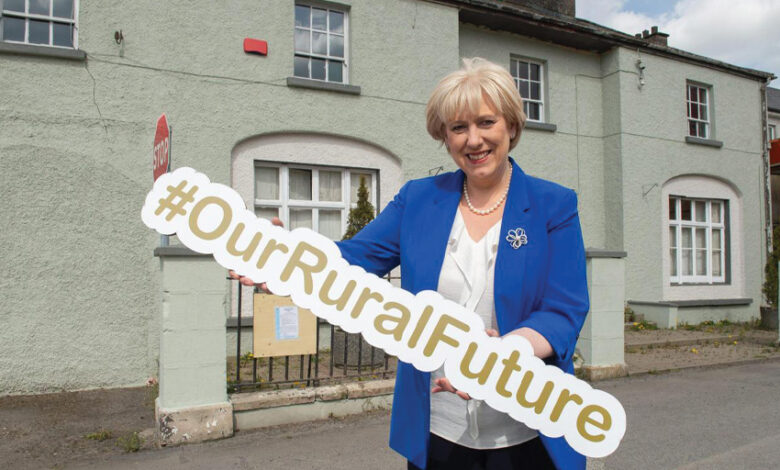 Currently serving as Minister for Social Protection and Minister for Rural and Community Development, Heather Humphreys TD was first elected as a Fine Gael TD for Cavan-Monaghan in 2011. Re-elected in 2016 and again in 2020, she has also served as Minister for Arts, Heritage and the Gaeltacht, Minister for Business, Enterprise and Innovation, and Minister for Justice. A native of Drum, County Monaghan, she is the only serving Presbyterian member of the Oireachtas.
How did your political career begin?
Prior to entering politics, I worked with Ulster Bank, and I also served as Manager of the Cootehill Credit Union. That experience gave me such a great grounding in terms of dealing with families, their problems, and the real-life challenges affecting their lives.
I never really had any intention of embarking on a career in politics. But for that I owe a great deal of gratitude to my friend and mentor, the late TD Seymour Crawford. In 2003, I was co-opted onto Seymour's seat on Monaghan County Council. That then kicked off my political career.
What are your most notable achievements in the Oireachtas to date?
I am very privileged to have served as Minister in several key government departments.
I am proud, and indeed privileged, to have led the successful 1916 commemorations, which I believe did so much in terms of both healing community divisions and strengthening our identity as Irish people. In 2016, we also delivered the Creative Ireland Programme, which represented the most significant moment for arts and culture in Ireland in a generation.
A year later, I was appointed the Minister for Business, Enterprise and Innovation. In that role, I worked hard to support businesses through the challenges of Brexit and, of course, the Covid-19 pandemic. This was an unprecedented period in our country's history, and it was therefore only right that we rolled out unprecedented supports for our businesses to ensure their survival.
That theme of working to support people through Covid-19 very much continued for me when I was appointed Minister for Social Protection in 2020. We ensured that people who lost their jobs virtually overnight were protected and supported with the Pandemic Unemployment Payment (PUP).
Following the rollout of the PUP, we delivered the biggest social protection budget in the history of the State – supporting our pensioners, carers, people with disabilities and working families. On top of that, I am proud to be spearheading significant reform in the areas of pensions, hot school meals, child maintenance and pay-related benefit.
Similarly, I was too only privileged to serve as Minister for Justice on two occasions, when my friend and colleague Helen McEntee TD took maternity leave. I worked very hard in that role on issues affecting communities, An Garda Síochána and our wider justice system.
In my Rural and Community development portfolio, I launched Our Rural Future in 2020. This really is the most ambitious rural development policy in decades and is underpinned by unprecedented investment in our rural towns and villages.
Anyone who knows me knows I am someone who has 'rural' in their DNA. I believe rural Ireland is where the heart of our country beats. We now have more people living and working in rural Ireland than ever before and through the likes of remote working, we will continue to attract people back to rural Ireland.
Rural Ireland is alive and well – a place where our communities do so much to support each other. As minister, I will continue to support, backing, and investment in our towns and villages – making them better places to live, work, visit, and raise a family.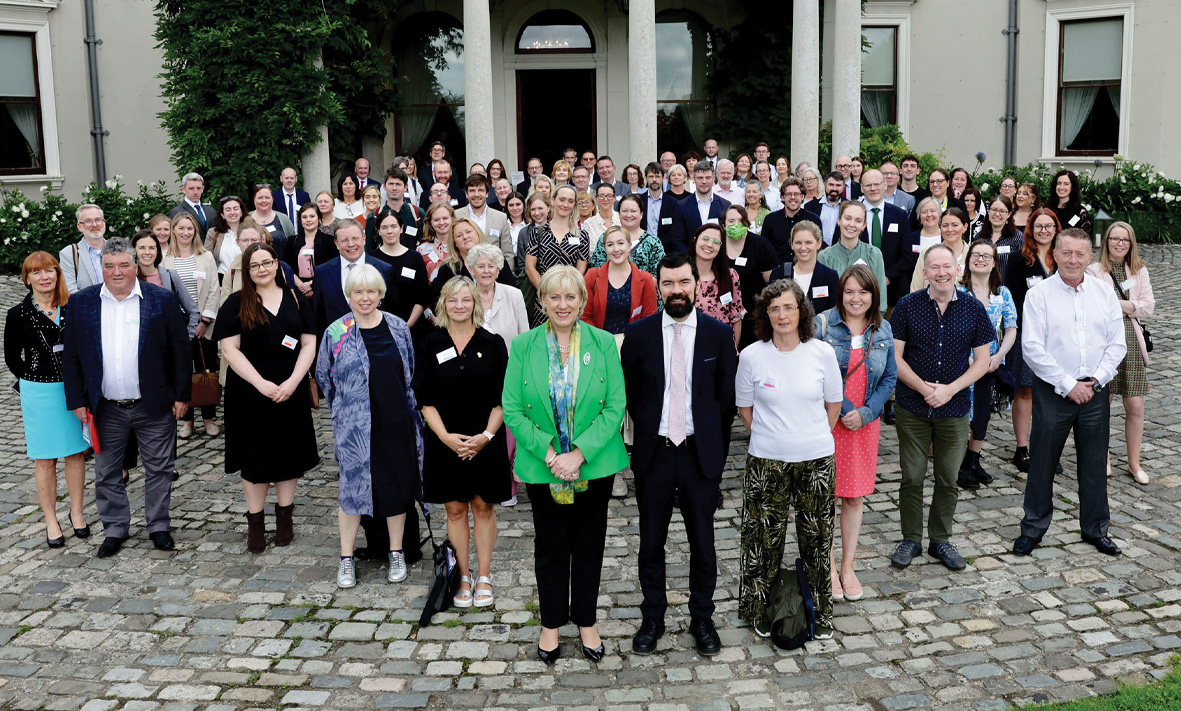 What is unique about representing the Cavan-Monaghan constituency?
Representing my constituents in Cavan, Monaghan, and north Meath has been the greatest privilege of my life. Being a border TD gives you a real insight into the importance of bringing people together.
In terms of my constituency, I have worked very hard on many projects – the Ulster Canal is one that stands out. This will be a game changer in terms of tourism. But above all, the Ulster Canal will be a symbol for peace and reconciliation helping to strengthen and protect the common bonds between both traditions on our island.
I am also very proud of what we have achieved in relation to Cavan Institute. We delivered an almost €40 million investment that will deliver a state-of-the-art college accommodating 1,000 students.
And then of course, we have the PEACE Campus in Monaghan, the IDA factory, and the development of Rossmore Park – the number one forest park in the country in terms of visitors. So, by working together, we have achieved a lot for this constituency, and I am proud of the role I have played in this regard.
"Fine Gael is the party that has delivered more investment for rural Ireland in the history of the State."
Heather Humphreys TD
How can Fine Gael maximise its impact during the lifetime of the current government?
Fine Gael has always been to the forefront in terms of responding to the challenges and difficulties facing Irish families. Whether it was the Covid-19 crisis, the horrific war in Ukraine, or the ongoing cost of living pressures – we have shown that we will not be found wanting in terms of protecting and supporting families and businesses the length and breadth of the State.
We have and will continue to support our pensioners, our carers, people with disabilities, and working families in Budget 2024 and beyond.
We will continue to be to the fore of helping more people to own their own home, as well as continuing to help our renters. We will work hard to deliver further reductions in income tax, as well as ensuring that we deliver further improvements in our healthcare system and that every child gets the best start in life. And we will continue our record as the party that understands and represents rural Ireland and our farming community.
Fine Gael is the party that has delivered more investment for rural Ireland in the history of the State, helping to make our rural communities better places to live, work invest and raise a family. We are now at a point that we have never been before, with unemployment now at a record low of 3.8 per cent. There are other parties that would destroy the progress we have made in recent years. Fine Gael in government will not allow that to happen.
What are your interests outside of the political sphere?
I am a new grandmother to my grandson, Arthur. So, a lot of my spare time is spent looking after him which is a truly wonderful experience.
I am also a keen gardener – an activity which is great for clearing the head, especially after a busy week.
Certainly this summer, with the Dáil in recess, I will try to visit as many agricultural shows as possible. I really believe that our agricultural shows are intrinsically linked to our rural towns and villages.
They sum up all that is good about rural life and are a central point for our farming community. They are also fantastic days out for all the family.
Through my rural brief, I was very pleased to announce a record level of funding for our agricultural shows this year. The €1 million investment will assist 122 agricultural shows across the country, and I want to wish all the volunteers the very best.