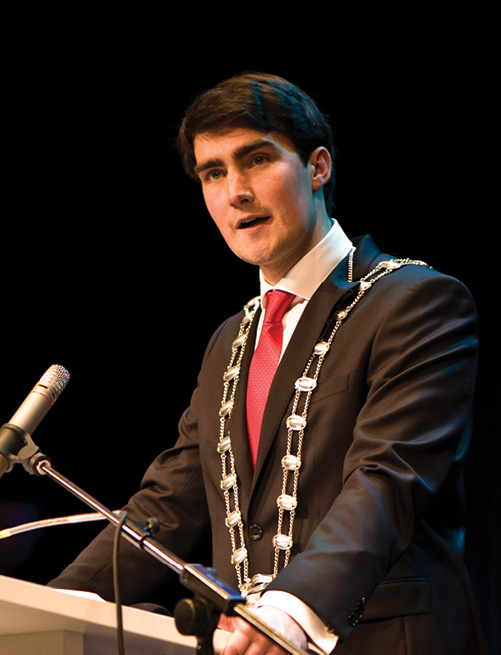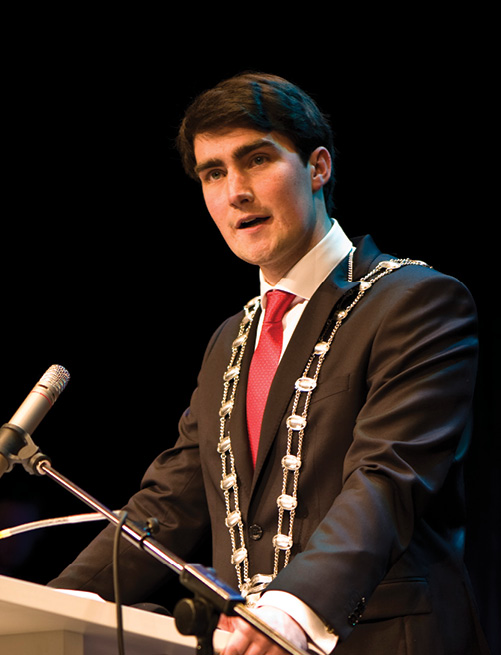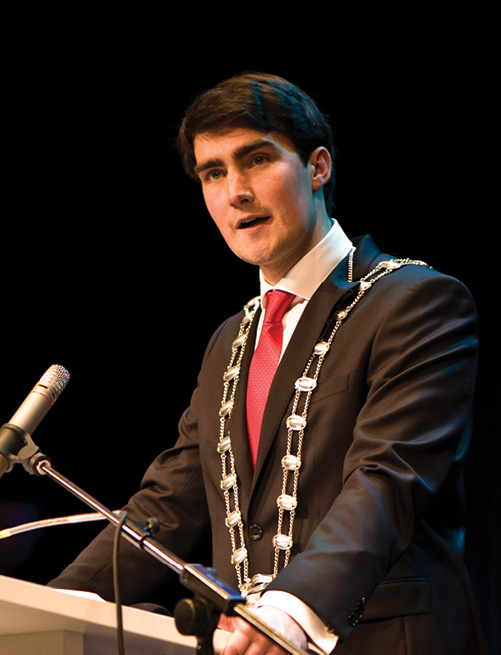 Jack Chambers
Jack Chambers was elected as a Fianna Fáil TD for Dublin West in 2016. Born in Galway to Mayo parents, Chambers has lived in Dublin West since early childhood. In 2014 he topped the poll in Fingal County Council and served as Deputy Mayor.

How did your political career begin?
I took a keen interest in politics from an early age and became politically active with Fianna Fáil in Dublin West and canvassed for the late Brian Lenihan. I am passionate about public service and as part of the renewal process for the party in Dublin, I was appointed as a Local Area Representative by Fianna Fáil for my local electoral area in Castleknock/Blanchardstown a year and a half before the 2014 local elections. I went on to top the poll with 2,603 votes. I was selected by members to contest the 2016 General Election in Dublin West. I was elected with 6,917 first preference votes finishing with a total of 8,315 votes in a very competitive field of incumbents with the outgoing Tánaiste and leader of Labour Joan Burton, Minister Leo Varadkar from Fine Gael & Ruth Coppinger from AAA/PBP all re-elected.

What are your most notable achievements to date?
Since becoming a TD, I have been appointed as Junior Healthcare Spokesperson with a responsibility for Community and the National Drugs Strategy. I have consulted widely with many healthcare and service providers in addiction, rehabilitation and treatment to develop a comprehensive policy submission on behalf of Fianna Fáil towards the new National Drugs Strategy. This submission was unanimously endorsed by the Fianna Fáil Parliamentary Party and will form the basis to an overarching party policy approach towards Community and Drug policy which is responsible, implementable and progressive.

What challenges have you faced as the youngest member of the Dáil?
It is a coincidence that I am the youngest member but it is a great honour that the people in Dublin West have entrusted a mandate to me to represent them in this Dáil. Previous TDs who were the youngest members include our current Taoiseach Kenny, former Taoiseach Brian Cowen and Minister Simon Harris amongst many others. When you look back at the names of those from many parties who were elected as the youngest TD in previous elections the vast majority have gone on to represent valued public service and have made a significant contribution to national politics in Ireland. I hope I can do the same. Since becoming a TD, there have been some tough moments with a baptism of fire on social media but this is something that all politicians face as part of the modern media sphere and it is important to get on with it. Age is only a barrier if you let it be, so being the youngest member never enters my mind most days or weeks and I get on with the business and work of politics.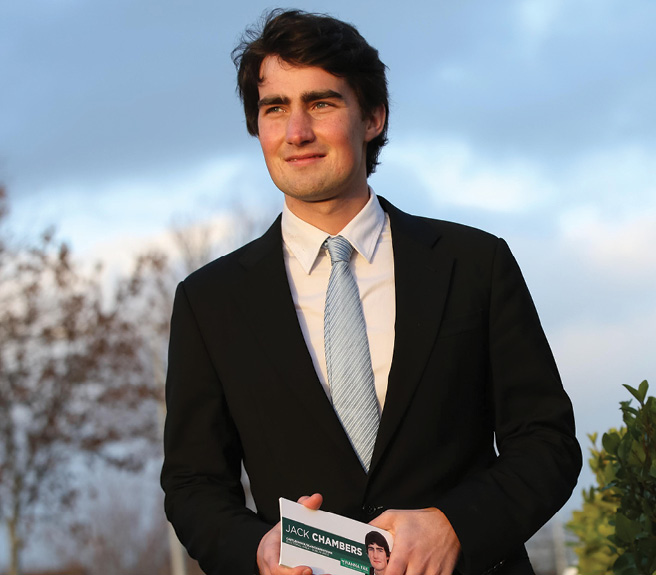 What is unique about representing Dublin West?
Dublin West is one of the youngest and most diverse constituencies in Ireland where the population is concentrated in a small radius. The population has multiplied from a small rural village setting over 40 years ago to becoming one of the most intensively populated suburban areas in Ireland. This brings a uniqueness and diversity with a broad spectrum of Irish counties and International countries on every road and estate. I particularly value learning and listening to people's backgrounds and stories of how they settled in Dublin West as it is a microcosm of the opportunities and challenges that families face across the country. The population changes over a short period of time have presented significant challenges for the constituency. A fundamental focus is advocating and ensuring through representations that there is a proactive level of investment in primary and secondary schools, community and sports facilities and transport so sustainable public services are provided for and developed to meet the needs of the constituency. Housing and homelessness is a core issue in Dublin West with a serious deficit of supply in public and private housing. Rental inflation is preventing many couples from saving to potentially purchase a home in the constituency so serious progress in housing policy is required to address the current market dysfunction.

What are your priorities going forward?
I hope to progress continued policy development in my area of responsibility as Junior Health Spokesperson. I want to play a constructive and responsible role in this Dáil and in light of international political events in the UK with Brexit and the presidential election in the US storm clouds of uncertainty surround Ireland as we approach 2017. Now more than ever, Ireland needs sensible, prudent, long-term thinking for the future of our country and society. As a public representative and TD in this Dáil, it is important that we steer away from the populist, insular and nationalist phenomenon which is infiltrating societies across the world. I will work with my party colleagues in Fianna Fáil to continually rebuild trust and connectivity with local communities across the country so we can represent a centre ground and constructive alternative for people. I would also like to see greater involvement of the younger generation in the political process. I am currently examining reforms to the electoral registration process and hope to progress changes in the current Dáil. If you examine the unemployment and employment statistics neither reflect the tens of thousands of Irish people who left these shores during the recession. It is important that there is a policy focus on bringing this generation back home and into stable employment.

What are your interests outside of the political sphere?
I have a keen interest in sport and grew up playing many sports in my local community. My parents are from Mayo so I avidly follow both Dublin and Mayo GAA which can create a familial rivalry in September when both teams end up in Croke Park! I support Liverpool Football Club and Ireland in the football where I go to most of the Irish home qualifiers in the Aviva. I try and keep track of the Irish contingent in many sports including golf, boxing, athletics and tennis as they compete around the world. I play five-a-side football with friends whenever I get a chance and hope to get back playing Gaelic football in 2017.