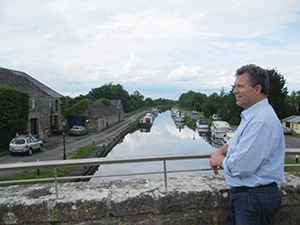 Seán Fleming has been a Fianna Fáil TD for Laois Offaly since 1997 and is the party's spokesman on public expenditure and reform. An accountant by background, Seán is a former Financial Director within the party and was previously a member of Laois County Council (1999-2003). He is married with one son.
How did your political career begin?
My family always had a strong interest in Fianna Fáil, given my family's role in the 1916 Rising and the War of Independence. My father was a party activist and I was influenced by him even though he passed away when I was very young. When I was approximately 20 years of age I joined Ógra Fianna Fáil.
Around this time, I qualified as a chartered accountant. Shortly after that, Fianna Fáil headquarters was looking for a full time financial executive and I was offered the position there as a full-time employee in the finance department. I put my name forward to the Fianna Fáil candidate selection convention in Laois/Offaly and was selected by the local organisation as a candidate to run in the 1997 general election.
Who have been your main mentors and influences?
My immediate family, and by that I mean my wife, six brothers and three sisters, have been my main influences in my political career. I get tremendous help from them in every election campaign. There is nobody better in public life than your immediate family to help you keep your feet on the ground and not let you lose the run of yourself. For this, I am very grateful.
What do you count as your main achievements to date?
My main achievement since the last general election has been as the opposition spokesperson for public expenditure and reform. This government made choices to impose most of the budget adjustments by way of cuts to public services and public expenditure rather than a balanced approach between expenditure and taxation measures. I and the Fianna Fáil party opposed these regressive budgets for each of the last number of years and we have insisted that fairness should be the underlying principle.
When we were in government, even in more difficult times, we always ensured a 50:50 adjustment in the Budget by way of taxation and expenditure measures. This is in stark contrast to the last Budget where they gave income tax cuts to the top earners at the expense of front line services.
I have also been very active in the Public Accounts Committee, holding many senior public servants to account. The general public appreciates the work of this committee as they want people at the top to be made answer for their actions.
At constituency level, I have been very active working with many school authorities to improve the education facilities in the county by way of new schools and improvements to the existing schools infrastructure.
What do you want to achieve for Laois/Offaly by the next election?
Over the last decade or so, County Laois has seen the largest percentage increase in population of any county in the country. Laois/Offaly, since the foundation of the State, has been a five-seat constituency and is now being split into a two three-seat constituencies. Laois will be on its own in the next general election with a small part of south Kildare joining with us to make up a three-seat constituency.
My main priority is to bring about employment into the county to match the population increase in Laois in recent years. Many people in County Laois are commuting to work to the greater Dublin area. It would be much better if more employment was available locally rather than this long daily commute.
How would Fianna Fáil take forward reform in government?
The principal reform I would like to see in government is to ensure that there is an adequate cross-societal approach to many of the key issues facing our country. I want to see a whole of government approach to the complex issues facing our society. In short, I want to see joined-up government working for the people.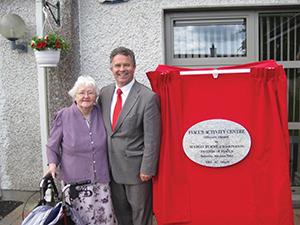 It is also necessary that there be actual personal accountability for decisions made by people in the Public Service and public life. Too often, incompetence has not been dealt with and people are relocated and continue in their merry old way.
How do you relax outside work?
First of all, I have a big garden around my home in Castletown, County Laois. I enjoy planting shrubs and keeping the garden in shape. My wife, Mary, has always great ideas but I always have to do the spade work. Between us we both have green fingers and everything we plant always grows. I love going to local football and hurling matches.
Finally, I do enjoy watching an hour of TV when I get in at night especially after the drive home from the Dáil. At the moment, I am working my way through a recent TV series of Criminal Minds.