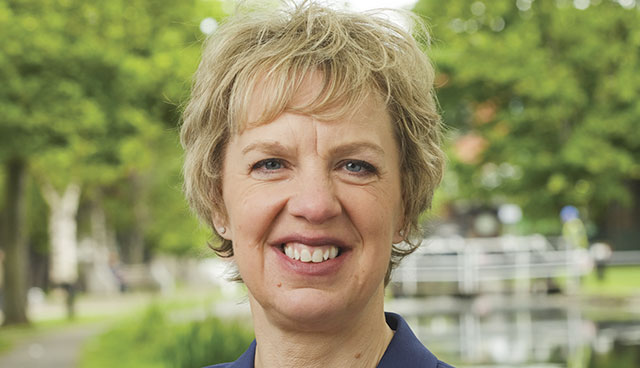 An Oireachtas fixture since she was first elected to Seanad Éireann in 2007, Ivana Bacik was elected to the Dáil to serve as the Labour Party's TD for Dublin Bay South following the July 2021 byelection. A graduate of Trinity College Dublin, she is now Labour Spokesperson for the Environment and Climate, Children, Equality, Disability, Integration and Youth.
How did your political career begin?
I have always had an interest in politics. I became conscious of the fact that I was a feminist at a young age because my mother was and remains such a strong feminist role model to me. An event early on in my life that stands out as having politicised me took place when I was in primary school in west Cork. All the girls were made to stay inside and sew, while the boys played soccer outside. I didn't like sewing and it struck me as being very unfair that keeping the boys and girls in my class in such arbitrary gender roles was the norm.
Then, in 1989, as President of the Students Union in Trinity College Dublin, I, and others, were taken to court by an organisation called the Society for the Protection of Unborn Children (SPUC) for providing information on abortion, which was forbidden at the time. SPUC had started to take legal cases against student's unions and women's counselling centres to stop us from providing phone numbers and addresses of abortion clinics in England. Irish women had been travelling in large numbers to England over many years since abortion was legalised in England in 1967, so student unions helped them by providing information. That protracted case paved the way for legal change in favour of women's rights and that prompted a long campaign to repeal the Eighth Amendment – a campaign that finally succeeded with a 66.4 per cent vote in favour of Repeal in May 2018. I have been involved in campaigning for women's rights and human rights since my university days, and as a Senator in the Oireachtas since 2007.
Some years later, I was elected to the Seanad to represent Dublin University in 2007, and was re-elected in 2011, 2016 and 2020. I was honoured and delighted to be elected to represent Dublin Bay South in the Dáil following the byelection this year.
What are your most notable achievements in the Oireachtas to date?
I am proud of my track record as a legislator. During my time in the Seanad, I worked with many colleagues throughout my career as to progress legislation in many different areas. Indeed, as a Senator, I had more bills passed into law than any other Senator, on issues such as workers' conditions, women's health rights, and LGBT equality. In fact, I have sponsored more than 30 bills and acts since I was first elected in 2007.
My most memorable campaign in the Oireachtas was the campaign to repeal the Eighth Amendment. As a longstanding advocate for free, safe, legal, and accessible abortion services in Ireland, it was an honour to be able to work with Oireachtas colleagues from all parties and none on that campaign.
It is extraordinary to think that for 35 years, the Eighth Amendment created such an obstacle for women seeking basic reproductive healthcare. Although there are many remaining issues relating to access, harassment outside medical facilities and other matters, I will never forget that brilliant campaign which resulted in the repeal of the Eighth Amendment with such a resounding majority — 66.4 per cent — voting yes.
What is unique about representing Dublin Bay South?
I am thrilled to be representing Dublin Bay South, which has been my home for many years. Dublin Bay South is in many ways a microcosm of many of the national issues that the country faces today. For example, as many as 44 per cent of properties in the constituency are in the private rented sector. The housing crisis affects people across the country, and that is no different in Dublin Bay South. However, renting is uniquely prevalent in the area. It is vitally important, therefore, that we see a radical change in local and national policy to ensure that this matter is resolved. I have brought forward legislation, alongside my colleague Senator Rebecca Moynihan, seeking to drastically redress the power imbalance which makes renting (particularly in the long-term) so unsustainable for people in Ireland.
"Labour has always sought to advance equality issues, whether they pertain to women's rights, workers' rights, LGBT rights or general socioeconomic rights."

— Ivana Bacik TD, Labour Party
What are your priorities going forward?
As the Labour Party Spokesperson for Children, Disability, Equality, Integration and Youth and for Climate and Environment, I speak on behalf of the Labour Party in the Dáil on legislation in these areas. At a local level, I am on seeking to improve the provision of housing and care, the protection of the climate and the introduction of better community amenities in Dublin Bay South. In terms of current legislative projects, I am currently liaising with the Government to see provisions contained in the Renters Rights Bill 2021, the Reproductive Health Related Leave Bill 2021, and the Naturalisation of Minors Born in Ireland Bill 2021. These pieces of legislation would give greater protection to renters; would give an entitlement to paid leave for workers who have suffered an early miscarriage or who are undergoing reproductive healthcare treatments; and would provide a pathway to citizenship for children born in Ireland to non-national parents.
How can the Labour Party maximise its impact in the lifetime of the 33rd Dáil?
We in Labour have a strong team of TDs and Senators, led by Alan Kelly TD. Labour has always sought to advance equality issues, whether they pertain to women's rights, workers' rights, LGBT rights or general socioeconomic rights; that is no different in this session of the Dáil. Labour is committed to providing constructive opposition to make a real impact on people's lives. That has enabled us to pass important legislation from opposition, such as Brendan Howlin's Private Member's Bill to criminalise image-based sexual abuse and cyberbullying towards the end of last year (Coco's Law). It is our intention to continue this work, and to use the mandate given to us by voters to make Ireland a better place for everyone living here.
What are your interests outside of the political sphere?
I am a keen swimmer and lifelong cyclist. In my spare time, I love to enjoy the valuable amenity of Dublin Bay. We are very lucky to have it and must take stronger action to conserve and develop its recreational use. I have brought forward legislation — the Dublin Bay Bill 2021 — which would establish a taskforce to develop the Bay and to protect local biodiversity. I would love to see the installation of baths along the Bay for the enjoyment of all who visit it.