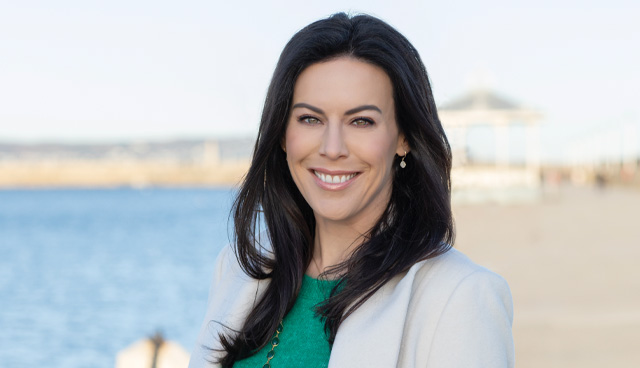 First elected to the Dáil in February 2020, Jennifer Carroll MacNeill is Fine Gael's TD for the Dún Laoghaire constituency. A graduate of Trinity College Dublin and University College Dublin, Carroll MacNeill is also vice chair of the Fine Gael parliamentary party and spokesperson for equality. Previously, she served as a councillor for the Killiney-Shankill ward on Dún Laoghaire–Rathdown County Council.
How did your political career begin?
My political career began when I was hired by Enda Kenny as his legal adviser in 2008 when he was the leader of Fine Gael and Leader of the Opposition. I was a solicitor and had studied politics for many years and was in the middle of my PhD in political science when I got the opportunity to work in Leinster House for deputy Kenny. It was an opportunity no lawyer/political scientist could ignore – a chance to help a political party put a clear definition on its social policies.
While there I managed the legislation and amendments for Fine Gael as well as being involved in range of policy developments. These included the policy to introduce gender incentives at general elections, the separation of child and family services from the HSE, then ending of detention of children in St Patrick's Institution, the referendum of Children's rights – a whole range of policies that were ultimately introduced by the Government following the 2011 election.
What are your most notable achievements to date?
The achievement that stands out to me beyond all others is the Children's Referendum. It was so badly needed and so much work needed to go in, and still needs to go in, to protecting vulnerable children at risk of abuse. What was significant about this work was that as it was a referendum, the debate around these issues it also had the impact of raising awareness of just how much work we as a society needed to do to protect our children. And there were tangible broader benefits too, such as additional articulations of these rights we anticipated may exist but could not imagine the factual scenarios at the time.
"Thanks to the sacrifices of every citizen and the careful management of the economy in the last number of years by my party, we were able to go to Europe for loans at low interest rates to support our plan to keep money in people's pockets."

Jennifer Carroll MacNeill TD, Fine Gael
One example of this was shortly afterwards in 2013, when I was working for Minister for Justice Alan Shatter. The existence of constitutional rights for children was the argument that helped us get the Children and Family Relationships Act over the line. There was a reasonable question about how that legislation differed from the 2009 Civil Partnership legislation (in excluding children as the 2009 Act had done) – and the answer was that in 2009, children had not had rights of their own, divisible from any other considerations and that their standing in relation to family structures had changed. It won the day and because that legislation was then able to be passed, I think it significantly eased the political context in which the Marriage Equality Referendum was held in 2015. It took the 'children' question out of the debate as such because those matters had already been dealt with by way of primary legislation. It was a fantastic win, and I am so happy about it. I do worry that Article 42A will be used in some negative way in the future in a factual scenario I cannot yet foresee, but so far so good I think – though there is still so much day-to-day development and support of Tusla yet to go.
What is unique about representing the Dún Laoghaire constituency?
I don't know what is unique about representing Dún Laoghaire – I have never represented anywhere else! I do think it's a wonderful constituency though. Nearly the entire the south Dublin coast is part of my constituency and people here love the sea and the advantage of being so close to a medium-sized European capital and yet have the sea and the hills to the south so close as ways of relaxing. For every age. Dún Laoghaire still has the same issues impacting it as every other constituency, including access to housing and services, supporting businesses and employment, and maintaining a transport infrastructure that is both effective and environmentally friendly. These are the issues I am dealing with every day, and it is a privilege to be able to represent my constituents on these matters.
What are your priorities going forward?
My biggest priorities for the government are supporting people back to work, supporting business and getting on top of things economically in a sustainable way. My biggest priorities as an individual TD are ending the pandemic of gender and sexual violence, equality particularly, just currently, gender equality. The recommendations of the citizens assembly are important, and we need a bit of focused short-term momentum on them to effect change while the iron is hot. I was very pleased to get the agreement of the Ceann Comhairle and the Business Committee of the Dáil to establish a special, dedicated and fully resourced Oireachtas committee to advance the recommendations of the Citizen's Assembly on gender equality. I hope it may be established in the coming autumn session. That is a big opportunity for momentum on this and so it is playing on my mind a little now. As I mentioned earlier, good ideas and policies only become meaningful if there is a legislative plan and process to put them into action so I will be really pushing on to get the issues that the Citizen's Assembly raised in the Dáil debates.
What are the biggest challenges facing your party in the lifetime of this government?
In my view, the biggest challenges facing the Government are getting people back to work, housing, climate change and restoring the public finances to sustainable levels over time.
Thanks to the sacrifices of every citizen and the careful management of the economy in the last number of years by my party, we were able to go to Europe for loans at low interest rates to support our plan to keep money in people's pockets. Could you imagine that 10 years ago? The plan now must be to pay these back but to ensure that it is done in such a way that does not threaten our economic recovery and future prosperity.
What are your interests outside of the political sphere?
So far, I have had very little time outside politics and my family. And the longer I am a TD, the more I realise that finding a better balance than I have to date is going to be important. I do like to cook, I try to grow things in my garden, I'm a huge sports fan and I read a lot, when I can. But mostly in my spare time I play dinosaurs with my son and then just fall asleep. Or maybe that was just during the pandemic.
I think it's time we all got back out into the big world and started to travel, socialise, go to events and begin to live our full lives again. It has been too long in the shadows for most people; time to get out and live again. One thing I really look forward to doing is going to a big, crowded Ireland rugby game and all the fun around it when the pandemic is finally over. That's been way too long now.