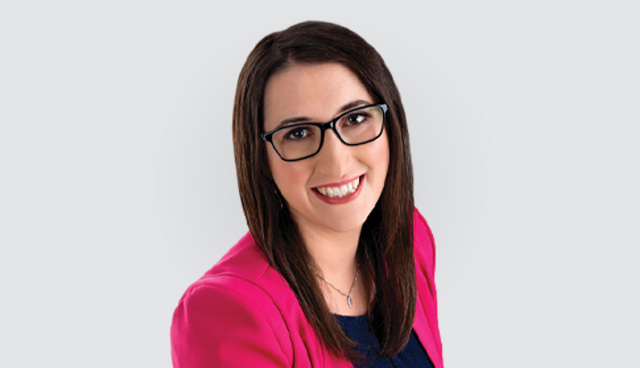 Emer Higgins is a first time TD having been elected to represent Dublin Mid-West in the 2020 general election. Previously, having been elected to represent the Clondalkin Electoral Area, Higgins served as Leader of the Fine Gael group in South Dublin County Council.
How did your political career begin?
I got my first taste of politics when I was elected on to the Student's Council at Holy Family Community School in Rathcoole. I went on to become an elected class representative for the Student's Union in University College Dublin, and today I'm honoured to sit on the governing authority of that same university. After I graduated, I went backpacking for a year and wanted to get involved in politics when I returned home. A friend of my dad's encouraged me to join Fine Gael, so I agreed to meet a young guy who worked in Leinster House to learn more about the party. Today, that 'young guy', otherwise known as Minister Simon Harris, sits at the Cabinet table and both he and Frances Fitzgerald have been fantastic supports to me as I have settled into my new role as TD for Dublin Mid-West. I was a councillor for nine years on South Dublin County Council before I ran for the Dáil and was elected as a TD exactly one year ago. While I was a councillor, I worked as an assistant to Frances Fitzgerald for a number of years and went on to work in the private sector. I started in PayPal as a co-ordinator and within seven years I had worked my way up to Chief of Staff for Customer Operations in the European Region. There, I had the opportunity to work with some Ireland's most prominent businesswomen. I learned so much from the private sector and I hope to put those insights and my drive for efficiencies to good use in national politics.
What are your most notable achievements to date?
Locally, I get the opportunity to make positive differences to the lives of my constituents every week and that is what I love about my job. If I was to pick one achievement to say I'm proud of I guess it would be around the Marriage Equality Referendum. I, like so many others, worked cross-party and with members of the LGBT community and their allies, canvassing homes in Lucan and Clondalkin to gain support for the movement. But what I'm most proud of from that campaign was helping to make the celebrations in Dublin Castle happen. I worked with a former councillor, who is now a Fianna Fáil TD, to lobby Simon Harris, then Minister for the OPW, to have Dublin Castle formally opened up to the public for the referendum announcement. The colourful images of all those gathered in the historic courtyard and the footage of the YES balloons against our unseasonably bright blue sky were beamed across the globe on the day Ireland made history. Those images single-handedly destroyed the pre-conceived notions many people in other countries had of Ireland as being backward or overly religious. Those celebratory moments transformed our entire nation's international image in one fell swoop, and I was really proud to have played my part to make those celebrations happen outside Dublin Castle.
Since becoming a Government TD, I have had the opportunity to bring some practical suggestions to Cabinet to consider as part of our response to Covid-19. I had the opportunity to bring feedback from doctors in my constituency directly to Tánaiste Leo Varadkar and Minister Simon Harris who went on to create regulations and Government advice on that feedback.
What is unique about representing Dublin Mid-West?
The political scene in Dublin Mid-West is quite unique. We have four TDs representing a huge area that spans from Palmerstown and Lucan across Clondalkin and into the villages of Newcastle, Rathcoole, Saggart and Brittas. Of those four TDs, three of them are opposition TDs. We have two Sinn Féin TDs, one People Before Profit TD and myself as a Fine Gael TD. In what was once a strong hold for Fianna Fail, Dublin Mid-West now showcases not just the fickleness of politics, but how much mainstream politics has changed in the past number of years. I am very lucky because I get on well with my fellow TDs, despite our ideological differences. I think that is because I believe that we are all in politics for the right reason and we all have a shared goal: making our community and our country a better place to live in. Our differences lie in how we get there, what policies we implement and where.
What are your priorities going forward?
Housing is a huge priority for me. I sit on the Housing, Local Government and Heritage Committee and I had the opportunity to share my perspective on housing policy at Ireland's Housing Conference which eolas Magazine ran online in January.
I want to play my part in building diverse and inclusive communities that give people the opportunity to own their own home. To me that means delivering infrastructure along with housing. I don't believe that building mass public housing estates for people who earn under a certain threshold is the answer.
Too many people my age are stuck in the rental trap. Many young couples are paying €1,500 rent for a two-bed apartment in unsecure leases, when they would much prefer to be paying a €1,000 mortgage for a home they'll actually own. The problem is that many of them can't afford to do that because they either can't get a mortgage as they can't save for a deposit, or they can't find a home that is in their affordability range. That's what I believe the nub of the issue is: affordability and supply, and I'm pleased that the Housing For All plan aims to bridge the affordability gap and boost supply.
"Too many people my age are stuck in the rental trap. Many young couples are paying €1,500 rent for a two-bed apartment in unsecure leases, when they would much prefer to be paying a €1,000 mortgage for a home they'll actually own."
I am also the Fine Gael spokesperson on social media and finance technology (FinTech). I want to use this platform to make social media a safer space for everyone, especially for our children and teenagers. From a FinTech perspective, my background as a senior leader in PayPal has given me lots of experience as to how we can grow this sector by attracting further foreign direct investment to create more jobs here in Ireland, by supporting entrepreneurs and encouraging young students to look at careers in growing, modern, industries like this.
How can Fine Gael effectively stamp its identity on this coalition government?
This time last year, as we entered our first lockdown, it was Leo Varadkar and Simon Harris that led us through that uncertain time. And, in my view, it will be Fine Gael that leads us out of the economic aftermath of all this. When you think about what happens after the pandemic, when you look at all the work that has to be done from an economic recovery perspective; it's clear that it's our Fine Gael Ministers who will be leading on that.
Leo Varadkar as Minister for Enterprise will have a crucial role to play in getting people back to work. Heather Humphreys as Minister for Social Protection has an important job to do in terms of supporting those whose jobs may not be there for them to return to. Simon Harris as Minister for Higher Education will have to help those people upskill and retrain. Simon Coveney has a crucial role in terms of helping businesses navigate through Brexit, and Paschal Donohoe, as Minister for Finance, will need to make sure that we invest in rebuilding our economy in a responsible and fair way. Fine Gael Ministers led us through the beginning of the pandemic and Fine Gael Ministers will lead us out of its economic aftermath.
What are your interests outside of the political sphere?
I love going out to concerts and music festivals. I can't wait to see a live act again. Like so many others I missed out on a lot of gigs last year and I'm hoping it won't be too long until the live entertainment sector is back in action. I also love to travel which hasn't been possible during the pandemic either; but at this stage I would settle for travelling to see my family outside of Dublin.