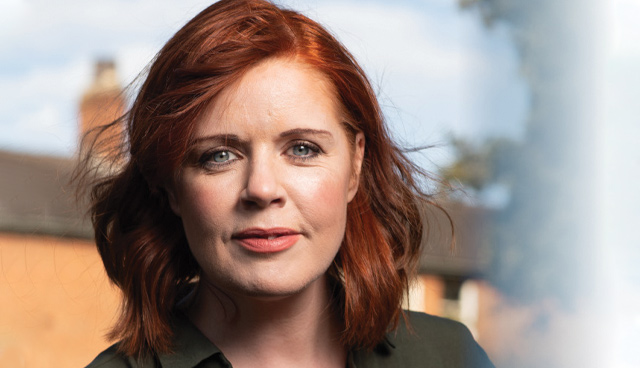 Neasa Hourigan was elected TD for Dublin Central in February 2020. Prior to this, she was a councillor on Dublin City Council, serving the Cabra-Glasnevin local electoral area. Neasa is the Green Party spokesperson on finance and health.
What are your most notable achievements to date?
I'm Chair of the Committee on Budgetary Oversight and also a member of the Public Accounts Committee, Committee on Disability Matters, and Committee on Health.
It is not always as high-profile as the work done in the main chamber but committees are the workhorses of the Dáil where much of the detailed scrutiny takes place.
For example, as Chair of Budgetary Oversight, one of the pieces of work that I'll be facilitating is the framework for parliamentary engagement throughout the course of the budgetary cycle. Ireland has made progress in this regard but there is more work to do in terms of presenting a robust evidence base for our spend, setting and validating metrics around the results of that spend and making sure that there are adequate points through the year for TDs to scrutinise all of that.
As a concrete example, our housing spend is an area where we need more transparency. Housing and homelessness remains a massive issue across the country and particularly in my own constituency of Dublin Central. We need to make sure that the spend on housing is targeted at specific results (e.g. reducing homelessness, putting people in homes, etc.) and not having unintended consequences (e.g. driving up house prices, government overdependence on private rented accommodation, etc.).
What is unique about representing Dublin Central?
Dublin Central faces similar issues to many other urban areas. Housing and homelessness as mentioned above. We need to ensure that the most effective use is made of the land we have available for housing. Somewhat related is school buildings where we still have a number of schools housing students in prefabs or unsuitable temporary accommodation.
Covid-19 has forced Dublin City Council to reconfigure the streets to facilitate the larger volumes of cyclists and pedestrians. I'm very supportive of these changes provided the changes work for all members of the community i.e. people with a disability, the elderly, etc. I've been very active for a number of years in supporting walking and accessibility in our built environment, helping to set up the Irish Pedestrian Network which has branches in Limerick and Cork.
We need to support just transition. Environmental policies don't exist in isolation, in a vacuum, they are interwoven and interdependent…
Covid-19 has also had more people out enjoying the parks around the constituency, particularly the Phoenix Park. Since my time on Dublin City Council I've been fighting to keep the Phoenix Park as a vital green oasis as opposed to a commuter thoroughfare or yet another commercial area.
Next step on the Phoenix Park is the consultation process around the park's traffic management strategy.
What are your priorities as the Green Party's Finance and Health spokesperson?
As a mother to a little girl with a visual impairment I'm very aware of the challenges faced by the wider disabled community in Ireland. That's everything from the funding for section 38/39 organisations, urban design, getting more SNAs in schools, to Covid-19 and its impact on the disabled community. I lobbied for increased funding in budget 2020 for the disability sector and while I was glad to see the additional €100 million funding there is much more we need to do in this area.
Right now, one of the areas in health I'm looking at, with Hazel Chu the Lord Mayor of Dublin, is what we can do to better support breastfeeding mothers. There are a multitude of benefits to breastfeeding for the mother, the child and the environment. Unfortunately Ireland has the lowest breastfeeding rates in Europe so there is lots we can do to make breastfeeding the most attractive option for mothers.
What are the biggest challenges facing your party in the lifetime of this government?
In March 2020, the National Economic and Social Council issued a report that considered the most effective and people-centred way of implementing a just transition (associated with climate change and digital automation). The report noted that complex transitions were not occurring in isolation from other global trends and potential transformations, such as urbanisation, population growth and globalisation as well as the move towards a circular economy and increased protection of biodiversity, habitats and ecosystems.
And that's a view I very much share. We need to support just transition. Environmental policies don't exist in isolation, in a vacuum, they are interwoven and interdependent with other areas like housing, transport, equality, energy and health.
What are your interests outside of the political sphere?
I've three small kids that, needless to say, take whatever spare time I might have. One of my interests (vices?) outside of politics is music and I do have a large record collection. For my pre-election fundraiser I passed on the traditional table quiz fundraiser for a DJ night.
Profile
Before being elected as a TD, Neasa was a city councillor and a carer to her eldest daughter who has a visual impairment. She has a professional background as a specialist in creating sustainable communities and was a university lecturer in environmental development and design. She and her family have lived in Cabra, Dublin 7 for 15 years.