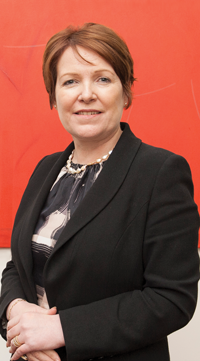 An Garda Síochána is adapting to deal with the greatest period of societal change since its formation in 1922, Deputy Commissioner Noirín O'Sullivan tells Meadhbh Monahan.
"Over the last few years crime moved from being local to global. People now expect a more sophisticated response to crime," Noirín O'Sullivan says.
The Celtic Tiger era brought with it increased wealth, changes in behaviours and social norms. "We've bemoaned the loss of some of our céad míle fáilte in Ireland," O'Sullivan comments, adding: "I believe the last decade has seen one of the greatest periods of change for An Garda Síochána in its history."
On claims that the era also saw an increase in white collar crime (for which gardaí attached to the Office of the Director of Corporate Enforcement have since started to make arrests), O'Sullivan comments: "White collar crime is being investigated by the Bureau of Fraud Investigation so there's a big emphasis on that." She points to a white paper on white collar crime and the fact that the force uses "a blended skill-set of civilian analysts and forensic accountants" to deal with investigating the problem.
"I've served for 30 years in An Garda Síochána in many roles across policing and security, policing in the community, drug squad, crime and security and counter-terrorism," O'Sullivan explains.
During that time she has witnessed "the agility and entrepreneurial skills of criminals" and "the small minority of people with the intent to undermine society in terms of terrorist threats both national and international." These crimes have the capacity to cause "destruction and despair" for individuals and communities. "Those are the things we keep in mind when we look at where to go in the future," she reflects.
An Garda Síochaná's budget fell from €1.41 billion in 2011 to €1.32 billion this year. The gross current expenditure allocations for the entire Justice group of votes are €2.2 billion in 2013 and €2.1 billion in 2014. This equates to a reduction of €178 million (or almost 8 per cent by 2014 in year-on-year terms.) Garda pay and pensions take up 90 per cent of the current Garda expenditure. However, under the EU-IMF programme, garda numbers must decline to 13,000 by 2014. There were 13,594 on 30 April 2012.
In the context of reducing budgets and emerging threats such as cyber-crime and terrorism, O'Sullivan says she is determined to provide "practical operational delivery of critical policing disciplines that can efficiently and effectively protect the public from twenty-first century threats."
To date, a strategic review has looked at operational effectiveness and resilience. GRACE (garda response to a changing environment) involved a comprehensive review of all areas of expenditure and an advisory forum of key stakeholders provided an external perspective on cost saving. Specific reforms have included the new garda rostering arrangements, a review of the station network, a 'knowledge management framework' (which allows individual targets to be measured against government targets) and public-private partnerships such as that undertaken for the 'go safe cameras'.
Innovation is key to an effective organisation, O'Sullivan comments. Predictive policing is a new area prompted by a rise in domestic burglaries. "Using predictive analysis techniques we determine crime types and the locations where it is happening [in the greater Dublin area]," the Deputy Commissioner explains. This entails "putting your targeted patrols in the places where the crime is likely to happen: predicting where it is going to happen based on evidence-based analysis." O'Sullivan claims: "That's going to be very useful and will help reduce incidents and increase detections." However, it will also require investment at a time of increased efficiency.
Outsourcing non-core activities will be a priority and O'Sullivan tells eolas: "We are looking at opportunities to develop a shared services platform across the justice and the wider public sector."
This would be in addition to the financial shared services centre in Killarney.
Since the interview, the Cabinet has decided to mandate government departments, local authorities, the Garda, the Defence Forces and non-commercial State agencies to avail of national contracts put in place by the National Procurement Service (which has traditionally placed contracts for items such as electricity, natural gas, print advertising and stationery.)
Visible and invisible policing
O'Sullivan contends that while it is important to have a police presence on the streets, the invisible activity that largely goes unheralded i.e. "the covert operations, intelligence gathering that creates the safe environment for the policeman on the beat is a very necessary part of what we do." She adds: "It's not in our nature to herald this work but it does provide a safe, stable environment."
Referring to counterfeit CDs or fuel, O'Sullivan wonders if people realise they are funding organised crime. She adds: "If we think of it in the context that most local crime is the first step in international crime … the thread from local to transnational demonstrates how critical the visible and invisible dimensions of policing are in ensuring we keep the public safe and stop people becoming victims in the first place."
On community policing, she insists: "Everyone in the force is very clear that we need to protect our community policing ethos. That's a very solid foundation on which we can reconfigure what we do."
She tells eolas: "It's about communicating with the community [that] every member of An Garda Síochána is a community police officer."
In 2005, the force hired 2,000 civilians "who have integrated into the organisation and brought skill sets to help our operational capability." The Garda Síochána analyst service is a good example of this, O'Sullivan notes.
Gardaí are unique in that they are known in their community as an officer, as shown by the outpouring of grief for Garda Ciarán Jones who died in a flood in October 2011, according to O'Sullivan. The fact that they are unarmed, despite a "startling" increase in gangland crime is a credit to them, she states.
"We pledge to continue to spend time and energy in community partnerships and to leverage the social capital that exists in the community," O'Sullivan claims.
An Garda Síochána is aware that "top-slicing isn't going to work." It is "wary that it has to deliver services into the future without impacting on community safety and confidence."
Acknowledging that difficult decisions must be made, O'Sullivan concludes: "The best way we can maximise our resources is by engaging in intelligence-led and targeted operations and investigations as well as high visibility, targeted and focused patrolling." Predictive policing will generate efficiencies and savings but is an area "where An Garda Síochána will have to invest to save."