Issues
Point merge–a new approach to air traffic control at Dublin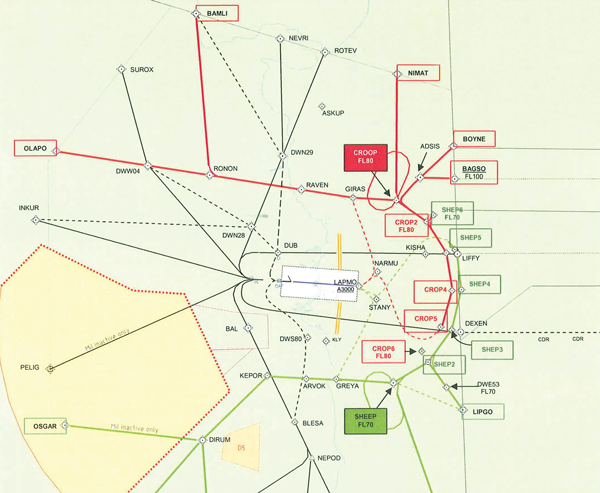 Air traffic control in Dublin will adopt a new system this December to make arrivals more efficient.  Peter Cheney visits the airport to find out more.
Dublin Airport will become only the second airport in Europe to adopt an innovative air traffic management system, when it goes live on 13 December this year.  Point Merge is being introduced as part of the TMA 2012 plan, a reorganisation of Dublin's airspace undertaken by the Irish Aviation Authority (IAA).
At present, flights leave Dublin on standard instrument departures (SIDs) and arrive on standard arrivals (STARs).  Those routes occasionally overlap at 'crossing points' which air traffic controllers seek to minimise.
Stacking, for example, is used to manage arriving flights as departures take off.  Dublin uses the 'racetrack hold' and planes are then sequenced to land, as runway space becomes available.  A descent usually involves short segments of level flying, where pilots have to hold back on thrust, before lowering the plane's altitude.
However, this means deviating from the aircraft's flight management system (FMS): a plan drawn up beforehand to ensure the most fuel-efficient flight path.  At present, less than half of flights going into Dublin keep to their FMS but controllers hope that Point Merge will keep the vast majority on track.
Paul McCann has been managing the project since it started three years ago.  He explained: "[It involves] moving away from a traditional stack hold to a linear hold and it allows the aircraft to stay on its FMS for most of the time.  In simulations, aircraft stayed on the FMS for about
95 per cent of the time and this leads to greater efficiency [and] cost savings with regard to fuel and CO2 emissions."
Point Merge involves setting a point 11.7 nautical miles outside the airport  (LAPMO on the map above) and then drawing two 'legs' 15.5 and 17 nautical miles further out.  The first leg (CROP) is set at 7,000 feet and the second (SHEP) at 8,000 feet, to allow for sufficient spacing between aircraft.  An approaching aircraft is placed on one of the legs and then directed towards the point, on a straight course.  The next plane follows the same procedure, so each of their routes 'merge' on the point.
Continuous descent
This allows for a continuous descent approach (CDA), therefore keeping the plane on course and saving fuel.  Simulations show that a CDA could take 1-6 minutes off a flight delay, saving up to 120kg of fuel (therefore €84 at Dublin Airport's aviation fuel prices) and 200kg of CO2 per arrival.
Those savings will vary according to the traffic situation at the time of arrival, the cost of fuel and the type of aircraft.  A large Boeing 737 or Airbus 321, for example, would save much more fuel than a smaller aircraft.
Two racetrack holds will still be available at each end of the legs, to handle aircraft at busy periods.  The airport's peak times are 6-8am, 12noon to 3pm and 8-11pm.  A lap on the racetrack hold is 14 nautical miles at 230 knots and a leg is equivalent to two and a half laps.
Carrying too much fuel increases the aircraft's weight, and therefore the cost of the flight.  The IAA is working with the Commission for Aviation Regulation to decide the optimum amount of fuel for a plane flying into Dublin.  A contingency level will always be added on so that the plane can travel safely to an alternative airport, if needed.
Point Merge was developed by the European air safety organisation Eurocontrol, and tested in 2009 through a joint study with the Paris air traffic control centre.  Simulations were based on airspace over north eastern France and assessed the impact of overflights, different wind speeds and high traffic loads.
The study found that a reduced workload would free up controllers and therefore improve safety.  However, controllers mentioned the risk of losing vectoring skills i.e. the manual ability to bring an aircraft into land.  When asked how it would keep up those skills at Dublin, the IAA said it would continue to train staff using simulations.  The authority confirmed that Point Merge will only initially go active on the longest runway (number 28), so vectoring will be maintained on runways 10 and 16.  It will then be rolled out on runway 10.
Point Merge was introduced at Oslo's Gardermoen Airport on 7 April 2011 and has been operating since then.  Rome, Munich and Paris airports are now at the advanced simulation stage and the UK air traffic authority (NATS) is also starting to look at it.  There are no plans to use it at Shannon, as most planes arriving there already keep to their FMS.
The design stage at Dublin has now finished.  Next steps include training (commencing in March), an in-depth safety case, creating two new radio frequencies, changing the layout of the ops room and making the pilots, controllers and airline operators aware of the new system.  Some airlines have already helped out with simulations.
Point Merge was originally due to be introduced in May 2012 but this was postponed as the summer is the airport's busiest time of the year.  Dublin's controllers are responsible for a terminal movement area (TMA) of 5,850 square nautical miles, which reaches up to 24,000 feet above sea level.  They also cover some approach routes in UK airspace, over the Irish Sea, where the control rights have been delegated to the IAA.
A total of 18.8 million passengers and 154,457 commercial flights went through Dublin in 2011, up from 18.4 million and 153,102 in 2010.  McCann remarked: "At the time when we started this, capacity in Dublin was getting heavier and heavier all the time.  That obviously has dropped off a little bit over the last number of years but when this does come into place, it allows us to have increased capacity coming into the future."