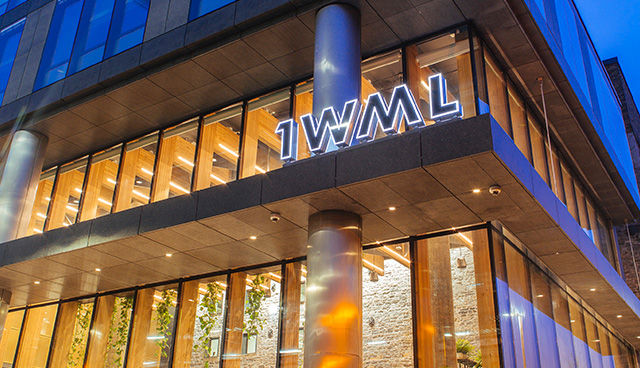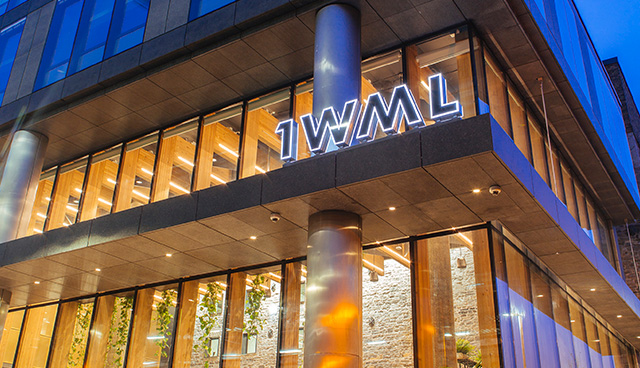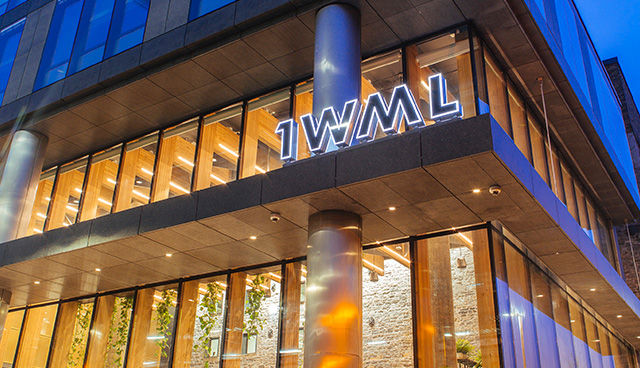 Pinsent Masons recently opened its doors in the heart of Dublin's SOBO (South of Beckett and O'Casey) district, at the iconic One Windmill Lane building. eolas speaks with Projects Partner Adrian Eakin who is heading up the firm's infrastructure practice in Ireland.
Who are Pinsent Masons?
Pinsent Masons is a Global 100 law firm (posted FY16/17 revenues ⇔480 million (£423.1 million), specialising particularly in the energy, infrastructure, financial services, real estate and advanced manufacturing and technology sectors. The firm employs nearly 3,000 people worldwide, including around 1,500 lawyers and 400 partners. Pinsent Masons international footprint encompasses seven offices across Asia Pacific, two offices in the Middle East, five offices in continental Europe and one in Africa. The firm also has comprehensive coverage across each of the UK's three legal jurisdictions.
Why have Pinsent Masons launched in Dublin?
Our vision is to be recognised as an international market leader in the global sectors in which we specialise. Dublin has long been on our radar given its reputation as a key global hub for the financial services and technology industries – a status that has only become even more significant in the context of Brexit. The feedback we have had from our clients as we have developed our Ireland strategy is that they would welcome a disruptor coming into the market and our reputation as an innovator is of significant interest to them.
What is your strategy for development in this market?
We see two key elements to our approach in Dublin: sector knowledge and service innovation. 
Pinsent Masons operates primarily in five key global sectors. Clients want a firm which understands their sector, can support them in an integrated way across multiple geographies and – above all – is experienced in bringing an innovative approach to the table.
Dublin is a sophisticated and mature legal market but we recognise that our clients' businesses and sectors are evolving, and the way in which we are delivering legal services is too. We have invested in our people, processes and technologies to combine skillset excellence with solutions such as our in-house AI offering (TermFrame), or services like Brook Graham and Vario, to affect real change in how we support our clients.
Is Pinsent Masons new to the Irish infrastructure market?
No. We've been active in Ireland for over 25 years, advising government on the early transport PPPs and clients such as Balfour Beatty, Aberdeen Asset Management and BAM (and their lenders) on some of the more recent infrastructure schemes procured by the National Development Finance Agency. A lot of the bidders and lenders in the market are large international players who we work with in other jurisdictions. We bring our global strength and experience to bear in delivering these projects.
How do you see the market changing over the next five to 10 years?
Like most other countries Ireland needs to be quicker in developing its infrastructure to keep up with the growth in the economy and rise in population; transport, housing and broadband are obvious areas. Government procurements should ideally involve a mix of traditional design and build with PPPs in certain sectors using speedy procurements, contracts that don't transfer unnecessary risks (avoiding risk premiums from the private sector) and which are monitored and managed closely through their operational period. We are advising a number of government bodies in the UK market seeking to renegotiate PPP contracts with a view to taking back some risks and improving value for money, so that will increasingly be on the agenda of any procuring authority.
We're also seeing other innovative procurements where the Government provide sites and the private sector provide investment, then jointly develop facilities and share profits. Probably the most topical issue in infrastructure however is how technology and data are driving and disrupting infrastructure projects. That interaction was the subject of our recent report The Evolution of Infratech [synopsis opposite].
Ireland is well respected in the infrastructure community and its latest strategic plan and pipeline of schemes is welcomed.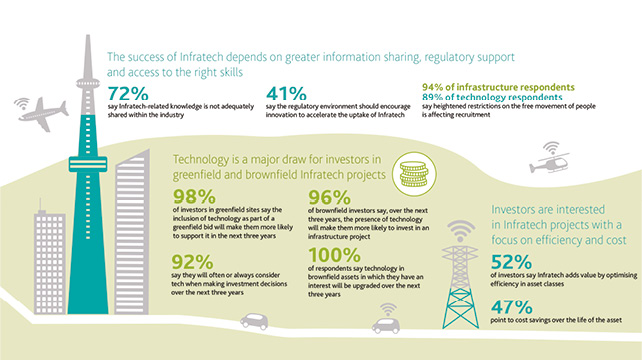 The Evolution of infratech
Infrastructure was once designed, built and maintained by construction and engineering firms. But technology, data and user demands/expectations are changing all of that. Road systems are linked via sensor grids. Railways are driven by digital signalling systems. Everything from airlines to telecoms, and even the way we design our cities, is being shaped by technology.
The pressure is on infrastructure and technology firms, as well as investors, both private and public, to work together to create this new infratech-driven future.
'Infratech' is the deployment or integration of digital technologies with physical infrastructure to deliver efficient, connected, resilient and agile assets. This combination of physical and digital infrastructure designs produces assets that respond intelligently, or inform and direct their own maintenance, use and delivery. These assets may also be automated and responsive to real-time or historical data. This produces benefits not only for the developer/operator, but also to the end-user in terms of efficiency, productivity and a better overall user experience.
To understand this new trend Pinsent Masons worked with research specialists Mergermarket, surveying senior-level executives from the infrastructure and technology/communications provider sectors. Over 300 people were consulted with respondent companies including those listed on FTSE 100, Amsterdam Stock Exchange, Frankfurt Stock Exchange, Korea Exchange, Tokyo Stock Exchange and the New York Stock Exchange, among others.
As the key findings in the infographics above show, infratech is an ecosystem in flux. Stakeholders expect more out of every asset, both in performance and longevity and information sharing is both expected and encouraged. But the survey also reveals that all sides will need to cooperate and collaborate, if our infratech future is to become a reality. Contracting models must encourage and reward innovation and collaboration within the supply chain. Risk must be better understood and both sides need to learn more about the legal and commercial risks inherent in the other's business model. Greater clarity is needed around the stewardship of data. Liability for data inaccuracies and questions over ownership may thwart open data models. Margins may be increased, particularly for infrastructure firms. Tech can help by getting more out of the delivery and performance of our infrastructure assets and productivity can be enhanced. Furthermore, both sides can realise this value by recognising data for what it is: a new source of value. Realising the benefits of data as an asset presents significant commercial opportunities.
Ultimately, all respondents agreed: the current model is broken. There needs to be a shift from delivering outputs in infrastructure projects to outcomes. An outcomes focus, chaperoned by strong government policy and supported by the data now available through infratech, can help to fix it.
Read the full report at www.out-law.com/en/special-reports/the-evolution-of-infratech/.
1 Windmill Lane
Sobo District, Dublin 2
W: www.pinsentmasons.com

Adrian Eakin
Partner, Projects & Concessions
E: Adrian.Eakin@pinsentmasons.com
T: +353 1 553 8600