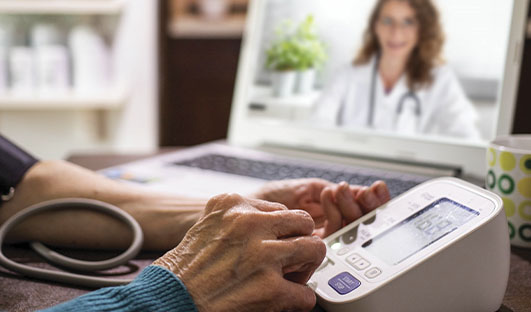 Trusted global video conferencing provider Pexip is helping to transform the way care is given through its unique approach to simple and interoperable video solutions for healthcare organisations.
"Demand for telehealth solutions has increased considerably over recent years, due the pandemic, in particular for telehealth consultations," explains Leighton Hughes, Managing Director, Pexip UK and Ireland. "During this time healthcare sector has experienced great success through the implementation of integrated video solutions to enhance their existing services, tools, and workflows as well as improving user experience."
With a firm focus on data security and data sovereignty, Pexip's innovative technology is enabling healthcare organisations in Ireland and further afield, to extend the reach of their practice and by providing secure, easy-to-join telehealth visits for patients from any device or location.
Easy for patients
With Pexip, patients can easily join video meetings from the device of their choice, without the need to download any software or plugins. Pexip Health provides a user-friendly, seamless experience for patients, putting their care at the forefront. Patients can meet their caregivers from the comfort of their homes, using the devices they already own.
Simple for providers
"Healthcare organisations rely on Pexip's secure video platform to deliver a broad spectrum of virtual care services," says Hughes. "Through Pexip's APIs, caregivers can use the technologies they already own to meet with patients, with no need to buy additional hardware or tools."
The video platform integrates with existing workflows and tools, so it fits seamlessly into daily schedules. This means that providers can also join using the technologies they already have such as telehealth carts, video conferencing systems, Skype for Business, Microsoft Teams, or Google Meet.
Hughes adds: "Pexip's native integration with Epic EHR and other APIs pairs with other electronic health records including Cerner, Allscripts, eClinicalWorks and Practice Fusion. Implementations include the Western Health Trust in Northern Ireland, where face-to-face diabetes appointments have been reduced by 32 per cent. Pexip is also encouraging intra-departmental collaboration on complex cases through Multi-Disciplinary Teams (MDTs) who are using the video platform as a way to connect specialists across multiple hospital sites and broad geographic areas, as in the case with Hampshire Hospitals Foundation Trust's orthopaedic MDTs."
Scalable and secure
Pexip's reliable, easy to use platform offers a private, cloud-based telehealth solution which helps to address security compliance issues and provide reassurance to providers and users.
The customisable user interface means that patients benefit from added peace of mind that they are in the right place with the providers' branding featured on the platform. In addition, Pexip Health is scalable by design and easy to manage today and in the future.
There is no doubt that Pexip's flexibility, powerful interoperability, robust integrations, and customisation options mean that health organisations can easily extend their care from hospital to home and transform patient experiences.
E: james.irving@pexip.com
W: www.pexip.com/healthcare