Issues
Pearse Doherty: an 'impatient' republican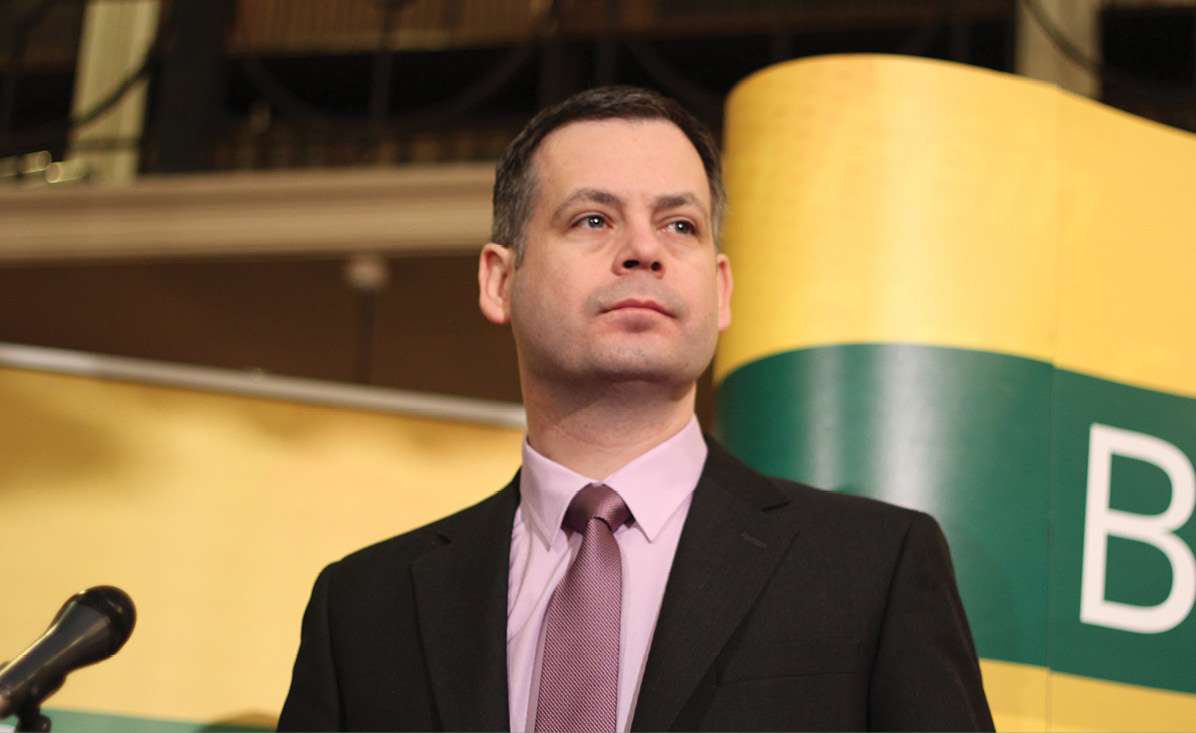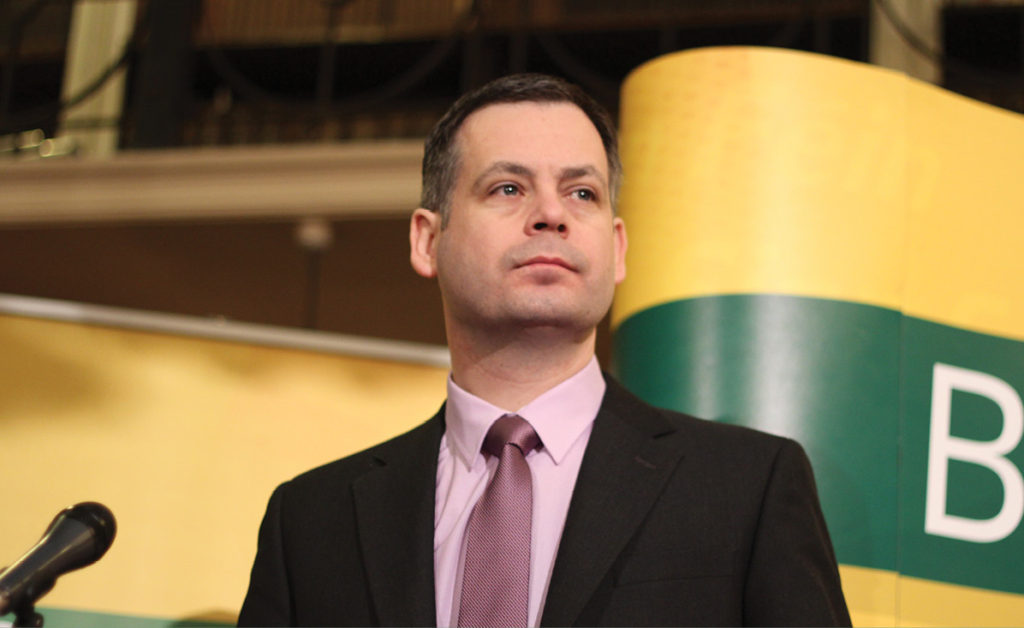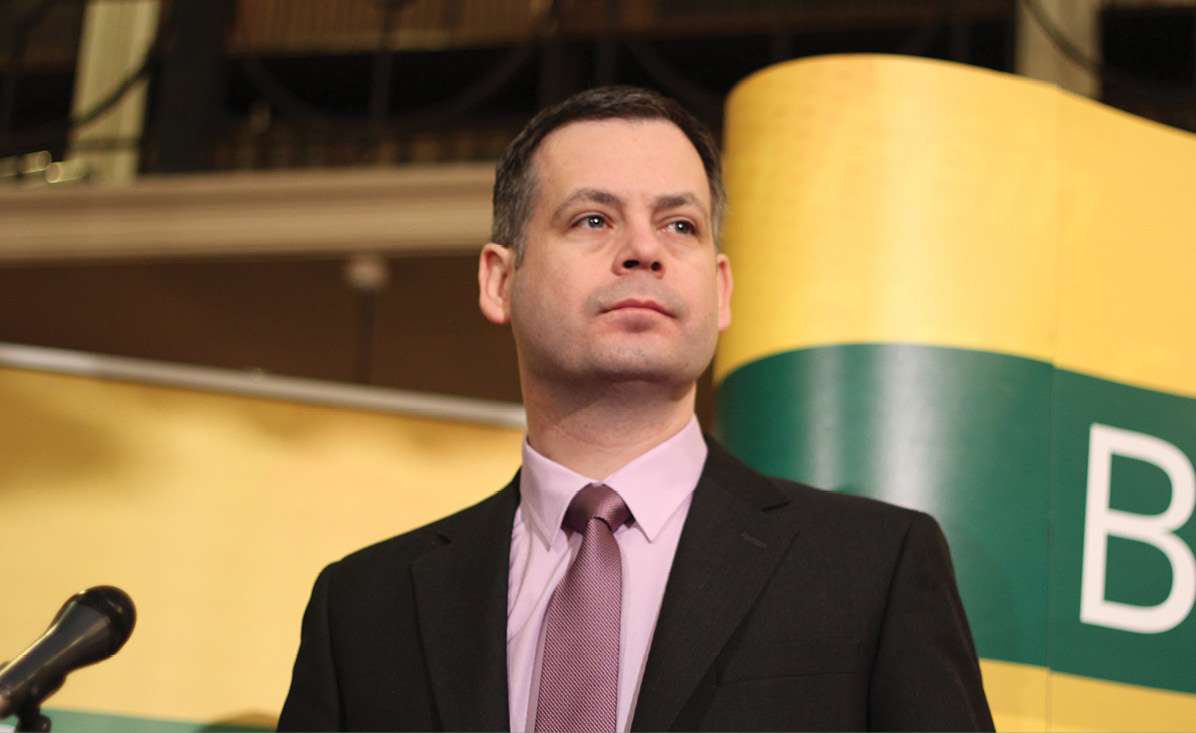 Since his election to the Dáil in 2010, Pearse Doherty has been widely lauded as a rising star among the next generation of Sinn Féin representatives. Ciarán Galway meets with the party's Spokesman on Finance at Leinster House.
Topping the poll in the 2010 Donegal South West by-election and the 2011 General Election, Pearse Doherty was subsequently re-elected to represent the new Donegal constituency in 2016. Prior to this, the Gweedore native had served on Donegal County Council as a representative for the Glenties (2004-07) before becoming Sinn Féin's first seanadóir when he was elected to the Agricultural Panel.
An early encounter with historical literature awakened Doherty's political consciousness: "As a young person I went into a library and took out three books, one on JFK, one on the Catholic Church and another contextualising the conflict in the North. An extract on the 1981 hunger strike whetted my appetite for more information." Later, after reading Bobby Sands' One Day in my Life, it became clear to Doherty that he "wanted to play a part in republican politics".
However, he is adamant that he never envisioned himself as a public representative. Nor did he grow up in an overly political household. "My mother voted Fine Gael and my father voted Fianna Fáil. He wasn't very active, but he would have canvassed and for the Leas-Cheann Comhairle, Pat The Cope," he recollects.
Impatient republican
Doherty has previously described himself as an "impatient republican". This description, he asserts, is inspired by "a burning desire to change the type of country we live in and reorganise how this country provides services". Expanding on this, he suggests: "Republicanism isn't simply about joining the six and 26 counties together. It never was. Republicanism, at its core, is about equality. It is about national independence and it is about sovereignty, but it is also about fairness.
"On a daily basis I deal with people who are being completely let down by the system. We can't afford to be patient and I get very frustrated at this. We have to continually challenge the establishment in order to effect change.
"I want to bring about the type of change that many republicans have struggled to achieve – reunification and the establishment of a new Ireland that is rooted in equality. That's why I'm impatient," Doherty adds.
"Republicanism isn't simply about joining the six and 26 counties together. It never was. Republicanism, at its core, is about equality. It is about national independence and it is about sovereignty, but it is also about fairness."
Irish reunification
Doherty is keen to outline a more nuanced conception of Irish reunification beyond one jurisdiction being absorbed by another. "One of the big challenges for Sinn Féin is articulating what it envisions when talking about a united Ireland. There is this simplistic perception that it's 'Brits out' and back to the way we were. Obviously that's not the type of Ireland that we want.
"What we want is a new, shared Ireland which can accommodate almost one million unionists who are resistant to such a concept. This new Ireland will only come about when the majority of people in the North consent. It's about having a vibrant economy. It's about having equality. It's about having access to services."
Expressing a recognition that Sinn Féin cannot deliver a united Ireland on its own, he also suggests that it cannot be delivered without the party. "We know that it has to happen with all of the others on board. We have made the invitation to the other parties, both publicly and privately, to come together in a forum-type setting where unique views can be expressed. Sinn Féin genuinely want to pursue that.
"Those of us who proclaim to want a new Ireland must start working together to create a new pathway to the realisation of that objective. That's the challenge I put to Fianna Fáil, to Fine Gael, to the Labour Party and to civic society. If you take the GAA for example and other organisations who believe in a united Ireland, then there's an onus on each to come together and consider what it might look like."
Brexit
Doherty asserts that Brexit is a disaster for the island of Ireland, especially for the North and border communities. "In that disaster there is potential for significant job loss in the North, a starvation of European funding for border regions and all of the inevitable issues with a hard border."
While the British decision to withdraw from the EU has the potential to boost support for unity, the Sinn Féin TD speaks soberly on the issue. "Will this force people to rethink their priorities? Of course it will, but that's not the way to bring about reunification in our view. That's why we campaigned vigorously to oppose Brexit. Our political opponents may say that we are being opportunistic, but we were on the streets of the North asking people to vote remain, while parties from the South were conspicuously absent.
"Our focus now is on attempting to minimise the effects of Brexit which, in our view, can be achieved through the attainment of special designated status for the North within the EU. It's something that we were successful in having passed as a resolution and is now the official position of the Dáil."
Border poll
Since 2011, Sinn Féin have advocated for a border poll. However, Doherty submits: "We have never argued that it should take place immediately. What we have argued is that a border poll should take place within the lifetime of the next Assembly and Dáil. The argument for a border poll is valid. It is enshrined in the Good Friday Agreement and it has been almost 19 years since the signing of that agreement. It is there to facilitate Irish reunification when the majority of citizens give their consent."
In the context of the last Assembly election political unionism is, for the first time, no longer in the majority. "If that is not a reason to trigger a border poll I'm not sure what is. In my view, there is an onus on the Irish Government, as a co-guarantor of the Good Friday Agreement to have clarity from the British Secretary of State as to what is the trigger point for a poll," he suggests.
While conceding that "at the end of the day it does come down to a simple numbers game and every election does", Doherty also contends: "There is a discussion to be had in relation to engaging with and understanding unionists. There is a responsibility on republicans to understand the values which are cherished by the unionist and loyalist tradition. We need to convince the largest proportion of people as possible."
Debate
The Donegal TD believes in the potential to convince enough people of the benefits of Irish unity, though he indicates that an informed debate as to what unity would mean is lacking. Acknowledging the substantially contrasting context, Doherty highlights the Scottish referendum debate as an example of what can be achieved.
"Two years out from the referendum, before the debate was initiated, support for independence never polled above 30 per cent. As a result of an informed debate and in spite of huge opposition from London and the British media, they secured 45 per cent of the vote."
Coalition government
Responding to a suggestion that Sinn Féin would enter into coalition government if the opportunity arose, Doherty is unequivocal: "After the next General Election, does Sinn Féin want to be in Government? Yes, without a doubt. The best way to fix the health system is for Sinn Féin to be in Government. The best way to deal with the housing and homelessness crisis is for Sinn Féin ministers to hold those portfolios. The best way to bring about a border poll is for Sinn Féin to be in Government.
"What we have to consider is whether the deal on offer is enough to allow us to take up a position, regardless of which party it is alongside. It doesn't matter which flag they're flying. It's about the deal at that point in time creating space for us to go in and deliver change. That's the real test for Sinn Féin in the next election. It's a question of getting a programme that we can deliver and we believe is good for citizens."
However, Doherty also acknowledges that there is "a perception among voters that if you go into minority coalition with a larger entity that you simply concede all your principles". Making reference to the North, he stresses: "I think it's fairly clear that Sinn Féin will not enter into Government unless we can ensure a deal that is deliverable for our electorate. We are not arguing for 'green' issues, they are basic rights and that's the type of platform we would advocate going into Government in this jurisdiction."
"It is a challenge, when considering that we have two very conservative parties in this State, to create that type of deal. However, politics is all about challenges and overcoming them," he states.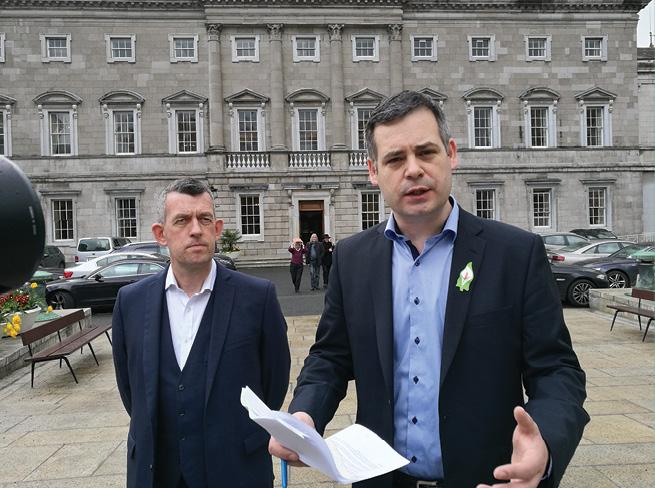 Priorities
Doherty is scathing of the tax policies of his political opponents. "Currently, there is an agenda pursued by both Fine Gael and Fianna Fáil to reduce tax, benefitting those on the highest incomes. We are conscious that this is a very popular position. Any political party that tells the electorate that they want to reduce taxes will be well received.
"However, one of the big problems in this country are the indirect taxes that we pay, through VAT, prescriptions, A&E charges and so on. Such taxes don't take account of your ability to pay, whether you're on €30,000 or €300,000. Income taxes are the best and most equitable way to collect monies because they're based on your ability to pay."
In the wake of tax cuts, he perceives his role as "articulating to the public that it's actually the wealthiest who benefit the most". "Politics," Doherty asserts, "is all about choices and if you compare what we have here with what is on offer in other European countries, the contrast is stark. The reason for this is that we have a low-tax economy.
"Our alternative isn't to increase taxes on low and middle income families, instead we are in favour of reducing some taxes, such as the property tax, water charges, A&E charges, third-level fee charges and other indirect charges. This means maintaining the income tax system and asking the 6 per cent that earn over €100,000 to contribute more. That's a big challenge," he notes.
Squeezed middle
According to Doherty, the definition of middle earners is "an abuse of language". He clarifies: "The CSO indicates that 50 per cent of the population have incomes below €28,500 and 50 per cent have incomes above that figure. The average way is about €36,000. The Government, however, refers to the 'squeezed middle' as incorporating those earning €70-80,000.
"Now, I'm not saying that those earners aren't feeling the pinch, especially if they are a single income household with a family to support, but what I am saying is that that is not the middle. To suggest so is an abuse of statistics and of language and does a disservice to those who are genuinely in the squeezed middle."
Personal ambition
Doherty maintains that there is room for personal ambition in the party. "I'm sure that there are people in the party who do have personal ambition and are motivated by a self-belief. I think it's important that, in my area in Donegal for instance, that we have people joining us who have the ambition to work hard in their efforts to establish a fairer society. That's to be welcomed," he says.
However, he does not agree with "simplistic" notions that there is a new Sinn Féin and an old Sinn Féin. "There is one Sinn Féin, it is very clear of its direction and it has a combined mandate of over half a million people across this island. For some people that sticks in their craw and they have to create comfort narratives which enable them to accept that we are the same party who are attempting to bring about the same objectives yet now have significant electoral support.
"People want to be part of a growing movement and they are very welcome. The person who joins today or tomorrow is as valued as the Civil Rights marcher who was on the streets of Derry in 1969 or a campaigner for the hunger strikers in 1981," Doherty insists.