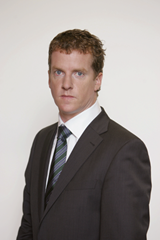 Being an established news reporter, father of three and a published author can't be an easy thing to pull off, but somehow for RTÉ's Paul Cunningham it just seems to work. Here the Environment Correspondent and climate change expert answers eolas's questions about his career in the media and how he got where he is today.
How did you start out in journalism and how did you work your way to RTÉ?
I started by submitting articles to a local newspaper and worked my way up to the nationals. My key interest was international affairs and so I travelled to stories such as the fall of the Berlin Wall or the emergence of Poland from communism, initially at my own expense, and then wrote articles on my return. I used to submit some articles to RTÉ's 2FM News and, after a while, managed to secure freelance shifts reading and editing bulletins. Two years later I was staff.
As a news broadcaster, what is unique about RTÉ?
Firstly, as a national broadcaster, you get the chance to report not just on local events but also the world at large. In broadcasting terms, that can be for TV, radio or online; it can be a tight two minute news report or a hour-long documentary. I've worked at RTÉ for 15 years and a major reason for staying has been the ethos, the varied nature of the work and great colleagues.
What do you enjoy most about journalism?
Getting the chance to witness major events up-close. In 1989, I was sitting on the Berlin Wall with a guy from Leipzig. He just kept repeating: I never thought I would see this. For me, I couldn't believe that I was lucky enough to be there. Since then, I've travelled to more than 50 countries and a dozen wars and disasters including Bosnia and Darfur.
In your view, what are the two or three most important issues for the environment in Ireland at the moment?
1. Acting on climate change.
2. Putting the environment at the heart of government planning
3. Assessing how emerging green and environmental technologies can be translated into jobs.
In your book 'Ireland's Burning – how Climate Change will affect you', you travelled around Ireland talking to people who had already been affected, or would be in the future, by climate change. What struck you about this? And what was the main conclusion?
The positive is that the people are effectively ahead of their politicians. They recognise that climate change is, after the economic crisis of today passes, a monumental global disaster which has the capacity to engulf us. The public understands that our world is changing and that sustainability, rather than simply wealth creation, is the key. You could argue that the current financial meltdown will cement this view – we can't go back to the old ways. The conclusion is that we have to act quickly to stem global warming.
What is the main challenge in your job?
Firstly, meeting the deadline! After that, making the subject of a story visually interesting to the viewer or stimulating to the listener. For example, if global warming becomes 'global boring', then the important news message can be quickly lost.
What has been the highlight of your career so far?
Winning an Irish Film and Television Award and an ESB Radio Journalist of the Year award for coverage of the hurt and pain caused people with haemophilia through blood products contaminated with HIV and hepatitis C. It was two years of hard graft on news reports, a documentary and a book – but immensely rewarding. What propelled me forward was meeting incredible people who'd effectively
been shafted by their health service and successive governments. It's a subject I intend to return to at some point.
What, in your opinion, makes a good story?
Simple – it has to be interesting, relevant and grounded in fact.
If you had chosen another career, what would it be?
Working in the area of human rights, development, or, if I was lucky, playing bass guitar in all-conquering rock band.
Where do you see yourself and your career in 10 years?
Probably not running about with a camera attached to my back, as often happens, so maybe – if I'm lucky – a bit more presenting.
When you get the chance, what do you do to relax?
With three kids, there isn't too much free time!