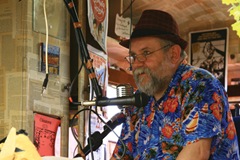 'The Stray Sod Country' is the last in a small town series, Pat McCabe tells Meadhbh Monahan.
Depicting the darkest elements of human nature in small Irish border towns has always been a bastion of Pat McCabe's.
Through Francie Brady in The Butcher Boy, Pat McNab in Emerald Germs of Ireland and Ned Strange in Winterwood, McCabe – one of Ireland's most acclaimed authors – has bombarded readers with murder, child abuse and, in his latest novel, the devil himself.
One commentator has said that reading McCabe's work is "a terrifying experience." However, that is "only part of it", McCabe tells eolas. "I am trying to achieve a lot more than that."
Indeed, most of McCabe's novels – while disturbing – can make the reader laugh. His narrators also tend to analyse Ireland's socio-cultural evolution and people's perceptions of themselves and others.
The author is often lauded for his ability to deal with the onset of modernity on the Ireland of the 1950s and 60s. However, McCabe does not view this as him constantly looking at the past because "there is no such thing as the past". He explains that while his books deal with Irish archetypes of the 1940s and 1950s, "the manner in which they are dealt is very modern. [In The Stray Sod Country] there are flash forwards and flashbacks and the whole notion of time is questioned."
The title comes from the Irish folklore phrase: 'stepping on a stray sod'. One of the book's characters says it means "being lost in what once were reassuring surroundings, being intimidated [and] confused by the very thing that once made you feel secure."
"It means a place that's become ruined," McCabe attests. He overheard an Irish woman with a Mayo accent using it in a restaurant in London as she apologised to her friend for being late saying: 'I stepped on a stray sod back there at McDonald's.'
"I've heard it in Clones too," McCabe adds. "It's not just about Ireland, it's about any place … It's depression, sadness … the existential void. Basically it's a metaphor for an internal state of chaos."
McCabe's novels regularly depict the tensions between Catholics and Protestants on the island. For example, in The Stray Sod Country, a young Protestant policeman meets a sad fate. When asked if Northern Ireland's religious divide is still as relevant as during the Troubles, McCabe contends: "Of course it's still relevant. When two different worlds collide, it is always relevant."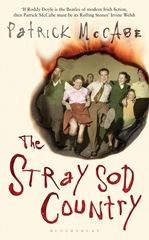 His latest characters have respectable exteriors but they start to exhibit illicit passions. The Latin teacher kisses a 12-year-old boy on the lips, while the bigoted and jealous priest focuses all his energy on putting on an Easter play to out-do his celebrated rival. This is because the devil (called Nobadaddy) has become tired of the disasters and catastrophes elsewhere in the world and has chosen to have some gentle fun in the village. However, the characters' capacity to do as he bids exceeds his expectations.
McCabe isn't personally affected with writing about such sinister matters. "It's just like telling any story. I make it up and then forget about it."
Currently taking a break, the 55-year-old from Clones, County Monaghan, plans to end his next novel on a more hopeful note: "This is the last in a small town series and it's worth the money – but I would say that," he concludes.
Profile: Pat McCabe
Born: 27 March, 1955
Background: McCabe trained to be a teacher in St Patrick's College, Dublin before teaching in a Longford Primary School and in London. The Butcher Boy was shortlisted for the Booker Prize in 1992 and five years later the film adaptation was released, directed by Neil Jordan and starring Stephen Rea. Jordan also directed the 2005 film adaptation of Breakfast on Pluto, starring Cillian Murphy and Liam Neeson.
McCabe is married to Margot and has two daughters.
Books: 1980 Carn
1992 The Butcher Boy*
1995 The Dead School
1998 Breakfast on Pluto*
1999 Mondo Desperado
2001 Emerald Germs of Ireland
2003 Call Me The Breeze
2006 Winterwood**
2008 The Holy City
2010 The Stray Sod Country`
*Booker prize shortlisted
**Hughes & Hughes/Irish Independent Irish Novel of the Year
Hobbies: He appears as 'Captain Butty' at the annual Flat Lake Festival in Scotshouse, County Monaghan, which he organises with Kevin Allen. The hugely popular event is "hopefully" on the cards this year too.