Public Affairs
Partition commemoration: History not conducive to reconciliation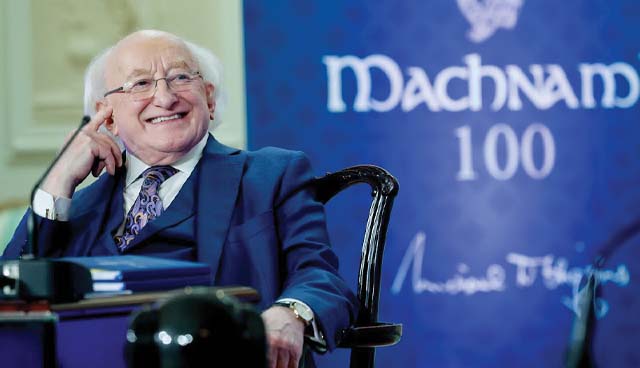 In societies where the past is contested, such as in Ireland, acts of social remembrance, otherwise known as commemoration — no matter how ostensibly benign and well-intentioned — have the potential to generate controversy. Ciarán Galway writes.
While commemorations are framed by memory and remembrance, the complexity of each concept is often underestimated. This can be the result of either conscious obfuscation or subconscious naïveté.
Memory and remembrance
Memory can be official or colloquial, public or private, elite or popular. Social remembrance, more commonly referred to as commemoration, is a choice about how the past is represented. It is therefore, a social, cultural, and political construction.
History, on the other hand, is not synonymous with memory. Intrinsically, while the discipline of history pursues an objective and factual narrative of the past, memory is selective and exploits history to diffuse a particular narrative.
This is complicated by the fact that there is a contradiction in that memory often inspires two or more competing constructions of the same past. As such, memory involves simultaneous remembrance and forgetting, according to contemporary needs of a community.
Consequently, there is a perpetual battle over the ownership of the past. A wide variety of competing interests inform public acts of remembrance. Applying a 'collective' label merely serves to camouflage the complexity of a society's relationship with the past.
As historian Rebecca Graff-McRae has asserted, memory is the "construction and contestation of our past". It determines who is included and who is excluded. Commemoration, therefore, is about delineating identity.
Meanwhile, British historian Eric Hobsbawm emphasised that memory is vulnerable to manipulation by elites which seek to indoctrinate and instil a set of conforming values. Often, the hegemonic national narrative formulates an official memory to monopolise the transmission of memory across generations.
As such, when memory is invoked, it is important to question by whom; in what context; and to what end.
Using the past in a way that omits complex episodes and transmits an opportune narrative has the function of producing an idealised representation of the past to establish a national identity, regardless of historical accuracy.
Therefore, memory is inevitably revisionist and commemoration inherently political. Often what is forgotten provides greater insight into contemporary political motives rather than what is ostensibly being remembered.
Machnamh 100
Cognisant of the challenges associated with memory and remembrance, in 2020, Uachtarán na hÉireann Michael D Higgins launched Machnamh 100 as the next phase of the national programme of commemoration.
Promoting the concept of 'ethical remembering', President Higgins emphasised that a central dimension of this is "a refusal of conscious or unconscious amnesia, not only of persons but events".
"An 'ethical act of memory' has to be a critical act of memory, I suggest. There should be an engagement with the issues of context before the act of public memory is transformed to commemoration in any narrow sense. Commemoration is not only a public invitation, it is an act predicated on selection," he noted.
"Memory and remembrance are not history. Similarly, history does not easily lend itself to the extrinsic value of reconciliation. Naïvely, in formulating the 'Service of Reflection and Hope to mark the partition of Ireland and the formation of Northern Ireland', the Irish churches have inadvertently perpetuated division rather than promote reconciliation."
Acknowledging that this selection cannot be neutral, the President asserted that "transparency of purpose" was realistically achievable. He subsequently criticised the State's traditional approach to remembrance in the pursuit of "hegemony of narrative".
Reflecting on the concept of 'recovering imagined futures' for the Machnamh series in May 2021, Margaret O'Callaghan emphasised: "Commemorations are traditionally used by states to glorify their origins." By controlling public commemoration, states seek to control the narrative of the past. However, this is not the preserve of the State and non-state actors may also seek political capital or expediency from such a pursuit.
Commemorating partition
When politicians or other groups of vested interest, such as churches, seek to tame memory and selectively exploit the past for expediency in the present, there is ample opportunity to sow discord.
Naïvely, in formulating the 'Service of Reflection and Hope to mark the partition of Ireland and the formation of Northern Ireland', the Irish churches have inadvertently perpetuated division rather than promote reconciliation.
Oddly, the churches identified partition of Ireland as the moment in time most conducive to reconciliation. Highly subjective, this decision was fatally flawed in that it required others to instil it with legitimacy, perhaps exposing the questionable – to say the least – status of the Irish churches as custodians of the past or, indeed, communal spokespeople in the present.
As such, it is difficult to understand how a religious service to mark the centenary of partition, with the inevitable political undertones, could ever be marketed to the contrary. Leaving aside the bizarrely disproportionate sense of self from the churches, participation in proceedings by Uachtarán na hÉireann would merely indulge unionism's six-county origin story.
Unavoidably, such a move would have been interpreted as attributing legitimacy to the undemocratic mutilation of Ireland — under threat of "terrible and immediate war" — and to the subsequent decades of misrule, repression, and violence.
President Higgins' decision to decline to attend the church service in Armagh to mark the centenary of Northern Ireland seceding from the Irish Free State provoked a predictable and entirely disingenuous cacophony from unionist leaders. This is symptomatic of a long-standing sense of unionist entitlement, cultivated by successive Irish governments, at the expense of Irish citizens resident in the North. Overall, the episode has served to expose the limitations of using our contested past to promote reconciliation in the present.