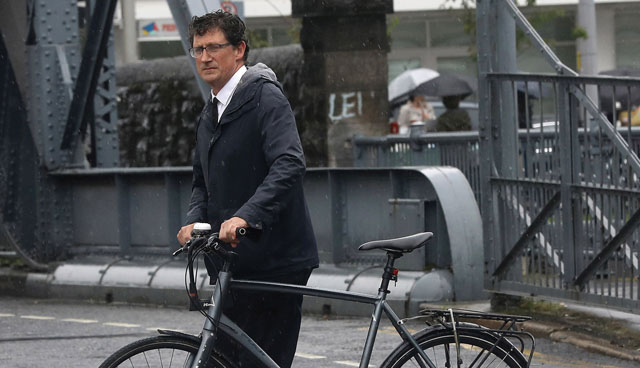 The establishment of a new tri-party government which includes the Green Party aligned with the public health challenge of Covid-19, associated economic headwinds and Brexit mean that Irish transport is in a state of flux. eolas provides an overview of Ireland's transport priorities in this context.
Upon the creation of the new coalition Government, Green Party leader Eamon Ryan TD was appointed to the role of Minister for Climate Action, Communication Networks and Transport in June 2020. Minister Ryan is supported by Fine Gael's Hildegarde Naughton TD as Minister of State, attending Cabinet, with responsibility for International and Road Transport and Logistics.
Having labelled his predecessor, Shane Ross, "possibly the worst Minister of Transport that I've ever seen", Minister Ryan's appointment is likely to set a marked change in tone in transport policy. The challenge facing the new Minister is that transport remains Ireland's most significant source of energy-related CO2 emissions, representing a 40 per cent sectoral share in 2018.
The new Government is now committed to an average 7 per cent annual reduction in overall greenhouse gas emissions from 2021 to 2030, and to achieving net zero emissions by 2050. Aside from contributing to Ireland's international greenhouse gas reduction obligations, a reduction in transport emissions will contribute to cleaner air and greater health outcomes.
Consequently, as indicated in the Programme for Government (PfG), the new Government's expenditure on transport infrastructure will be implemented at a ratio of 2:1 between new public transport construction and new road construction. At the same time, essential road and public transport maintenance budgets will not be impacted, though any underspend on roads will not impact on public transport expenditure.
Public transport
Simultaneously, investment in bus, light rail and intercity rail will continue. Existing transport strategies (e.g. the Greater Dublin Area Transport Strategy, the Galway Transport Strategy and the draft Cork Metropolitan Area Transport Strategy) will be further developed and implemented, while strategies will also be established for Waterford and Limerick.
Specific public transport measures that the Government commits to in the PfG include establishing:
• a review of public transport fare structures;
• a National Transport Authority (NTA) -led park-and-ride implementation plan for Dublin, Cork, Galway, Waterford and Limerick;
• a sustainable rural mobility plan;
• a review of operation and funding of the Local Link bus service (within 12 months);
• a prioritisation of regional and rural public transport projects for additional funding in the lifetime of the National Development Plan, as per the National Planning Framework;
• a working group to utilise modelling capacity to identify existing and potential public transport demand and match this with new and existing services;
• a national integrated public transport system;
• a National Public Transport Forum and a Dublin Transport Advisory Council; and
• accelerated sustainable transport plans for schools.
However, the impact of the Covid-19 pandemic on public transport, which provoked a virtual collapse in the network in March 2020, is still being felt. Consequently, it is likely that limited passenger capacity, increased costs and health concerns will encourage people to adopt alternative modes of transport.
Active travel
Overall, Green Party's fingerprints are all over the transport section within the Programme for Government document. As such, the new Government commits to "a fundamental change in the nature of transport in Ireland". This, it elaborates, comprises improvements in climate impact, quality of life and air quality, as well as physical and mental health. As such, the Government has promised that "every effort" will be made to enhance and improve the accessibility of active travel and public transport.
Taking precedence in the PfG, cycling and walking are recognised for their "enormous potential to facilitate a high proportion of daily trips". This, the Government states, should be facilitated through the creation of an environment which is conducive to the protection and prioritisation of this 'active travel'.
The Government explicitly commits 10 per cent of the total capital budget for transport cycling infrastructure and 10 per cent for pedestrian infrastructure. Subsequently, the Government will commit €360 million (20 per cent of the 2020 capital budget) per annum to cycling and pedestrian infrastructure projects over its lifetime.
Aside from an expenditure commitment, the Government will also support active travel by:
• mandating that each local authority adopts a "high-quality cycling policy", completes a roads network assessment and develops cycling network plans to be implemented by a cycling officer;
• establishing regional cycle design offices to support local authorities in expanding and enhancing expertise on active travel, thereby improving infrastructure and increasing participation;
• mandating the Department of Transport to work on active transport initiatives in schools;
• extending the eligibility for bike to work scheme;
• expanding the Cycle Right cycling proficiency programme in primary schools; and
• reviewing road traffic policy.
Greenways
The Government has also pledged to develop an integrated national greenways strategy. This has already materialised with the announcement of funding, totalling €4.5 million, allocated under the Carbon Tax Fund 2020 for 26 projects. It is intended that this will assist local authorities in preparing greenway projects to be ready for construction funding.
Minister Ryan said: "I'm particularly pleased that a number of Greenway proposals in the areas supported by the Just Transition Fund have been funded today – these projects in Longford, Roscommon and Offaly will benefit from this funding and follows the recommendation in Kieran Mulvey's report for greater co-operation between local authorities in the area.
"The inclusion of funding for the Sligo, Leitrim and Northern Counties Greenway is particularly important in terms of continued work on a cross-border basis and shows our commitment to New Decade, New Approach as set out in the Programme for Government."
"The scientific consensus is clear, we must cut CO2 emissions in half by 2030 and reach net zero by 2050 to ensure we protect our planet and our country from the most severe impacts of global warming."
Transport Minister Eamon Ryan TD
Decarbonisation
The PfG recognises the role of transport in meeting Ireland's emission reduction targets and the need to decarbonise the transport fleet. The document outlines a series of measures to be taken by the Government, such as:
• using "a range of policy approaches" to incentivise the adoption of electric vehicles;
• introducing a ban on the registration of new internal combustion engine cars and light vehicles from 2030 alongside a phasing out of diesel and petrol cars from Irish cities;
• reviewing the motor tax regime in relation to new vehicles;
• publishing an electric vehicle charging infrastructure strategy;
• publishing a public procurement framework for electric vehicles;
• introducing a requirement that all urban buses be electric hybrid or simply electric;
• legislating for e-scooters and e-bikes; and
• publishing a 10-year plan for the road haulage sector.
In addition, the Government will also launch a new road safety strategy with a focus on reducing death and injury among vulnerable road users, pedestrians and cyclists while consolidating existing road safety legislation.
Aviation and ports
In the context of Brexit, Ireland's ports and airports will assume an even greater importance in supporting the island's connectivity and, therefore, its economic wellbeing. This has been underlined by the challenges posed by the Covid-19 pandemic.
The PfG acknowledges "the huge value of our aviation sector in supporting economic development, international connectivity and tourism". The Government's two broad commitments in aviation are to deliver capital programmes to support services and ensure safety at Ireland's airports while also supporting the objectives of the Paris Agreement and the UN Framework Convention on Climate Change to reduce emissions.
The Government is also outlines its desire to "work with our port companies to ensure they have the capacity, finance and policy supports to deliver in the years ahead". Therefore, the PfG commits to working with ports and airports to safeguard supply chains and access for tourism; to review the potential expansions in passenger and cargo capacity at all ports; and to ensure access to ferries for foot passengers.
Given the challenges now facing the aviation industry, the Taskforce for Aviation Recovery made its final report to Transport Minister Eamon Ryan and Minister of State Hildegarde Naughton in July 2020. The report contains 12 recommendations aimed at achieving a safe reopening of air travel while recovering Ireland's connectivity and facilitating an economic rebound. There are three key objectives within the report:
1. protecting public health and rebuilding consumer confidence;
2. rebuilding regional and international connectivity; and
3. saving jobs and supporting Irish business.
Welcoming the report, Minister Naughton stated: "The Covid-19 pandemic has had a catastrophic impact on our society and our economy, and the aviation sector has been badly affected. This Report is very timely and will assist the Government in finalising its approach to stimulating economic recovery and ensuring Ireland's connectivity into the future."