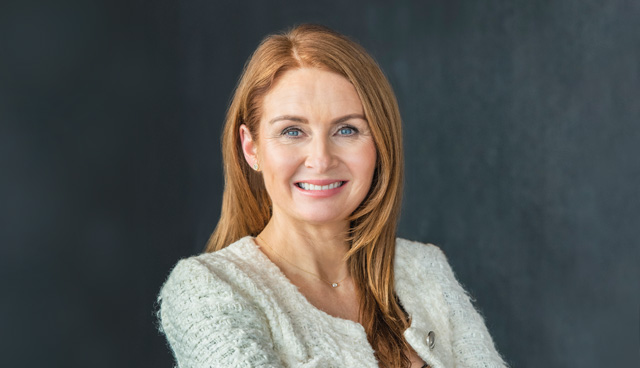 Synchronising a reduction in operational cost and risk alongside the delivery of increased profits, Operational Excellence (OE) provides businesses with an competitive edge, simultaneously driving value for customers. Ciarán Galway visits its new City Quay headquarters to discuss Grant Thornton's Operational Excellence service offering with Head of Consulting, Elaine Daly.
Contextualising the discussion, Daly traces the origins of Operational Excellence theory to the work of 'the father of economics', Adam Smith, and conveys the Grant Thornton definition of OE as being the "seamless execution of business operations, unlocking opportunity for organisations to achieve strategic objectives". This is underpinned by consistency and reliability.
"OE is a philosophy of leadership, teamwork and problem solving. When applied successfully, it results in a journey of continuous organisational improvement through a holistic focus on customer need, employee empowerment and the optimisation of existing processes," she explains.
OE has historically been associated with lean manufacturing, famously pioneered by the Toyota Production System in its pursuit to eliminate waste. Today, however, its practitioners are as likely to be found in an organisation's boardroom as on its production floor. Indeed, by consolidating on Operation Excellence's lean roots, through the holistic alignment of people, processes and technology, it is possible to drive value across organisations.
"Through the incorporation of the people, process and technology variables, efficiency is delivered across all parameters, driving seamless business operation in an environment conducive to success. When business is executed seamlessly, organisations can operate cost-effectively and with agility, meaning that leaders are afforded the necessary space to pursue growth activities," Daly emphasises.
Trending
Across its client base, one major trend identified by Grant Thornton is the increasing complexity of its clients' requirements for OE engagements. "In the last number of years, we have observed the complexity of client requirements for Operational Excellence assignments increase significantly and Grant Thornton has recognised this change and has executed an evolution of its own," the Head of Consulting explains.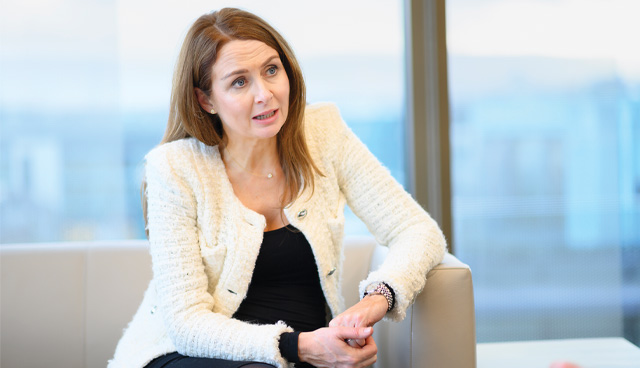 This evolution led to a reimagining of Grant Thornton's go-to-market strategy which now holistically threads together the organisational pillars of people, processes and technology. "Fundamentally, organisations comprise three major components: people; processes; and technology. How they interact is the difference between success and failure," says Daly. To bolster this, Grant Thornton has brought its acute technical expertise and extensive sector knowledge to bear.
Restructuring
In order to ensure that its clients continue to benefit from focused and informed engagements, Grant Thornton has recently reengineered its Operational Excellence service offering. Bringing together a cross-section of experts from Grant Thornton's People, Process and Technology consulting units has augmented its OE service offering. "This service proposition is supplemented by a significant depth in sectoral knowledge across health and public sector, life sciences, energy and utilities, agri-food and consumer products.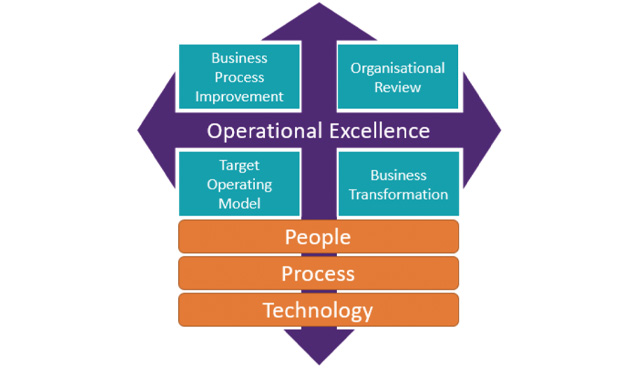 "Through investment in our experts in people and technology consulting, we now boast an expanded and more experienced Business Consulting division. Currently, our team comprises more than 200 consultants with clear vision, common methodology and Grant Thornton's famed client-focused pragmatism. From a client perspective, this enhanced structural coherence serves to ensure seamless service," Daly maintains.
Holistic
Grant Thornton's newly constituted Business Consulting team works with clients to reformat operating models in a way that reduces waste, while simultaneously increasing efficiency and effectiveness. This is what drives Operational Excellence.
"Our new offering encompasses an end-to-end suite from people, processes and technology variables. That ensures efficiency and effectiveness across these parameters, which in our view will drive seamless execution of business operations and in the right environment for people to succeed. Overall, this represents a much more holistic approach," she asserts.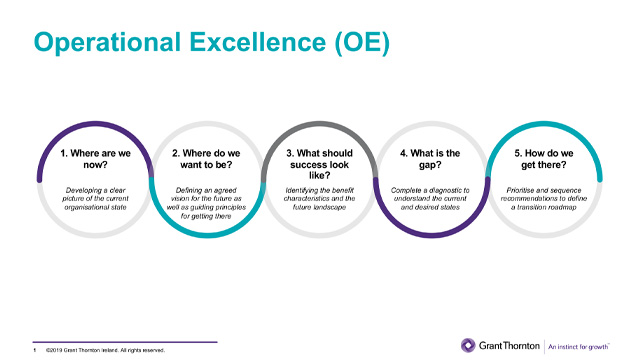 Ultimately, yes, OE is about reducing waste and developing a Lean Culture. However, it's important to remember that this does not merely mean cost cutting, rather it is about being more efficient and driving value.
Benchmarking success
Grant Thornton's OE engagements are diverse and range from multimillion euro transformations to smaller scale, focused projects. Each project is customer-focused and tailored to need, correlating with variables which include the sector and the strategic maturity of the client.
The Head of Consulting maintains that through the identification of strategic goals, success can be benchmarked through improved customer focus, enriched staff management, better quality, streamlined operational costs and increased profit.
Emphasising that Operation Excellence is "regularly achieved but never finished", Daly states that successful implementation often means that clients will eternally strive for improvement in order to "elevate performance to the next level".
Benefits
However, the Head of Consulting also defines a number of measurable benefits as reported by clients who have embarked upon an OE journey.
"Firstly, when successfully implemented, OE emerges as a comprehensive and companywide initiative that engenders synergy through teamwork and cooperation across functions. Crucially, it assists employees to understand how their role and their wider team contributes to the bigger picture; an organisation's strategic goals.
"Secondly, a cornerstone of a successful OE programme is nurturing employees, rewarding their achievements and celebrating key milestones. The benefit to employers is that motivated and engaged employees are much more likely to surpass expectations. As a result, the client teams we work with report higher engagement scores and lower attrition rates," she outlines.
Likewise, Grant Thornton's OE offering empowers employees, facilitates them to solve their own problems and instils in them a sense of ownership. In turn, this empowerment reduces constraints on management time which can instead be allocated to profit-driving activities.
While evidently beneficial to the internal mechanisms of an organisation, the positive influence of OE is also felt externally. Logic dictates that if a business streamlines its internal processes and concurrently aligns people and technology with common strategic objectives, then its customers will ultimately benefit from a more effective, efficient and agile service.
"Finally, defined processes and rules, as well as standard operating procedures contribute to efficiency. This is a baseline for expansion, whether this may be organic growth or merger and acquisition.
"These benefits represent a compelling business case for organisations across the public and private sectors that are yet to embrace Operational Excellence," Daly adds.
Steps on the journey
At the outset, prospective clients attend a day-long, free-of-charge Operational Excellence Value Room and meet with the Grant Thornton team comprising of sectoral and service line experts. The Value Room is tailored to the specific needs of clients and ultimately produces alignment and understanding, as well as providing assistance in mapping out the subsequent engagement.
According to Daly, there are five key questions which underpin this process.
These are:
Where are you now?;
Where do you want to be?;
What should success look like?;
What is the gap?; and
How do we get there?
"These questions enable both the Business Consulting team and the client to: develop a clear picture of the organisation's current state; define an agreed vision for the future, as well as providing guiding principles to get there; identify the potential benefits; understand the gap in people, process and technology between the current and the desired states through the completion of a diagnostic; and define a transition roadmap," she affirms.
After embarking on the OE journey, there are a number of steps that must be taken to ensure successful, value-driven and benefit-focused engagements.
"Firstly, there must be a centralisation of services. This means establishing an understanding of existing services and assessing the feasibility of a centralised delivery model. Following this, the creation of shared service centres or centralised support units can support the realisation of value.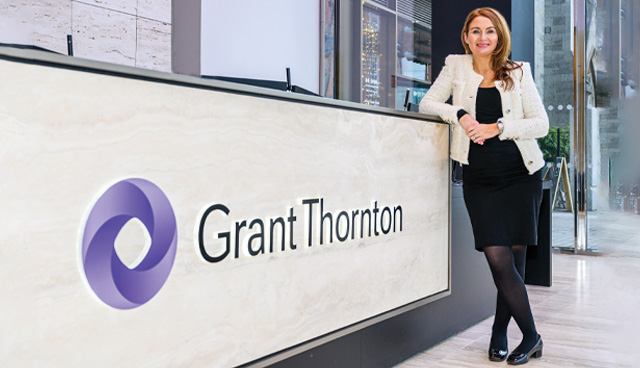 "Secondly, through a process of business process re-engineering, pre-existing assumptions can be challenged. This enables the implementation of bottom-up approaches to structure design and places customer experience at the centre of operations. By optimising people and technology inputs, it is also possible to ensure consistency through standardisation, eliminating variance and improving efficiency.
"Finally, through the development of an operating model, it is possible to adopt a collaborative and inclusive approach and develop a target model beyond merely organisational structure. This provides for accountability and governance, transforming strategy into operational plans and benchmarking against sectoral best practice," Daly details.
Case studies
From the Head of Consulting's perspective, Operational Excellence is about clients embracing this journey and moving to the next level. Summarising a series of case studies of successfully implemented Grant Thornton OE programmes, Daly identifies the experiences of a large travel and leisure company, a fast-moving consumer goods (FMCG) company and a national energy and utility provider.
"Grant Thornton has recently worked with a large travel and leisure company, post-management buyout to lay the foundations for future growth through strategic planning, operational model review and a realignment and process improvement, ultimately establishing a roadmap for the future. That's an example of where we're conducting a review to set a client on the right path.
"We are also working with a multinational FMCG company to bring about operational model changes in order to positively influence the employee experience and drive greater levels of employee engagement. To date, the changes implemented across the people, processes and technology parameters mean that this client has reported improved engagement scores and become a Great Places to Work award winner.
"Finally, we have worked with a large national energy and utility provider to bring about continuous process improvement. Firstly, by mapping and understanding existing processes, then identifying areas for improvement and ongoing focus," she recounts.
Concluding, Daly emphasises: "Ultimately, yes, Operational Excellence is about reducing waste and developing a Lean culture. However, it's important to remember that this does not merely mean cost cutting, rather it is about being more efficient and driving value."
---
Elaine Daly is a Partner and Head of Consulting, Grant Thornton Ireland specialising in a range of sectors including: healthcare, life sciences, agri-food, energy/utilities, transport and infrastructure. Daly has over 20 years' experience in the provision of advisory services leading and managing a wide range of engagements for clients with operations in Ireland and abroad. Key areas of Daly's expertise include: project and programme management, change management, operational excellence, economic advisory, finance transformation and strategic planning, design and improvement. Elaine is a member of the Association of Chartered Certified Accountants (ACCA). She has a Master's in Business Administration from University College Dublin, a Master's in Strategic Management and a Bachelor in European Politics, Law and German from the University of Limerick.