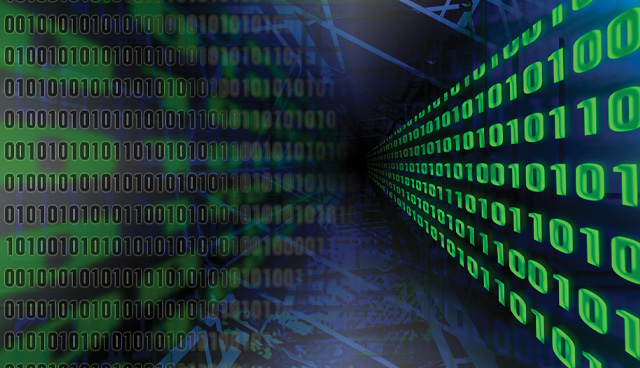 In the midst of the Irish Government's Open Data Strategy 2017-2022, Ireland has been ranked first in Europe for open data maturity three years in row.
Ireland has been crowned number one for open data maturity in Europe by the European Commission Open Data Maturity Study in 2017, 2018 and 2019, with the 2020 winner yet to be announced at the time of writing. These figures mark rapid and significant improvement on Ireland's part since the inaugural study in 2015, which saw Ireland ranked 20th.
Having risen to third in 2016, Ireland has since made the top spot its own. The report assesses the open data maturity in the EU28 (as it was at the time of the last report) and the European Free Trade Association countries, Iceland, Liechtenstein, Norway and Switzerland. The report assesses open data maturity across four dimensions: policy; portal; impact; and quality.
In 2019, Ireland ranked first in quality, its 92 per cent score vastly outdoing the EU average of 65 per cent. Ireland ranked second in impact, again with a score of 92 per cent, this time against an EU average of 57 per cent. The country ranked third in both policy and portal, with scores of 91 per cent and 88 per cent outdoing EU averages of 74 per cent and 67 per cent respectively.
These four categories are further broken down into sub-criteria, where Ireland's performance can be scrutinised in further detail. Under policy, Ireland received scores of 95 per cent, 91 per cent and 88 per cent in policy framework, governance, and implementation respectively. Under impact, awareness, political and environmental all received scores of 100 per cent, while social was marked at 88 per cent and economic at 68 per cent. In terms of portal, features and sustainability were scored at 92 per cent and 97 per cent respectively. Usage scored an 88 per cent grade, with data provision scoring 70 per cent. Finally, in terms of quality, Ireland scores 100 per cent for DCAT-AP compliance, 97 per cent for both monitoring and measures and currency and completeness, and 74 per cent for deployment quality.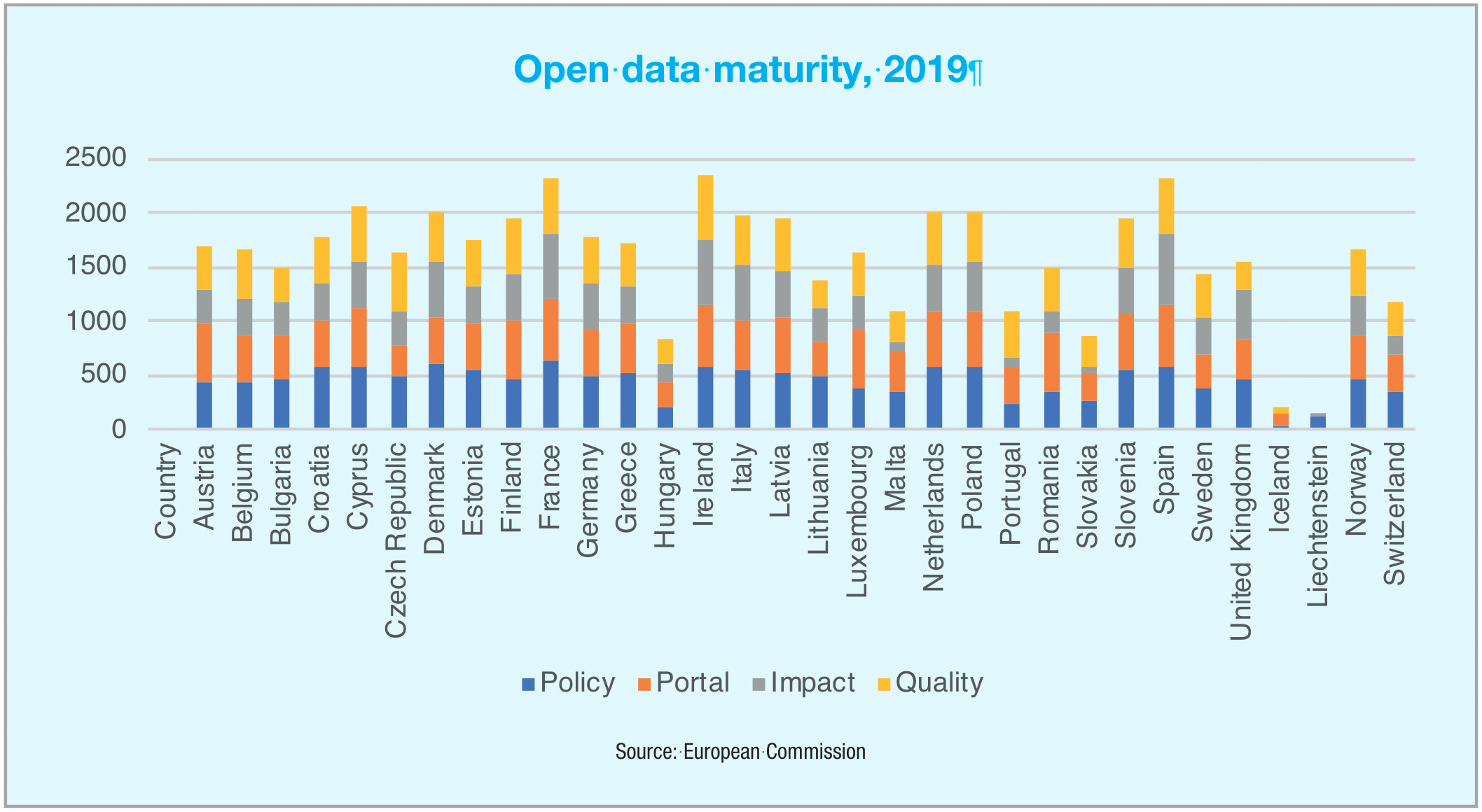 The survey notes that Ireland "conducts multiple activities to understand, promote, and boost open data re-use", with special mention given to the Government's Open Data Engagement Fund, the annual call for proposals for funding in support of data re-use projects. An example of the projects funded by the initiative cited is Dublin City Council's hackathon that aimed to engage those with interests in 3D and the built environment.
The Engagement Fund winners for 2020/21 have recently been announced, with €28,100 of a possible €30,000 split across eight projects. The largest individual sum of €5,000 was awarded to two separate projects: to Ríonach Ní Néill of Ciotóg, who is seeking to expand the Turas Chonamara digital and audio map that charts Irish language cultural heritage and history through use of both open data and community generated data; and to Cathal Hoare, who is seeking to develop a "scenario exploration tool for the general public in order to explore the benefits of various technologies and lifestyle changes on their carbon and energy footprints".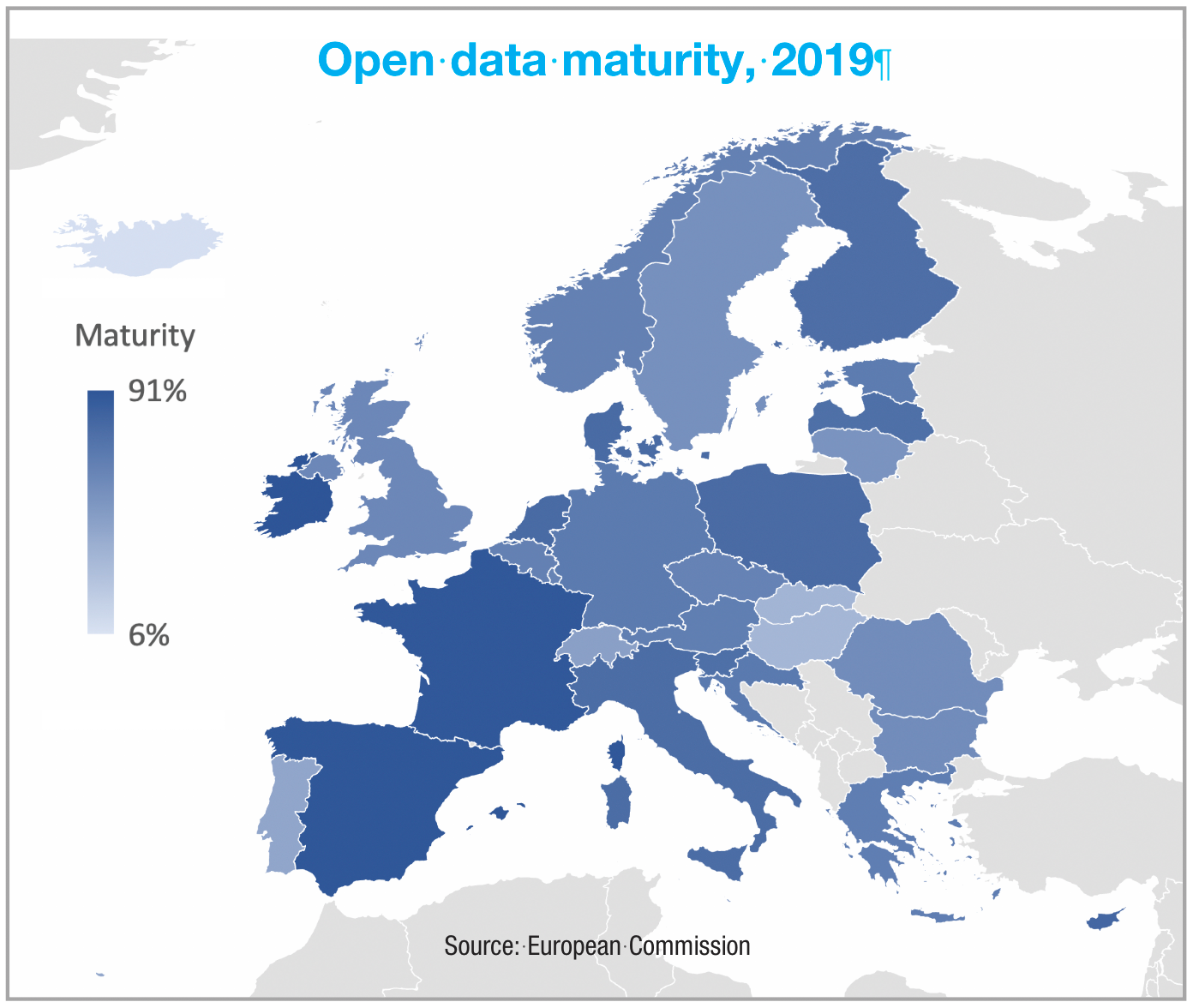 Ireland's improvement in the open data field comes in the context of the country's Open Data Strategy 2017–2022, which sought to build on the Open Data Initiative that was started in 2014. The Strategy set out actions under seven themes: to broaden the range of public bodies actively engaging with open data; to broaden the scope of available open data and improve the quality, quantity and range available on the Government portal, data.gov.ie; engagement with stakeholders to promote the use of open data; to support open data user groups; to provide a framework to support and train public bodies with regard to open data; to evaluate the benefits and impact of the initiative; and to ensure that effective governance structures are in place to implement the Strategy.
Necessary actions are set out within an Implementation Plan, which also specifies the bodies responsible and the timeframe within which the actions should be completed. Key actions include: each public body auditing their databases and putting data publication plans in place; moving to ensure that all newly created datasets are open by default; provision of procurement framework to support open data activities; improving the quality and range of services available through the portal; broadening the scop to include semi-state bodies; and the nomination of an Open Data Liaison Officer within each public body.