Issues
'Onerous and unreasonable'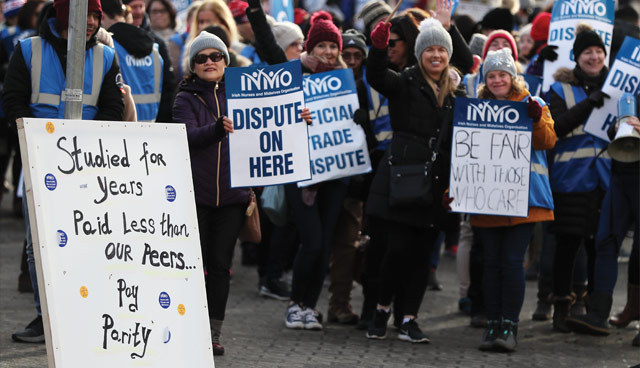 The Irish Nurses and Midwives Organisation (INMO) are to return to the Labour Court following its assessment of the Government's contract proposals as "onerous and unreasonable"
The decision comes after talks between the INMO, SIPTU, the Department of Public Expenditure and Reform, the Department of Health, and the Health Service Executive (HSE) ended with no agreement on the new contract.
The INMO has now postponed a planned ballot on the previous Labour Court proposals on the basis that members would not be balloted without a satisfactory contract.
A series of industrial actions were suspended earlier this year after proposals including new contracts and a higher pay scale were put forward in settlement proposals.
However, the likelihood of the strikes resuming escalated after the Government disclosed new terms that it said would cost up to €15 million in 2019 and up to €35 million in 2020.
The Government had maintained that it could not give the nurses a raise outside of the terms of the public sector pay agreement agreed in 2017. In March, the Irish Times reported that the draft government proposals included provisions to make unilateral changes to work locations and hours. The report said that the HSE would have the right to potentially move staff within a 40km radius for weeks at a time or within a single shift. It would also have allowed for redeployment from hospital to community settings, with potential changing shift patterns.
However, the INMO have argued that the latest proposals could serve to intensify the underpinning issues of recruitment and retention.
Stating her concern at what she described as the Government stretching "the limits" set out by the Labour Court, INMO general secretary Phil Ní Sheaghdha says: "Government insistence on unreasonable contract terms would put nurses and midwives in some of the most insecure jobs in Ireland, allowing unilateral changes to work locations and hours. We will not allow this.
"The Government's contract proposals are unacceptable to us and would only worsen the recruitment and retention problems. We believe that the Government's proposed contract goes far beyond the Labour Court recommendation and will be making this case firmly to the Court on behalf of our members."
The INMO will now go back to the Labour Court to oppose the Government's contract and have stated the employers have indicated that they will attend.
The strikes earlier this year by some 40,000 staff led to high-levels of disruption including the cancellation of hospital out patient appointments or planned procedures.