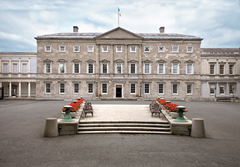 European affairs and public finances dominated the Oireachtas' agenda as the referendum approached. Committees are making their mark but their wide remits have also been questioned.
The Dáil's first plenary after the Easter recess (on 18 April) began with a tirade by Micheál Martin against the Government on water metering. Ceann Comhairle Seán Barrett reminded deputies that they have two minutes to ask a question and three minutes are set aside for a reply.
Enda Kenny retorted that "the actions of the governments of which [Deputy Martin] was a member have left the Government with this unprecedented mess."
Sympathies were extended to Pearse Doherty on the death of his father. At leaders' questions on 24 April, Gerry Adams contrasted the 1916 Proclamation's right "to the unfettered control of Irish destinies" with the Fiscal Compact. The Taoiseach questioned how Sinn Féin would find the money to run public services while also maintaining investors' confidence in Ireland.
Fianna Fáil TD Timmy Dooley's Motorist Emergency Relief Bill 2012, aiming to cut fuel prices, was rejected 86-45 on 25 April. Michael Noonan contended that Ireland "cannot consistently spend more than we collect in revenue each year" and estimated the cut's cost at €178 million of lost revenue.
As the referendum campaign stepped up, Gerry Adams asserted that Sinn Féin was right to oppose every European treaty since Ireland joined the EU. Micheál Martin questioned the holding of the referendum so soon after the French presidential election, given François Hollande's scepticism about the Fiscal Compact. Éamon Ó Cuív, meanwhile, made peace with his colleagues, by agreeing to stay silent on the treaty, following a calm and firm intervention by party whip Seán Ó Fearghaíl.
Attention also turned to Cardinal Seán Brady, following the BBC's accusations over his response to child abuse. Speaking personally on 3 May, Eamon Gilmore commented that "anybody who did not deal with the scale of the abuse we have seen in this case should not hold a position of authority."
Raising the defamation of Fr Kevin Reynolds on 9 May, Micheál Martin claimed that that the Oireachtas committees were overstretched. The "enormous spectrum" of the Communications, Natural Resources and Agriculture Committee was a case in point.
John McGuinness' Comptroller and Auditor General (Amendment) Bill, to bring local authorities under its ambit, received its second reading on 11 May. He recalled that, as a councillor, he saw "little or no scrutiny of how taxpayers' money was spent." The Government agreed in principle but claimed that the Bill would lead to duplication. The House divided 92-36 against.
Michael McGrath's Regulation of Debt Management Advisors Bill was, meanwhile, widely welcomed and passed its second stage without a division on 16 May. Its content will be incorporated into the Central Bank (Supervision and Enforcement) Bill.
22 May saw exchanges on mortgages between Enda Kenny and Micheál Martin. Mary Lou McDonald accused the Government of "inactivity" and was unimpressed by the Taoiseach referring the problem to a Cabinet sub-committee. Kenny responded by saying that policy development and legislation takes time, and that McDonald had not understood this.
Senators paid warm tributes to the late Myles Staunton on 19 April, a former Fine Gael Senator (1977-1982 and 1989-1993), in the presence of his widow Marianne and five children. Maurice Cummins remembered "an extremely capable and committed public servant" while Cathaoirleach Paddy Burke found him "an absolute gentleman whenever one dealt with him".
The Referendum Bill reached the Senate on 23 April, when Minister of State Joe Costello commended the House for sitting on a Monday and an "enormously" increased work rate. The question was put and declared carried. Senator David Norris and Sinn Féin's David Cullinane and Trevor Ó Clochartaigh sought a division but the Bill went ahead, as five members were required.
A wide-ranging debate on the Planning Tribunal report followed the next day, with Minister of State Jan O'Sullivan remarking that the culture of corruption must be eradicated. "One of the greatest safeguards for the future would be the development of a culture of integrity where there is no public tolerance of corruption or circumvention of the law," Senator Martin McAleese stated.
When the Seanad debated the Forum on Patronage and Pluralism's report on 1 May, Fine Gael Senator Fidelma Healy Eames warned that "those who shout loudest will get what they want and … the views of the silent majority, who are happy with current patronage, will be ignored." Ivana Bacik, meanwhile, said that the emphasis on Catholic faith formation at her primary school affected the quality of her education.
An EU Affairs Committee report summarised the case for and against the Fiscal Compact Treaty on 16 May. The report did not recommend how the population should vote but Chairman (and Labour TD) Dominic Hannigan hoped that it would "inform and enlighten the citizens we serve".
Jobs, Social Protection and Education Committee member Anthony Lawlor (a Fine Gael TD) published his report on part-time jobseeker's payments, recommending that an hours-based system would be fairer for claimants.
Meanwhile, the Justice, Defence and Equality Committee called for the urgent introduction of a child rescue system i.e. an high priority alert when a child is abducted and where the authorities suspect that their health or welfare is at immediate risk.
In a detailed evidence session with the Investigations, Oversight and Petitions Committee, Irish Language Commissioner Seán Ó Cuirreáin reported that several state bodies were failing to abide by the Official Languages Act. Members have invited the relevant secretaries-general to explain their position.
Oireachtas TV, meanwhile, is likely to be moved from channel 801 to the top-200 channel range later this year after counting its 150,000th viewer. Launched last November, the channel is regularly watched in around 20,000 homes.