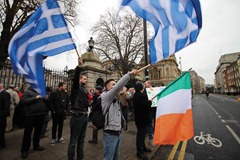 Peter Cheney reviews a month in which private member's legislation, on a variety of issues, featured prominently on the Oireachtas agenda. Opposition parties continued to press the Government on the Fennelly Commission's investigation.
Among the first items of business for February was a personal explanation by An Ceann Comhairle about his decision not to allow a debate on the work of the Fennelly Commission, which is examining alleged malpractice by gardaí.
"I wish to assure the House that at no time did I come under any pressure from anybody in arriving at my decision," he stated. "I fully respect that those who took the opposite view to mine were perfectly entitled to do so." Barrett added that "in the heat of the moment" of an interview, he had wrongly claimed that members of the opposition were "out to undermine" him.
During leaders' questions, Enda Kenny confirmed that all correspondence between his department and Gallagher Shatter Solicitors would be published online. Micheál Martin was unimpressed: "Is it appropriate that a member of the Fine Gael party, a Dáil deputy, should be so persistent in endeavouring to change the terms of reference and prevent debate in the House on a matter of such public concern?"
Kenny replied that the Government was clear and consistent. "I cannot speak for Deputy Alan Shatter or any other deputy in the House who wishes to make constant or repeated contact with ministers or members of the Government or anybody else. It is not for me to issue instructions to any deputy to cease writing in that sense."
On the following day, Michael Noonan brought forward the Consumer Protection (Regulation of Credit Servicing Firms) Bill designed to protect consumers whose loans are sold by regulated financial service providers to unregulated firms. The preparation process had been "complex" but officials had been helped by insights from their public consultation and also discussions with the UK authorities who had dealt with similar issues.
Clare Daly's Bill to permit abortion in cases of fatal foetal abnormality was the subject of an often emotive debate on
6 February. The Bill was voted down by 104 votes to 20 with the Government opposing the Bill on constitutional grounds. In a separate development, independent TD Mattie McGrath plans to introduce a Bill to exclude the phrase "incompatible with life" from medical discussions as he considers this insensitive to the families affected in these cases.
Fine Gael backbencher Brendan Griffin, meanwhile, proposed a radical change in the franchise which would allow TDs to be elected from single-seat constituencies (with An Ceann Comhairle being returned unopposed). The single transferable vote system would be retained.
"Very often, a number of deputies will be doing the same job on behalf of particular agencies or people," Griffin stated. "This leads to duplication – or even worse – of work within the administrative arms of the public sector and the Civil Service." He added that having one legislator per constituency would provide "a greater opportunity to focus on his or her parliamentary and legislative duties and to deliver on these for his or her constituents."
Referenda on setting up a single-seat system (using first-past-the-post) were held in 1958 and 1968 but the proposals were defeated on each occasion.
This month also saw the first debates on 'Jake's law' – a proposal by Sinn Féin to reduce speed limits in residential areas to 20kph. Mary Lou McDonald introduced the Bill after meeting Christopher and Roseann Brennan, whose six-year old son Jake died in a road traffic collision in June last year.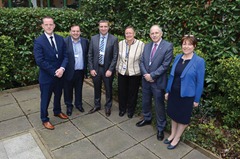 "I do not disagree in principle with the creation of a 20kph limit for residential areas," Transport Minister Paschal Donohoe stated. "However, the proposal to make the speed limit mandatory and have it imposed centrally creates a challenge."
Many roads, for example, were residential but also served as major commuting routes. His inclination is to allow local authorities to make decisions on limits and he pledged to bring forward a pilot scheme later this year. The Bill has been referred to the Transport, Tourism and Sport Sub-committee.
Meanwhile, in the Seanad, independent senator Gerard Craughwell brought forward an amendment to introduce warnings about gambling-related addictions in all bookmakers' shops. "If I am a smoker, one will smell the smoke on my clothes," he commented. "If I am a drinker, I will more than likely fall around the place drunk at some stage and there are physical signs that I have engaged in these practices. I can be a gambler and nobody will know."
Minister of State Joe McHugh declined to accept the amendment as the main purpose of the Betting (Amendment) Bill was to standardise the regulation of traditional and online gambling. However, he recognised the strength of the argument and pledged to take that message back to other ministers.
One of the more unusual debates of the month was about the reopening of a castle – namely King John's Castle – in Carlingford. Senator Terry Brennan, a local resident, has taken up the campaign. He pointed out that local people were keen to add the site to the town's heritage trail and also organise tours.
The Petitions Committee had a busy month, considering petitions about the US military's use of Shannon Airport, the state pension age, planning, water metering and cannabis legalisation.
Chairman Pádraig Mac Lochlainn explained that the system is "a direct channel for individual citizens and groups across Ireland to influence the parliamentary agenda." Mac Lochlainn is encouraging citizens to participate by using the online form at petitions.oireachtas.ie
University representatives, meanwhile, briefed Education and Social Protection Committee members on the challenges facing their sector. "The committee recognises the difficult environment Irish universities are operating in due to less funding and lower staff levels," Chair Joanna Tuffy said.
The Seanad chamber hosted the 50th plenary session of the British Irish Parliamentary Association, co-chaired by Fine Gael TD Frank Feighan and Conservative MP Laurence Robertson. Enda Kenny reiterated Ireland's strong view that the UK should stay in the EU and praised Scotland's referendum as "an inspiring example of democracy in practice." The recent Stormont House Agreement also provided an agreed way forward on the legacy of the Troubles and Northern Ireland's public finances.
Kenny looked forward to the devolution of corporation tax to Belfast and welcomed the establishment of joint trade missions to Asia, North/South co-operation in the 2023 Rugby World Cup bid, and a new focus on meeting the needs of the North West border region.
As the close of the month approached, Terence Flanagan highlighted the rising cost of rent in Dublin.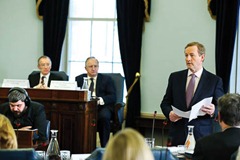 "Obviously with no [rent] limit in place, tenants are very worried about their rights," he commented. "Landlords are very much in charge and can increase prices almost overnight."
Responding, Minister of State Ann Phelan explained that the Government had concluded that the introduction of rent caps would lead to a reduced supply of rental units. "As the main reason behind increasing rents is a shortfall in housing supply, we need to exercise caution in respect of measures which, prima facie, would seem to offer a solution," Phelan commented. The key to stabilising rents, she added, was to increase supply.
The wide-ranging Children and Family Relationships Bill was also presented to the House in late February, with Minister Frances Fitzgerald describing it as "an ambitious Bill which sets a blueprint for family law for decades to come." The Bill is broadly supported by Fianna Fáil and Sinn Féin although Pádraig Mac Lochlainn – Sinn Féin's justice spokesman – wanted to see more support for unmarried fathers.
In a very personal contribution, Jim Daly commented: "One of the greater privileges I have had in life is to be a foster father. I happen to have the honour and privilege of sharing my home with children who for a variety of reasons are not in a position to live in their own homes with their mothers or fathers."
Senator Rónán Mullen contends that the Bill may be unconstitutional and would prefer that its main proposals were put to voters in a referendum. Mullen and independent TD Mattie McGrath have also outlined their opposition to same-sex marriage ahead of the referendum.
The issues raised in those debates – relating to relationships, children and deeply held beliefs – often create an emotive and tense atmosphere during referendum campaigns. They are also, in many ways, deeply personal. Commentators on both sides have called for a considerate tone as the population prepares to decide on the definition of marriage.
"Ultimately it is for the people of Ireland to decide," Frances Fitzgerald has stated, adding that she hoped to see "a constructive and respectful debate which will help to inform and engage citizens on this important issue."
Lowering the voting age
'Votes at 16' is a live debate for many European countries and Sinn Féin's proposal for a constitutional referendum was covered in a Dáil debate on 6 February. The party's environment spokesman, Brian Stanley, said: "Lowering the voting age is a practical proposal to extend the democratic franchise and extend and deepen the participation of young people as full citizens of the State, as well as deepening and broadening our democracy."
Minister of State Paudie Coffey accepted the rationale for a referendum but said that, if the voting age were lowered to 16, there were potential implications for the age of majority (18) which is, for example, used for tobacco and alcohol restrictions.
Independent deputy Peter Mathews is sceptical as 16-year olds are "still not fully physically or mentally mature" and likewise it "defies wisdom" to allow a 21-year old to become head of state, as will be proposed in the May referenda. The Bill passed its second stage without a vote.