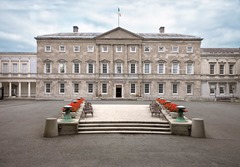 The Irish Water legislation and a range of socio-economic issues were major items on the Oireachtas agenda in December. Members also paid tribute to Nelson Mandela and the Reform Alliance continued its moves towards potentially forming a new party.
The close of the year saw Fianna Fáil continuing to assert itself in opposition and also a relevant focus on homelessness, mortgage arrears and poor mental health at a time of year when those problems tend to be particularly acute.
At leaders' questions on 3 December, Micheál Martin pressed the Tánaiste on a claim that up to 100 children with Down's syndrome had lost their discretionary medical cards. Eamon Gilmore replied that the condition was covered under the long-term illness scheme. Martin rejected Gilmore's assertion that this was a "distortion" and said that the Tánaiste was "being sneaky with the figures". Gilmore contended that the current government had issued more medical cards than its predecessors.
Independent deputy Seamus Healy claimed that up to 30,000 families with mortgages were facing eviction "due to the failure of the Government to protect them." Gilmore dismissed the suggestion but said that 30,000 families "would face eviction if the Government had not taken the steps it is taking" e.g. the new personal insolvency legislation.
On a seasonal note, he confirmed that he was examining the scale of legislation needed for Ireland to sign the Antarctic Treaty. "I worked on the legislation to sign up to the treaty when I was in the department," Martin protested. "Deputy Martin was there a while but he did not get around to signing it either," Gilmore responded.
Sinn Féin's Dessie Ellis later led a debate on homelessness. In mid-November, 139 people were reportedly sleeping rough in Dublin, up from 94 in May. "The Minister," he said, "must consider establishing semi-independent housing trusts through the local authorities, which would allow the latter to raise funds separately from the national debt."
Minister of State Jan O'Sullivan agreed that "the growing number of people sleeping rough on the streets of our capital city is unacceptable" and reiterated that a housing-led approach was the ultimate solution.
In 2012, around 870 homeless people moved from temporary to permanent housing. More than 900 were likely to make the same move in 2013. "Deputy Ellis," she added, "has made a suggestion we are open to considering. There is nothing to impede local authorities from setting up their own housing associations."
Gerry Adams was roundly criticised by other party leaders on 4 December, following the publication of the Smithwick report. Members also debated a Fianna Fáil motion on modernising Ireland's electricity infrastructure, which called for an independent international assessment of the proposed new overhead pylon lines.
This would consider the "cost and placing" of underground cabling. The Government counter-motion called on EirGrid to "examine impartially the case for all achievable engineering solutions" and encouraged the public to "participate fully" in the consultation process.
Members' tributes to Nelson Mandela, on 10 December, echoed the Taoiseach's description of a "global icon, a true champion of people of all nations and without question the greatest statesman of our generation." The former South African President had addressed a joint sitting of the Oireachtas in 1990, soon after his release from prison.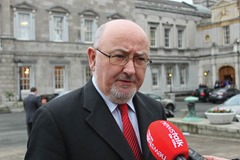 Gerry Adams paid the most personal tribute – he had been the closest Irish politician to Mandela – and recalled how the IRA had assisted the ANC's military wing during its armed campaign. "He will continue in death, as he did in life,
to encourage oppressed people everywhere," Adams remarked. The reflections were, in many ways, one-sided as Mandela appeared to be above criticism. Adams' recollections were a reminder that he was a man of war before becoming a man of peace.
On the next day, Sinn Féin highlighted the historic abuse at the Bethany Home in Rathgar and called for a State apology by mid-February 2014. The Government responded by pointing to its private ownership and preferred to "preserve and make more accessible" records to inform former residents who are still living. Sinn Féin was supported by Fianna Fáil and the independents.
In a brief debate on 12 December, Donegal TD Charlie McConalogue warned that Garda resources along the border had been "drained … to the extent that they are now exceptionally stretched" and it was now "difficult or impossible" to provide the required level of policing.
Responding, Minister Dinny McGinley said that the organisation of resources was solely a matter for the Garda Commissioner. He expected new recruits to enter the Garda College in mid-2014 and the Government aimed to maintain the Garda's size at 13,000. McGinley, himself a Donegal TD, recognised local worries about crime and explained that gardaí were improving their public presence in the area.
Mortgages
In the wake of the bail-out exit, Micheál Martin challenged Enda Kenny to set up an independent mortgage resolution office to help householders. Kenny retorted that the Central Bank had set "clear targets" for mortgage restructuring and was monitoring banks' progress on them. Kenny also denied that the Government was rushing legislation for Irish Water through the Oireachtas, as claimed by Fianna Fáil and Sinn Féin.
As debate continued later in the month, Ceann Comhairle Seán Barrett TD expressed his "utter dismay" at Ming Flanagan's behaviour. "When a member decides to pull a stunt such as this, it does nothing other than denigrate our national Parliament," Barrett stated.
Alan Shatter informed the House that a referendum on same-sex marriage would take place by mid-2015. All speakers in the debate favoured same-sex marriage but the Minister acknowledged that there was "a diversity of views" on the issue. In a statement, the Catholic Church described marriage as "a unique form of love between a man and woman which has a special benefit for the whole of society."
Kenny wished members a happy and peaceful Christmas on 18 December as he would be in Brussels the next day for the European Council. He also thanked the Ceann Comhairle "for his patience in some difficult and contentious issues that were raised here over the past 12 months." An Ceann Comhairle added his own best wishes and thanks to staff, members and the press on the following day before the adjournment. Mick Wallace lamented that the media had, in his view, been "complicit" in austerity as all major news outlets were "right of centre".
In the Seanad, Susan O'Keeffe called for increased staffing for mental health services, particularly for suicide prevention. She remarked: "Debate and conversation at this and at every other level will be vital in changing the kind of cultural prejudice and ignorance of those with a mental illness that existed and still exists to some extent." Minister of State Kathleen Lynch gave members a detailed update on policy and O'Keeffe welcomed the "thoughtful and constructive conversation" which the debate provided.
Senators also added their tributes to Nelson Mandela. As they rose for the Christmas recess, An Cathaoirleach Paddy Burke wished them a happy Christmas and a prosperous new year, and also thanked the staff for their hard work throughout the year.
Labour Senator Jimmy Harte, who had been injured in an apparent fall in November, remained in hospital at the time of going to press. The Senator is a popular figure on all sides of the House and several members have expressed their hopes for his swift recovery.
Colm Keaveney's decision to join Fianna Fáil brings its number of TDs back up to 20. Fine Gael rebels, meanwhile, have continued to operate as the Reform Alliance, led by Lucinda Creighton. The group comprises seven Oireachtas members: Creighton, her husband Paul Bradford, Terence Flanagan, Billy Timmins, Denis Naughten, Peter Mathews and Senator Fidelma Healy Eames. Stephen Donnelly has also discussed membership and it may organise as a party later in 2014. Fellow rebel Brian Walsh sits as an independent. Peadar Tóibín, meanwhile, hopes to re-join Sinn Féin.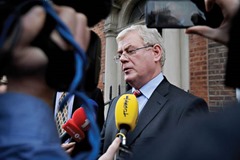 A total of 13 acts of the Oireachtas were signed into law in December, the most significant being the Water Services (No. 2) Act. Other major acts included the Pyrite Resolution Act and the Child and Family Agency Act.
Memories of 1914
Clare TD Michael McNamara is calling for the commemoration of Willie Redmond who represented his constituency a century ago and lost his life on the Western Front. Redmond was an Irish Parliamentary Party (IPP) MP and his brother John was party leader.
He joined the British army to fight the German invasion of Belgium, a fellow small country. "He believed that Protestants and Catholics serving together at the front could act as a catalyst for reconciliation," McNamara said.
Redmond died at the Battle of Messines in June 1917 and his grave was visited by Enda Kenny and David Cameron in their pre-Christmas visit to the former battlefield. Redmond had protested against the execution of the 1916 Rising leaders and was succeeded by Éamon de Valera, whose by-election victory eclipsed Redmond's memory.
McNamara wants to see a "suitable opportunity" created to commemorate Redmond's life, work and death. In 1914, Ireland was represented in the House of Commons by 73 IPP members, 10 other nationalists, 18 unionists and two Liberals. In the 1918 general election, this changed to 73 for Sinn Féin, 26 for unionists and six for the IPP.