Transport
NTA looking forward to a decade of delivery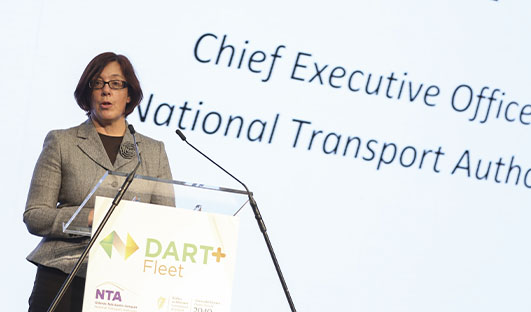 Recent years have seen a shift in public discourse and political prioritisation around investment in transport. With a sharper-than-ever focus on building a sustainable future, investment in public transport and active travel is now front-and-centre when it comes to tackling climate change in Ireland, writes Anne Graham, Chief Executive Officer of the National Transport Authority.
While it is certainly the case that Ireland has experienced a decade of chronic underinvestment in sustainable transport, it is only fair to acknowledge that the picture now is quite different.
Yes, both Luas Cross City and the Phoenix Park Rail tunnel were completed in recent years, and while both of them were key projects and very significant in their own right, other plans were parked or deferred.
But thankfully, things have changed for the better. Doubtless there are challenges arising as we recover from the Covid pandemic, and geopolitical uncertainties arising from the Russian invasion of Ukraine, but at least the roadmap to a future where more and more people across Ireland can avail of better public transport and active travel options, is clear.
In 2021, National Transport Authority (NTA) published the draft GDA Transport Strategy 2022-2042, which we hope will be signed off by the Government in the coming months. In the meantime, the 2016-2035 Strategy remains the blueprint for transport development in the capital and the region. The GDA Strategy provides a framework for all transport development and infrastructure in the region and aligns transport requirements with future projected growth in population and economic activity, ensuring that it can all be delivered in the most sustainable possible way.
We are also making progress in implementing major investment programmes in the regional cities of Cork, Galway, Waterford and Limerick.
MetroLink Dublin
In 2019, Transport Infrastructure Ireland (TII) and NTA published their preferred route proposals for MetroLink. Since then, work has continued on the technical design, surveys and investigations as part of preparing the documentation required to support a planning application.
In line with the Public Spending Code, the preliminary business case (PBC) for MetroLink has been provided to the Department of Transport and is currently being reviewed by Government. It is anticipated that a planning application will be submitted in Q3 of this year, subject to Government approval.
The start of construction will be determined by the timing and outcome of the statutory planning process. The design team for the project has advised that a prudent time period for the construction, systems' installation, testing and commissioning of a metro system like this is between eight and nine years.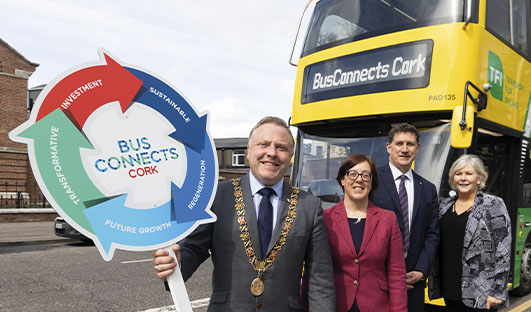 DART+ programme
DART+ will provide a sustainable, electrified, reliable and more frequent rail service, improving capacity on the rail corridors serving the GDA and increasing the overall length of the DART network from 50km to roughly 150km and is comprised of five main elements:
• DART+ Fleet – New electric and battery electric DART fleet;
• DART+ West – Maynooth/M3 Parkway to city centre;
• DART+ South West – Hazelhatch/Celbridge to city centre;
• DART+ Coastal North – Drogheda to city centre; and
• DART+ Coastal South – Greystones to city centre.
In December 2021, the Government confirmed the following approvals:
• approval in principle of the DART+ programme preliminary business case;
• authorisation for NTA to approve the award of the DART+ Fleet framework contract and the initial fleet order; and
• authorisation for the DART+ West project to proceed to railway order submission.
DART+ Fleet
The fleet framework agreement was signed and the initial fleet order placed during December 2021. The build time for the new fleet is approximately 30 months, with testing and commission of fleet taking a further 12 months. On this basis new DART fleet will be delivered during 2024 with the fleet entering service during 2025.
DART+ West
Iarnród Éireann published the preferred option for public consultation in 2021, with a second round of consultation taking place earlier this year. Preparation of the environmental impact assessment report and other statutory approval documents is continuing, and it is anticipated that a railway order application to An Bord Pleanála for the DART+ West project will be made at the in early Q3, later this year.
BusConnects Dublin
This is a transformative programme of investment to provide better bus services to more people. The BusConnects Dublin programme includes investment in infrastructure and fleet, along with higher frequency services and new routes serving a wider catchment. The project is a key part of the Government's policy to improve public transport and address climate change. In March 2022, in line with the Public Spending Code, the preliminary business case for BusConnects Dublin was approved by Government.
Core Bus Corridors – Dublin
The approval of the BusConnects Dublin Preliminary Business has permitted the lodgement of planning applications for the Core Bus Corridors.
A total of 12 applications, each comprising an environmental impact assessment report and associated compulsory purchase order, will be submitted to An Bord Pleanála in respect of the Core Bus Corridors projects.
Two of these have already been lodged: Clongriffin to city centre; Belfield/ Blackrock to city centre; with a third, Blanchardstown to city centre to be lodged very shortly.
Bus Network Redesign – Dublin
The NTA is introducing the new bus network on a phased basis. Two phases were implemented in 2021, with the first phase centred on the H-Spine along the Howth to city centre corridor. The second phase, comprising the C-Spine along the Lucan to city centre to Ringsend corridor, was launched in November 2021, in tandem with the introduction of a new 90-minute fare.
This provides a single fare for most public transport journey across the Dublin Metropolitan Area, allowing transfers between services and across all modes undertaken within 90 minutes of the start of the first journey.
In May 2022, Phase 3 consisting of the N4/N6 orbital routes on Dublin's northside was rolled out, with a further two phases to be launched by the end of the year.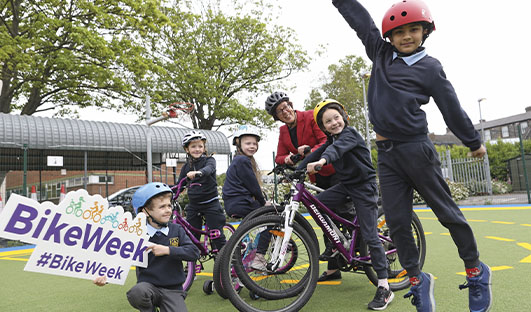 Next generation ticketing
The evaluation of the tender pre-qualification submissions for the overall design, build, operate, and maintain contract for the new ticketing system is now complete and a short list of five tenderers has been selected. The approval of the PBC has allowed the tender stage to commence.
Transition to low emission fleet
As part of BusConnects Dublin, the existing bus fleet is being transitioned to a low and zero emission fleet. At the end of 2021, a total of 221 new hybrid diesel-electric buses had been introduced into the bus fleet in the Dublin Metropolitan Area. In July 2021, NTA entered into a framework agreement for the supply of long length single deck electric buses, with an initial order of 34 buses for Dublin. It is expected that these vehicles will be delivered and ready for operation by Q4 2022.
NTA has also completed a procurement process for a framework agreement for the supply of double deck battery electric buses with an initial order of 100 buses for Dublin.
NTA purchased three hydrogen fuel cell double deck buses for the purposes of undertaking a pilot to assess the potential for hydrogen buses to provide a zero emission solution for longer distance/higher duty bus routes through increased range. The pilot commenced in July 2021 and the buses are currently being operated by Bus Éireann on the 105X routes to Ratoath.
Cycling and walking
NTA will be allocating funds to Ireland's local authorities to support investment of well in excess of €250 million on walking and cycling infrastructure in 2022.
Projects to be progressed this year include the Clontarf to city centre route in Dublin, MacCurtain Street in Cork, O'Connell Street in Limerick, the Salmon Weir Bridge in Galway, as well as connection of the Waterford Greenway from Bilberry into the city centre. These and other projects will make our urban centres more attractive places to live, work and visit.
Funding is also being directed to rural local authorities, with some 1,200 walking and cycling projects being developed. Projects include the Hanover Pedestrian and Cycle Scheme in Carlow and the N63 pedestrian and cycle scheme in Longford. This will bring a renewed vibrancy to our regional towns and villages.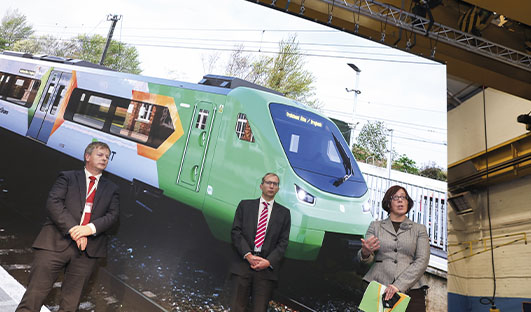 Cork Metropolitan Area Transport Strategy
Cork Metropolitan Area Transport Strategy (CMATS) sets out an ambitious vision to deliver an accessible, integrated transport network that enables the sustainable growth of the Cork Metropolitan Area as a dynamic, connected, and internationally competitive European city region.
The multi-billion euro investment programme proposes:
• a transformed bus system;
• an enhanced commuter rail system;
• new east-west light rail line;
• a comprehensive cycling network;
• enhanced pedestrian facilities; and
• park and ride provision and road improvements.
BusConnects Cork
NTA is proposing major investment for bus services and infrastructure in Cork. We recently unveiled a €600 million investment in BusConnects Cork which will include the creation of 12 new sustainable transport corridors (STC) to help meet the needs of a growing city while accelerating the journey to a net-zero future. A consultation process on this is due to get under way very shortly.
Separately, work on redesigning Cork's bus network – routes, frequencies and timetables – is proceeding well. A second public consultation on our proposals took place at the end of last year, and a final revised bus network for Cork will be published in the coming months.
Cork Light Rail
Cork Luas will run from Ballincollig to Mahon Point, via the city centre and the docklands.
An emerging preferred route is being examined by TII right now and will be subject to a full public consultation later in the year.
Limerick-Shannon Metropolitan Area Transport Strategy
NTA recently published the Limerick-Shannon Metropolitan Area Transport Strategy (LSMATS) for a second round of public consultation.
Among the proposals we want to progress this year are:
• Limerick Metropolitan Bus Network Review;
• development of proposals for bus lane infrastructure;
• investment in electrification of bus fleet;
• continue the roll-out of the Limerick Cycle Network Plan;
• prepare the Shannon Local Transport Plan, to be led by Clare County Council; and
• development of a rail investment programme in association with Iarnród Éireann.
Waterford Metropolitan Area Transport Strategy
The NTA Board recently approved the publication of a draft transport strategy for the Waterford area, with public consultation getting under way, 1 June 2022.
Galway Transport Strategy
We will continue to work with Galway City Council on the implementation of the objectives set out in the Galway Transport Strategy.
For example, the Cross-City Link is a public transport corridor linking the western and eastern suburbs, through the city centre that is being progressed by Galway City Council with the support of NTA. It is expected that a submission by Galway City Council to An Bord Pleanála will be made in the next two to three months.
In the meantime, Bus Éireann's Galway city bus services are now provided entirely with electric hybrid double deck fleet, with procurement of battery electric single deck and double deck bus fleet at an advanced stage.
In conclusion
As far as sustainable transport is concerned, the coming decade is set to be most transformative in the history of the State.
More projects are being progressed than ever before. There's more investment in the pipeline than ever before. More opportunities for people to choose sustainable options are being developed than ever before.
In the NTA, we believe we have a critical role to play in building a sustainable future for Ireland are committed to meeting all our responsibilities in the years ahead. I know that NTA is up to that challenge, and I believe the people of Ireland are too.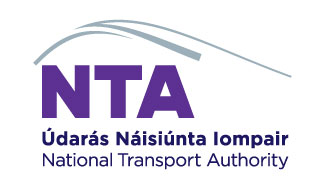 T: +353 1 879 8300
E: ceo@nationaltransport.ie
W: www.nationaltransport.ie