Issues
North/south trade grows as east/west trade shrinks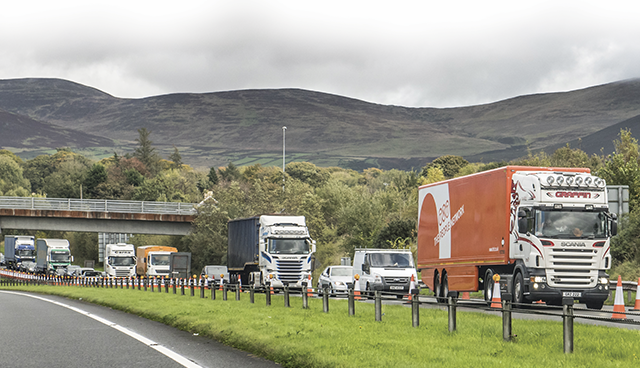 The latest goods, exports and imports figures released by the Central Statistics Office show significant growth in north/south trade in Ireland during the first eight months of 2021, with trade between the Republic and Britain decreasing in the same period.
Imports from the North into the Republic totalled €2.5 billion during the first eight months of 2021, a figure that represents a 61 per cent increase on the same timeframe in 2020. In overall terms, this represents an import trading increase of €947 million when compared with the first eight months of 2020.
This significant increase in imports from the North is complemented by an also significant increase in exports to the North, where a 47 per cent increase was recorded. An increase totalling €707 million means that the total of goods imported from the North to the Republic from January to August 2021 was valued at €2.2 billion.
The most significant sector in terms of both exports to and imports from the North was food and live animals, with the export side enjoying a €210 million annual increase and imports increasing by €213 million. The most significant increases in terms of growth rate, again in both imports and exports, were recorded in the chemical and related products sector. Exports to the North in this sector grew by €178 million, or 66 per cent, while imports from the North totalled €536 million, an increase of €377 million, or 237 per cent.
These increases have, of course, happened in the shadow of the UK-EU Brexit agreement and the Protocol, which has also seen exports from the Republic to Britain decrease by €77 million when compared to 2020. This decrease brought the level of exports beneath €1 billion to €978 million, a fall of 7 per cent. Goods exports to Britain did, however, grow in the first eight months of 2021, a 21 per cent increase of €1.6 billion meaning that this statistic totalled €9.2 billion.
Imports from Britain decreased by 21 per cent, falling by €257 million to again come under the €1 billion mark to €945 million. The largest decreases were in the imports of food and live animals, chemicals and related products and machinery and equipment. Imports from Great Britain were 13 per cent of the value of total imports in August 2021. The value of goods imports from Britain was €7.3 billion, a decrease of €3.2 billion (30 per cent).
The EU accounted for the majority of total good exports (37 ­per cent) and total goods imports (28 per cent), although both total exports to and good imports from the EU suffered decreases.