Issues
Next generation education: Ruairí Quinn interview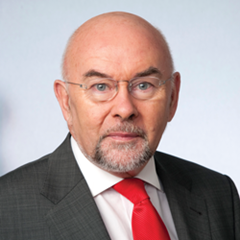 Ruairí Quinn's first priority "without hesitation" is the Literacy and Numeracy Strategy which was launched in July last year in a bid to tackle the country's reading and mathematical deficit. He also intends to review school infrastructure, continue reforming the junior and leaving certificate examinations and establish a further education sector aimed at directing unemployed people to relevant training or courses.
Quinn has been critical of universities over €7.8 million in unauthorised payments to senior staff and their failure to bring forward proposals on changing entry requirements so that students are better equipped for university learning. The university heads have since proposed changes such as the abolition of the 12 leaving cert grades to be replaced with A, B and C, an extended bonus points system linked to college choice and more general subjects for first year undergraduate students.
He recognises that higher education institutions are under funding pressure but suggests collaboration and an end to the duplication of courses.
Responding to criticisms of the commercialisation of the universities (by UCD's Professor Emeritus Tom Garvin) and President Michael D Higgins' call for more intellectualism, the Minister says that his department's role is to provide infrastructure but not necessarily dictate how teaching should be done.
Literacy and numeracy
The 2009 PISA rankings saw Ireland's country position fall from fifth out of 29 countries to seventeenth out of 39 countries. Irish students dropped 31 places in reading and 16 places in mathematics but stayed at the same level in science. This was described as "a wake-up call" for Irish education by the Minister.
The department has also added the concept of an 'education passport'. "There will now be standardised assessments rather than tests at second class, fourth class, sixth class and subsequently in second year," Quinn tells eolas.
While the brightest and weakest of new post-primary pupils are identifiable to teachers in the first few days, "medium" or "under-the-radar" pupils "can get lost in that first year and don't surface until April."
To avoid this, once a pupil is accepted to a post-primary school, the principal can contact their primary school to get their 'passport'. For example, "every class teacher will know that 'Ruairi Quinn' is pretty average in English but pretty weak in mathematics and they don't have to wait until later to find out."
"The weakest link in our education system is the bridge from primary to secondary," the Minister states. The primary curriculum is "excellent" and it's taught very well, according to Quinn who acknowledges that "there's group learning, leadership, interaction, assertion, communication, and music." In contrast, pupils then move from "that wonderful free range, self-exploratory learning into serial ranks of classrooms, uniforms  and a blackboard calling itself a whiteboard."
Curriculum reform
The Minister launched the National Council for Curriculum and Assessment's (NCCA) proposals for reform last November, including a limit of eight subjects and a focus on managing yourself, staying well, communications, being creative and working with others.
"It's basically teaching young people how to think, argue, reason and present rather than how to remember," the Minister surmises. The first reformed junior cert exam should be sat in June 2015.
The building blocks of senior cycle reform, are English (or Irish if that's your first language), science and mathematics.  However, leaving cert reform will be incomplete unless universities and institutes of technology change the CAO points system of selecting students for admission. He wanted movement by the autumn.
The mathematical "deficit" in the education sector must be tackled, the Minister acknowledges. Employers and universities have criticised the poor mathematical abilities of school-leavers.
A report to the National Competitiveness Council by former maths lecturer Sean McDonagh and former Galway-Mayo Institute of Technology registrar Tony Quinlan, recommends:
•    changing college entry requirements so that students are required to take honours maths; and
•    allowing students online access to classes by the country's best maths teachers.
These suggestions are "100 per cent on", the Minister states.
He tells eolas: "Young people are very rational. If you are a 16-year-old girl and want to go to a teacher training college (i.e. St Patrick's College or Mary Immaculate) you have to get 500 plus, so why do honours maths when all you need is ordinary level maths? Will I take the leisurely track or will I go up the cliff face?"
Ireland needs "well-trained, qualified young teachers in mathematics to teach the literacy and numeracy side of things so that will change," Quinn insists.
A report is being prepared by an international specialist group that the Higher Education Authority convened following the Hunt Report (see issue 9, page 20). The Minister expects its recommendations to include initial teacher training requirements.
Currently, maths teachers have been up-skilling through 'Project Maths'. He points to a letter sent to the Irish Times by a woman with a PhD in engineering who can't qualify as a teacher. "While very bright people, [engineers] may not have the pedagogical skills associated with their mathematical qualifications," he comments. However, "the side of the coin we have at the moment is people with the pedagogical skills but have never done maths beyond secondary school."
Infrastructure
There are 3,200 primary schools and 730 post-primary schools in the State and one-third of the primary schools have 100 pupils or less.
A value for money review of the provision of small primary schools (i.e. 50 pupils or less) will be published in September, examining the scope for amalgamations. "It will look at the real cost and what the educational outcomes are."
When asked if closures are on the cards, he replies: "We don't close schools. Schools close themselves when they run out of pupils and it's the decision of the patron."
He points to a school in Kerry that had a principal and no pupils for one year and a school in Roscommon that had three pupils, two teachers and a resource teacher in a two-storey building.
Budget 2012 provided for a phased increase in the pupil-teacher ratio in primary schools. This will result in 73 primary schools losing a teacher from September 2012.
"We are going to have to have two new categories of schools (subject to debate) from 'small schools and schools' to 'isolated schools and schools'," the Minister reveals.
The "bottom line" is educational outcomes: "I have to make sure that the educational experience of children, no matter where they live, is appropriate."
The department intends to create proper learner and infrastructural databases. Using geographic information systems, it currently identifies future pupils by linking data such as child benefit payments. However, its information is "uneven and incomplete" therefore it does not have an inventory of the physical school infrastructure or the utilisation of the schools by pupils and the community. The "spare capacity" that might be available in laboratories, indoor sporting facilities or well-stocked libraries is also unknown.
Ideally, secondary schools should have 800-1,000 pupils, but in the city of Dublin area there are 80 post-primary schools for a population of 31,500 pupils (i.e. 394 pupils on average). "You simply cannot deliver a Leaving Certificate curriculum with those numbers," he claims.
The Minister admits that "there are institutional issues, governance issues and patronage issues as to how that would all come about and how you can bring people together." Incentives are needed and management should take the lead.
Universities
eolas asked the Minister what can be done to control universities criticised for becoming too commercial and for focusing on research funding to the detriment of undergraduate teaching. He replies: "To be fair to them, they have been extremely productive in terms of the reduction in overall administrative funding that we've given to the universities. The two per cent reduction in the overall budget will continue for two years."
The university heads have told the Minister "
that they are at tipping point." Yet, he argues: "At a time when everybody is having their incomes reduced, there has to be more manifest co-operation with how they utilise scarce resources and as a perception that's not evident yet."
On changing entry requirements, Quinn states: "The CAO has been dragging [its] heals on changing the points system." However, he understands that "what every university around the world wants to do is attract brilliant students [and get] good results."
Quinn refers to a discussion paper by Áine Hyland given at the 2011 NCCA and Higher Education Authority seminar. It recommends:
•    replacing specialised courses with generic courses in first year and using a lottery system to select students in order to reduce the level of competitiveness currently driving the system;
•    continuing the reform of Leaving Certificate assessment by introducing a greater variety of methods of assessment; and
•    that higher education institutions use criteria other than the leaving cert to select students for  their courses.
The Minister points to UCD's foundation course in engineering and the strategic alliance between the University of Limerick and NUI Galway, including the provision of joint masters courses. "We need better collaboration between universities. Do we need three business schools in Dublin city?" he asks.
University rankings are important, the Minister concedes, and attracting research funding is a means of "ratcheting your way up the rankings."
He says: "The good news is we have seven universities in a state of 4.4 million and all seven are in the top 300-500 of the 15,000 universities worldwide. We are in the premier league. That doesn't mean we're Man United."
The absence of an Irish university in the 2012 Times Higher Education world reputation rankings was a result of reputational damage caused by the collapse of the Celtic Tiger. "There's been no fundamental shift in student-teacher ratios, or funding for research," he insists.
Ireland's universities are most suited to applied research, the Minister believes. Pure research is "hit-and-miss" in terms of discoveries while applied research has clients. Science Foundation Ireland "was a great development" because it fostered collaboration and "forced a degree of edge and competition in a contained, non-market, non-competitive system." This has resulted in a surplus of PhD students.
Further education
"Further education as it currently exists in the VEC sector will need to be totally transformed," Quinn states.
This will involve legislation (the Education and Training Boards Bill) to reduce the 33 vocational education committees (VECs) to 16 and to establish SOLAS as a replacement to FÁS.
Traditionally the VECs supplied academic 'hobby learning' while FÁS had a 9-5 culture, "was open for business 52 weeks of the year" and provided apprenticeship programmes.
The reformed further education sector will see individuals who become unemployed being profiled and sent to the most relevant course. "Incidentally, if you don't go, your benefit will be cut by 25 per cent because it's a safety net and not a double bed." Quinn observes: "We've turned our welfare system into a double bed without a spring because they don't come back off it in many cases."
Quinn admits that he is "quite Lutheran and Prussian" in terms of social welfare, as is the Minister for Social Protection Joan Burton.
He predicts it will take five-to-ten years to get the sector fully operational. The department has identified the 16 education and training boards which will remain from 33, the 'super-CEOs' were to be identified by the end of August and the text of Education and Training Boards Bill is currently being written.
There's an appetite for reform and the best time for reform is during a crisis, Quinn says. He adds: "You don't need much charm to convince someone to jump from a burning building."
---
Fifth time round

Formerly Minister of State at the Department of the Environment (1982-1983), Minister for Labour (1983-1986), Minister for the Public Service (1986-1987), Minister for Enterprise and Employment (1993-1994) and Minister for Finance (1994-1997), Quinn was also leader of the Labour Party from 1997-2002.
He was the first qualified architect to be elected to the Dáil (in 1977). He lost his seat at the 1981 general election, was re-elected at the February 1982 general election and has retained his seat since. He was nominated to the Seanad in 1976 and 1981.
TD for the Dublin South East constituency, he is frustrated at the slow pace of legislation.
"The Attorney General's office has got to the point where they believe that they have to delay the legislation until they get it perfect," he tells eolas. "Why don't we just get rid of the Seanad and the Dáil? If you're going to make it perfect in the privacy of your own office, then you don't need the public scrutiny of committee stage."
The 1980s were worse "because the country was economically illiterate, subject to extraordinary populism and there was no emotional or logistical support for ministers."
He adds: "We were doing primary negotiations on estimates etc." Nowadays programme managers and political assistants negotiate on ministers' behalf and "we walk in afterwards and sort out the last 10 per cent of what's left."
"Like in any relationship, the constant rowing eroded the emotional capital and solidarity between people," he reveals.
In his free time, the 66-year-old enjoys hill-walking, reading and cooking.