Issues
New steps for old neighbours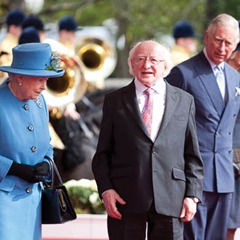 Four days of ceremony, culture and historic moments consolidated the new relationship between Britain and Ireland. Peter Cheney sums up the words and atmosphere of the state visit.
The physical journey covered by the Irish state visit was not historic in itself. Presidents have regularly travelled across to Britain (and up to the North) since the time of Mary Robinson and Queen Elizabeth's visit in May 2011 was always due to be reciprocated. Its real value was in the symbolism of Ireland – once the oldest colony of Britain – being affirmed as an equal partner in Anglo-Irish relations at the highest possible level.
The flags and anthems of both nations, so often signs of conflict in Northern Ireland, were confidently flown and played side by side. Addressing Parliament, Michael D Higgins recalled how the Magna Carta was proclaimed in both England and Ireland: "To no one will we sell, to no one will we deny or delay, right or justice."
The President's father and grandfather had fought British forces in the War of Independence (and therefore against the Queen's forebearers). After centuries of conflict, he stated: "We have a fresh canvas on which to sketch our shared hopes and to advance our overlapping ambitions."
All eyes fell on Windsor Castle where the Queen and President spoke warmly to reaffirm the links across the Irish Sea.
"Through conquest and resistance, we have cast shadows on each other," Higgins remarked, "but we have also gained strength from one another as neighbours and, most especially, from the contribution of those who have travelled between our islands in recent decades."
Eloquently, he explained that the "shadow of the past has become the shelter of the present" and no painful aspect of history should "deflect us from crafting a future that offers hope and opportunity for the British and Irish people."
Queen Elizabeth, for her part, recalled the "greatest pleasure" of visiting the Republic, including the Kildare stud. She acknowledged the discrimination once faced by Irish migrants in Britain and saw the London Olympics as a symbol of change. "And it took someone of Irish descent – Danny Boyle – to get me to jump from a helicopter," she joked.
Hope and history were rhyming, in Seamus Heaney's words, and the goal was clear: "We who inhabit these islands should live together as neighbours and friends, respectful of each other's nationhood, sovereignty and traditions, co-operating for our mutual benefit, at ease in each other's company."
Historian Diarmaid Ferriter, though, has questioned the appropriateness of a royal invitation to the Easter 2016 centenary event. Ferriter thinks that a royal presence could imply that the rising was unnecessary and he sees "no evidence that Britain was prepared to settle its Irish question until it was forced to do it."
Some aspects of the programme also cast light on the British army's Irish heritage. For example, around 2,000 Irish Guards lost their lives in the First World War and it is entirely possible that the unknown warrior, in Westminster Abbey, was an Irishman.
Higgins' remarks noted Ireland's contribution to British science, music and literature.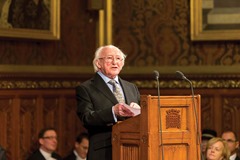 The Royal Society's founder, he noted, included the astronomer Robert Boyle (born in Waterford) and the Anglo-Irish scientist Ernest Walton received a Nobel prize in 1951 for splitting the atom. The academic President revelled in describing Ireland's research portfolio.
After the Ceiliúradh at the Royal Albert Hall, he dedicated the night to the thousands in the audience "who have made Britain their home or whose parents or grandparents did" as well as the British friends, neighbours, relatives and in-laws they had brought along.
"A long and sometimes tortured exchange" of words was recalled at Stratford-upon-Avon: "We cannot pretend that it was always a happy and friendly affair; to do so would be a disservice to truth and history." Today, the English language is "the very language in which we have now come to delight in one another."
The President's last stop in Coventry gave him a chance to look back over his own links to Britain. Higgins' sisters had migrated to England and he first arrived in 1968 as a postgraduate student at Manchester University. Irish labourers were "the men who built Britain" and the community also made strong contributions to teaching and nursing.
Higgins also highlighted how British migrants (from St Patrick to Philip Larkin) added to Ireland's faith, culture and economy. He missed the "enthralling companionability" of Seamus Heaney, who shared the table of honour in Dublin but passed away last year. The late poet's words seemed apt:
"We, in this generation, are now the pioneers who are stripping away the old layers of the troubled past and creating a new path of hope and opportunity," the President reflected.
"As I conclude this first state visit by an Irish President to the United Kingdom, my earnest hope is that our two countries will continue to tread the path of neighbourly friendship together."
Shared census identities
| | |
| --- | --- |
| Group | People |
| Irish in Britain | 585,000 |
| Irish in England | 517,000 |
| Irish in Scotland | 54,000 |
| Irish in Wales | 14,000 |
| UK nationals in Republic | 112,000 |
| British in Northern Ireland | 722,000 |
| Irish in Northern Ireland | 458,000 |
| Northern Irish (UK-wide) | 561,000 |
Trading relationships (€billion)
| | | | |
| --- | --- | --- | --- |
| Route | Good | Services | Total |
| UK to Ireland | 16.4 | 10.2 | 26.6 |
| Ireland to UK | 15.2 | 17.3 | 32.5 |
| Both ways | 31.6 | 27.5 | 59.1 |