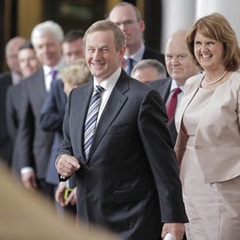 Peter Cheney sums up the main priorities and challenges for the reshaped Cabinet.
An Taoiseach, Enda Kenny TD (FG)
Three years into his term of office, Enda Kenny's position appears relatively secure. Internal challengers have either left Fine Gael, gone to Europe or accepted their Cabinet posts. However, the large size of the parliamentary party means that several ambitious TDs were overlooked in the reshuffle.
An Tánaiste, Joan Burton TD (Lab)
In many ways, Burton's time has come. Her appointment to the social protection brief – after performing well as Labour's finance spokeswoman – was widely seen as a demotion back in 2011. Retaining the portfolio helps to emphasise her focus on social recovery.
Finance, Michael Noonan TD (FG)
A political veteran, with ministerial experience dating back to 1982, Noonan is reportedly well-respected by Fine Gael and Labour ministers alike. Aged 71, he keeps up an intense schedule, including monthly visits to Brussels for the Eurogroup meetings of finance ministers. The countdown to the Budget on 14 October is well under way.
Public Expenditure and Reform
Brendan Howlin TD (Lab)
Howlin's aims for public sector reform include better outcomes and efficient public services. Political themes such as formal accountability for the Civil Service and restoring public trust in government will also receive greater prominence.
Agriculture, Food and Marine & Defence
Simon Coveney TD (FG)
Tipped as a future party leader, Coveney has been viewed as a competent negotiator and manager during the CAP reform process. A smooth implementation of the reforms is important for rural communities – and core Fine Gael voters.
Arts, Heritage and the Gaeltacht
Heather Humphreys TD (FG)
An Ulster Presbyterian, Humphreys' tactful reputation and understanding of unionism will be important as the decade of centenaries progresses. Gathering a consensus around the 2016 Rising commemoration is likely to become her most difficult challenge.
Children and Youth Affairs
James Reilly TD (FG)
Many observers expected Reilly's departure after the medical cards dispute and allegations of favouritism for his constituency. A close ally of Enda Kenny, he retains the public health brief, including his particular interest in tobacco policy, but Health Minister Leo Varadkar is keen to limit Reilly's responsibilities.
Communications, Energy and Natural Resources, Alex White TD (Lab)
A former barrister and current affairs producer, White is a good communicator and will particularly enjoy the media side of the brief. Energy remains a key priority for the Government while natural resources will involve contentious debates over unconventional gas and offshore licensing.
Education and Skills
Jan O'Sullivan TD (Lab)
O'Sullivan's varied ministerial career to date has touched on trade, international development, housing and planning. As a former pre-school teacher, education is her 'home ground' and that background may help to improve relations with the unions.
Environment, Community and Local Government, Alan Kelly TD (Lab)
Representing Tipperary North, Kelly is one of Labour's best-known rural TDs. He served as a Senator and Ireland South MEP before his election to Dáil Éireann in 2011. With a business background – as a manager for Fáilte Ireland – he will bring an economic focus to the role.
Foreign Affairs and Trade
Charles Flanagan TD (FG)
Flanagan was only briefly Minister for Children and Youth Affairs before this major promotion. The move indicates a high level of trust, especially as he will have to respond to several crises at once. Ensuring that Ireland's voice is heard in the post-election changes in the EU stands out as a key challenge.
Jobs, Enterprise and Innovation
Richard Bruton TD (FG)
Richard Bruton retains an important economic portfolio, especially as the Action Plan for Jobs rolls out and inward investment picks up. The 2010 heave, though, indicated Bruton's ambitions to be Taoiseach and was his second run for the Fine Gael leadership. He may be tempted to run again when Kenny leaves office.
Justice and Equality
Frances Fitzgerald TD (FG)
Fitzgerald's immediate priority is to oversee the reform of the department after the Garda tapes scandal. The formation of an oversight board for An Garda Síochána – opposed by her predecessor – is an unprecedented move for policing in the State. Fitzgerald was a social worker before entering the Oireachtas.
Health
Leo Varadkar TD (FG)
The transport brief was seen as a forerunner for greater responsibilities for Varadkar. Health is the largest brief – in budgetary terms – within government but public expectations also make it the most difficult. Varadkar's determination and medical background will help but his higher ambitions will not be diminished.
Transport, Tourism and Sport
Paschal Donohoe TD (FG)
Donohoe thinks on his feet and quickly absorbed the details of EU policy as Minister of State for European Affairs. A high profile and an ability to deliver results will be important – his Dublin Central seat is a marginal one for Fine Gael.
Employment
Gerald Nash TD (Lab)
As a 'super junior minister', Nash attends Cabinet but has no vote. First elected in 2011, he is Louth's first Labour TD since 1997 and his main economic policy experience was in local government. Nash is a public relations and campaigns consultant by background and also taught at St Oliver's Community College in Drogheda.