Public Affairs
New Parliament delivers boon for Greens, sceptics and Europhiles alike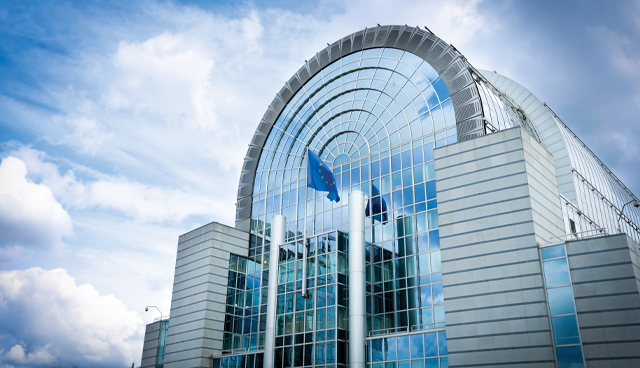 Elections for the European Parliament held across the European Union's 28 member states delivered further evidence of a "Green wave" across Europe, while also delivering simultaneous and conflicting boosts for Eurosceptics and Europhiles across the Union.
Perhaps the most important European election since the original in 1979, 2019's election saw 751 parliamentary seats to represent over 512 million people across the EU's 28 member states against a backdrop of Brexit and the wider Europe and worldwide rise of a populist right wing that made Brexit its own project. So, the voting done between 23–26 May was done with the understanding that, should Brexit come to pass, the European Parliament will then make the shift to having 705 seats across 27 member states, representing over 445 million European citizens.
This was most relevant in Ireland, the post-Brexit member state most impacted by the UK's withdrawal from the EU given their reliance on the UK for trade, the land border with the UK they possess due to the partition of the island and the fact that they stand to gain two more seats in the European Parliament once the Brexit process has been completed.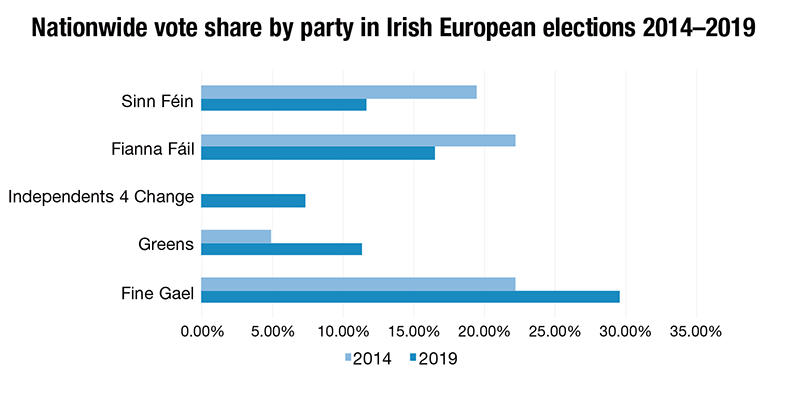 Those running for seats in Ireland did so in a peculiar situation of knowing that being elected did not guarantee them an immediate seat in the European Parliament, with the winners of the two so-called "Brexit seats" set to be left in waiting until Brexit comes to pass. This arrangement necessitated the redrawing of some constituency boundaries and the increasing of seat numbers in both the Dublin and South constituencies. South gained counties Laois and Offaly from Midlands-North-West and will gain an extra seat after Brexit, rising to five from four. The Dublin constituency will rise from three to four, while Midlands-North-West, despite losing two counties, will remain a four-seater.
With four incumbents retiring — the independents Nessa Childers, Marian Harkin and Brian Crowley, along with Fine Gael's Brian Hayes — there were, assuming no returning MEPs were unseated, at least six seats up for grabs. Specific candidate polling leading into the election suggested that the expansion of seats was set to benefit the Green Party's Ciarán Cuffe or Independents 4 Change's Clare Daly in Dublin, Fine Gael's Maria Walsh or independent Peter Casey in Midlands-North-West and Fianna Fáil's Malcolm Byrne or Independents 4 Change's Mick Wallace in South.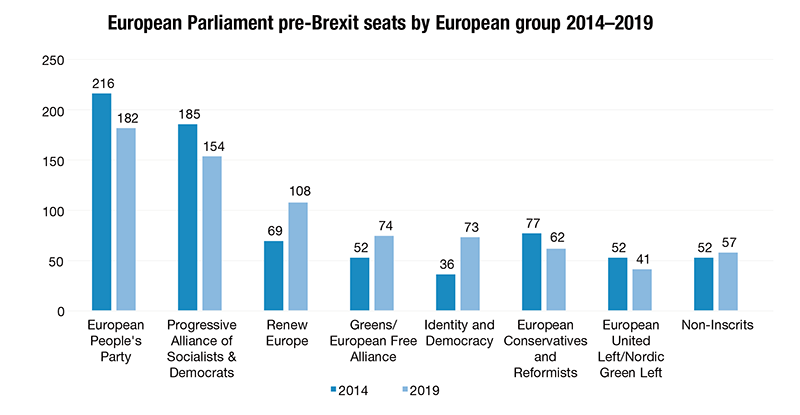 The polling also suggested that Sinn Féin would hold on to their three seats, but when the smoke had cleared and the votes were tallied, only Matt Carthy was still standing for the party in Midlands-North-West, with Liadh Ní Riada and Lynn Boylan having lost their seats in South and Dublin respectively. Sinn Féin was the only of the major parties to suffer a loss of seats, with Fianna Fáil retaining one definite seat through the election of Billy Kelleher in South and gaining Dublin's Brexit seat, with Barry Andrews elected despite a nationwide vote share drop of 5.7 per cent for the party.
Gains made in Ireland were in line with the European trends of those critical of the EU, green politicians and anti-Brexiteers making strides. Those critical of the EU who made their gains in Ireland should be differentiated from the EU-wide trend of right wing nationalist parties, such as those found under the umbrella group Identity and Democracy that gained 36 seats on the tally of its predecessor group, Europe of Nations and Freedom. Those who gained from critical takes on the EU in Ireland, such as Clare Daly, have done so from a left wing economically based position, rather than the identitarian positions taken by groups such as Identity and Democracy.
Fine Gael found their performance on Brexit rewarded by a 7.3 per cent rise in their nationwide vote share, with their seat number remaining the same pre-Brexit and rising to five post-Brexit. Incumbent Deirdre Clune fell down the polling to take South's Brexit seat, but this was made up for by the strong performance of Maria Walsh, who sealed a second seat for the party in Midlands-North-West.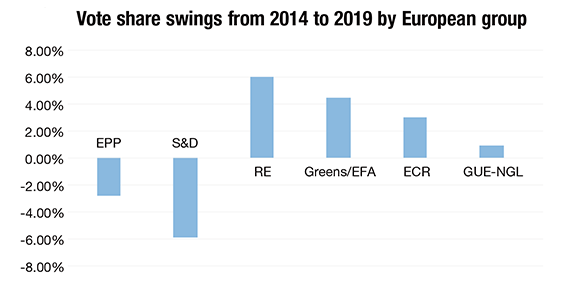 The green wave delivered two seats and a 6.5 per cent nationwide vote share boost for the Green Party, with Ciarán Cuffe finishing top of the poll in Dublin. Grace O'Sullivan became the party's second MEP having been elected fourth in South. This was carried on across Europe, with the Greens/European Free Alliance group gaining 22 seats and a 4.4 per cent rise in vote share.
The European People's Party, of which Fine Gael is a member, remained the largest group in the European Parliament, although they did so on reduced terms, having lost 34 seats and suffered a 2.8 per cent decrease in vote share. They will form a de-facto position with the Progressive Alliance of Socialists and Democrats, with whom Nessa Childers sat during her tenure and of which the Labour Party are members, and Renew Europe, the successor to the Alliance of Liberals and Democrats for Europe that now encompasses French President Emmanuel Macron's La République En Marche! party. Of the three, only Renew Europe enjoyed increases in seats and vote share, gaining 39 seats and a 6 per cent rise in votes.
In opposition, the European Conservatives and Reformists lost 15 seats despite their 3 per cent rise in vote share. The European United Left/Nordic Green Left similarly lost seats while their vote share rose, dropping 11 MEPs after a 0.9 per cent bump in vote share. Those not aligned to a European group, known as Non-Inscrits, such as the DUP and the Brexit Party, saw their numbers rise from 52 to 57.